Oklahoma Sooners
Oklahoma WR Jeff Badet Would Have Had Fastest 40-yard dash at NFL Combine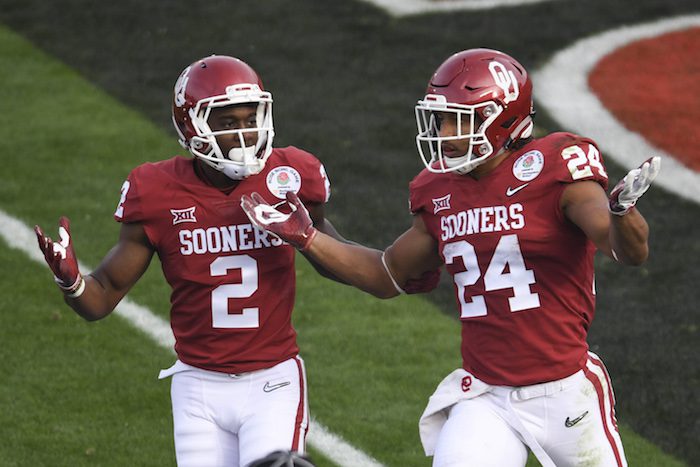 When Jeff Badet transferred from Kentucky to Oklahoma, he was expected to have a big impact on the wide receivers. That didn't exactly happen, but Badet had a solid senior year in Norman. He finished with 26 catches for 400 yards and three touchdowns. Needless to say, that wasn't good enough to receive an invite to this year's NFL Combine.
So Badet had to wait for Oklahoma's Pro Day to show off his stuff. And he did just that flashing his blazing speed.
Jeff Badet has logged a 4.27 40 at #Sooners Pro Day.

That would have been the fastest 40 at the NFL Combine.

— Lee Benson (@LeeBensonNews9) March 14, 2018

But that wasn't all for Badet, who also excelled in other drills.
Jeff Badet putting up very good numbers. 4.27 40, team bests in broad jump (10-11) and vertical (39.5). #Sooners Pro Day

— Eric Bailey (@EricBaileyTW) March 14, 2018
His vertical jump of 39.5 inches would have been the 7th-best jump in the NFL Combine, just behind Florida State's star safety Derwin James. Meantime, his broad jump would've also been the 7th-best in the NFL combine, just behind Penn State safety Troy Apke and the aforementioned James. All physical freaks.
Considering Oklahoma's Pro Day brings in some of the best talent evaluators in the NFL, Badet should benefit tremendously from having so many NFL eye balls on his performance.
Why he never lived up to expectations at OU remains a mystery to me. He never had more than five catches in a game (Ohio State, Kansas State) and had six games with one or zero catches. Those are questions that scouts and GMs will have for Lincoln Riley in the coming days and weeks.
But with good size (6′, 178) and that kind of athleticism, Badet should find himself on an NFL roster. Drafted? Let's see. But he will get a chance to prove himself in an NFL camp this summer.