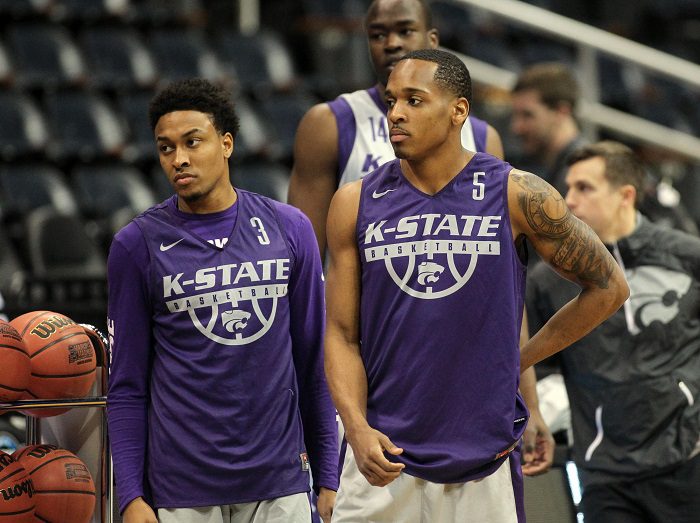 (9) Kansas State (23-11) vs. (5) Kentucky (26-10), 8:37 p.m. CT, Thursday, Atlanta CBS
How they got here: After defeating Creighton in round one, Kansas State became the first team to play a No.16 seed after the Round of 64. The team from the Little Apple did what top overall seed Virginia was unable to do, and knock off UMBC 50-43 to claim a berth in the Sweet 16. Despite complaints of his team's draw, John Calipari's Kentucky Wildcats have yet to play a school in this year's tournament with a single-digit seed. In round one, Kentucky topped Atlantic 10 Conference Tournament Champion No.12 Davidson 78-73. The second round match up was a little easier for the team from the Bluegrass State. Kentucky knocked off the No.13 Buffalo Bulls 95-75 to punch their ticket to the school's 26th Sweet 16 appearance.
Expected starters and head coach
Kentucky — G Hamidou Diallo (10.3 ppg, 3.6 rpg, 1.3 apg), F Nick Richards (5.2 ppg, 4.5 rpg, 0.3 apg), F Kevin Knox (15.6 PPG, 5.3 rpg, 1.5 apg), G Shai Gilgeous-Alexander (14.4 ppg, 4.1 rpg, 5.1 apg), F P.J. Washington (10.5 ppg, 5.4 rpg, 1.6 apg). Head coach — John Calipari (275-63 at Kentucky, 720-203 overall).
Kansas State — G Cartier Diarra (7.1 ppg, 2.4 rpg 2.0 apg), G Barry Brown Jr. (16.1 ppg, 3.1 rpg., 3.3 apg.), G Xavier Sneed (10.7 ppg, 4.9 rpg, 1.8 apg), G Kamau Stokes (9.0 ppg, 2.4 rpg, 3.4 apg), F Makol Mawien (7.1 ppg, 3.5 rpg, 0.3 apg). Head coach — Bruce Weber (123-79 at Kansas State, 437-234 overall).
About Kentucky: You know who they are. You know what they're about. This is the school with five freshman starters and is known for its one-and-dones. A five-seed and double-digit losses prove this to be disappointment. Although true, disappointment still finds its way to the Sweet 16. In fact, there isn't even a senior on this team. They know they have more talent. They know they have more size. Kentucky will try to outscore its opponents every single game. The way to defeat them is to frustrate them with defense and missed shots. Kentucky is 2-8 when they are held under 70 points.

About Kansas State: This team probably had one of the best head-to-head matchups against Kentucky. Bruce Weber's team loves defense. In fact, Kentucky has a negative turnover margin while the team in purple is +2.7 in that category. If Kansas State can play its game and limit mistakes, it can beat Kentucky. Add this into the mix: Dean Wade is confident he will play. If Wade's a go, then place Calipari's team on upset alert.
Prediction: Being in the heart of SEC Country, this will likely be a home game for Kentucky. I love K-State fans. They're loyal and sweet, but I doubt many Kansas State fans purchased tickets expecting to be in Atlanta. Whereas, Kentucky fans bought their tickets on Selection Sunday thinking "National Championship or bust". Weber's team failed to beat a ranked team away from the Little Apple this year. Kansas State is 0-9 all-time against Kentucky. Even if Dean Wade plays, he's going up against an NBA-caliber team without full health. I think the defensive system keeps it close, but talent wins out here. Kentucky takes this game 82-70.
Next up: The winner faces either No.7 Nevada or No.11 Loyola-Chicago in the Elite Eight.