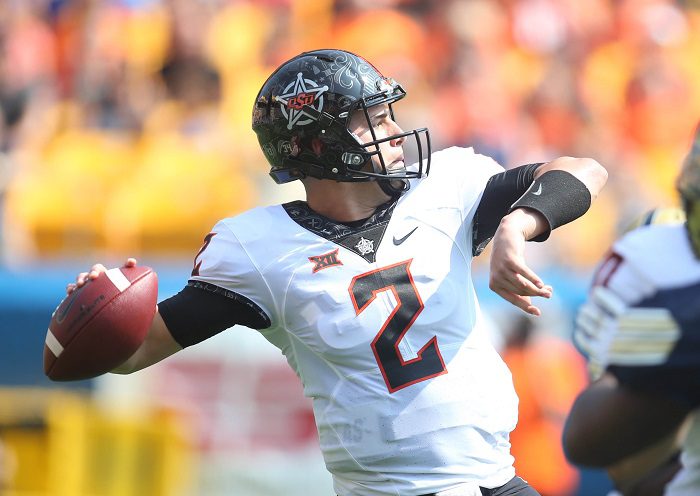 As we approach the NFL Draft later this month, it seems like most of the big-name quarterbacks find themselves moving up lots of draft boards. Is that because each one of these quarterbacks will be the next Tom Brady? No, it doesn't. It's simply because the quarterback position is the most important position in the sport… by a mile. Every team that doesn't have one, or has an aging one, is in the market.
There are some draft "experts", and I use that term loosely, who think we could have quarterbacks go No. 1, 2 and 3, with USC's Sam Darnold, UCLA's Josh Rosen and Oklahoma's Baker Mayfield, in some order, with one possibly being replaced by Wyoming's Josh Allen.
Despite their draft stocks rising, it seems like we've heard less and less about Mason Rudolph. So what's happened to the Oklahoma State signal caller?

At the NFL Combine, Rudolph proved he wasn't overly athletic. But a little insight: this wasn't exactly earth-shattering news. His 4.90 40-yard dash was near the bottom of quarterbacks, but better than UCLA's Josh Rosen. His vertical jump was the worst of quarterbacks as well. Once again, not shocking.
Physically, Rudolph's got it all at 6'5", 230 pounds. His hand size was viewed as a concern, but it measured in at 9 1/8″, which is about average.
Ultimately, Rudolph did not have the senior season many of us expected. On paper, it looked good. He completed a career high 65% of his passes, along with 37 touchdowns to nine interceptions. His QB rating of 170.6 was also a career best. Rudolph has certainly become a proficient downfield passer, arguably the best in the draft. But he still struggled with the intermediate and short passes, while he footwork appeared to be off at times when under pressure on shorter routes. That part of his game did not drastically improve from his junior to senior seasons. Plus, as always, the Oklahoma State Cowboys offense isn't often loved by NFL folks (although that is slowly changing).
So, Rudolph is now looking at a likely late first round pick. Who could it be?
Teams being mentioned include the Buffalo Bills, who hold picks No. 12 and No. 22, along with the Patriots being discussed at No. 31, as the heir to Tom Brady. In many ways, Rudolph and Brady have similar features. Big bodies that are unathletic, oh and both are good looking guys. The Pats need their next Jimmy Garroppolo, and Rudolph could be that guy.
There's also been rumors of the Cardinals at No. 15, the Chargers with No. 17 and the Steelers at No. 28. All decent fits, but if I'm Rudolph, give me the Patriots for a year or two to learn in the system. That can pay off, literally, the most of any of these opportunities. Just ask Garoppolo and his new five-year contract worth $137.5 million.
But unlike other QBs, Rudolph could go anywhere from top 10, to early second round. You can't say that about the other top quarterbacks in the class.
Where do you think Rudolph could land? And what's the best fit? Let us know in the comments below!