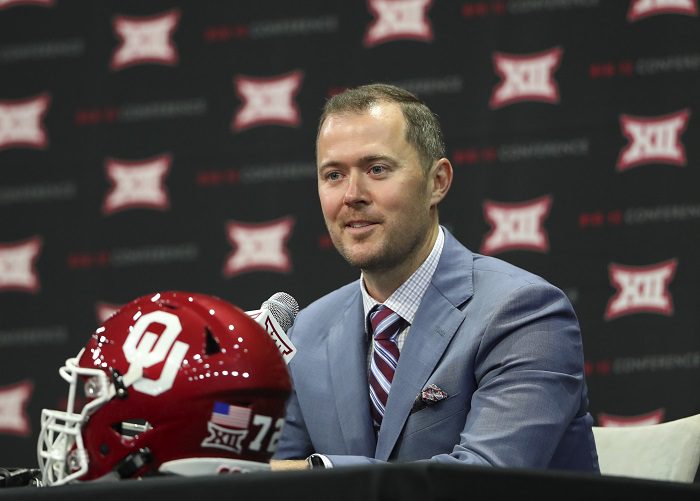 When your program has won three straight conference titles, you have every single reason to be confident. After all, there is no greater feeling playing football when you can win and there has been plenty of that going on in Norman over the last few years. While expectations remain sky high, Lincoln Riley and his players seem confident that they will succeed no matter what. Even after losing a Heisman trophy winner at quarterback, the Sooners look to keep their Big 12 success going without looking back.

Head Coach Lincoln Riley started off by saying, "It's great to be back. I had a little more notice this time but it's great to be back." Last season Lincoln had only been the head coach for a month or so for the 2017 Big 12 Media Days, but you could clearly tell that this wasn't his first rodeo, so to speak, despite being only 34 years old. In fact, in his opening statement he said "This is an interesting team, no question. I think it's got a chance to be maybe the most talented team that we've had in the now four years we have been at Oklahoma, but also probably our most inexperienced team as well." That's a bold statement, but he isn't exactly wrong. While yes, defensively they have a long way to go, they do have some young talent coming in after a great 2018 recruiting class. Offensively, the offensive line is still one of the best in the entire country and the receiver group is loaded with talent with guys like CeeDee Lamb and Marquise Brown; not to mention, one of the best running backs in Rodney Anderson.
Of course, during the press conference Lincoln was asked about everything under the sun from Kyler Murray to leadership to defense, you get the picture. While we all assume and pencil in Kyler Murray as the starting quarterback, Lincoln did mention that it is still an "open competition" between Kyler Murray and Austin Kendall. To Riley, it doesn't matter who wins the job. "Let's really put them through it (competition) because we have got two guys that are more than capable of getting this team where we need to be."
When asked about how to get the defense back on track Lincoln said, "We have to recruit. We feel like we're in the process of making a pretty good move there. That's the first thing that I've seen is our talent levels needed to increase and I think we are on our way to doing that." He isn't wrong here. The lack of playmakers has been an issue for awhile, but when you start looking at the talent coming in for this year and possibly next year, I believe it will only be a matter of when, not if, this unit gets turned around. Now if Mike Stoops is still there to do that is beyond me.

Want to know the biggest thing to keep the magic rolling in Norman this year? Lincoln said, "Leadership." He went on to mention that Rodney Anderson, and some of the offensive lineman were the guys to lead the way on offense while Kenneth Murray, Amani Bledsoe and Neville Gallimore are the defensive leaders of the team. When it comes down to it, this was the number one thing Lincoln Riley was looking for in this team heading into the season.
I get it, Lincoln isn't exactly a great quote machine, but he exuded a calm confidence that rubbed off on his players who were in attendance. You could tell this Media Days that Lincoln was more comfortable being there and being in the spotlight. Maybe it was the conference championship or the College Football Playoff appearance, but Lincoln Riley clearly has the ability to be the guy who can one day carry the Big 12 torch. For now, Gary Patterson is doing a fine job of that. But as the wins keep piling up, Lincoln Riley's confidence, paycheck and sound bytes will only increase and improve. And that's good for the Big 12 Conference… and the media.