Big 12 Sports Articles
Big 12 Football Mailbag: Big 12's Future, Drinking Suggestions, Plus WVU-OU Anticipation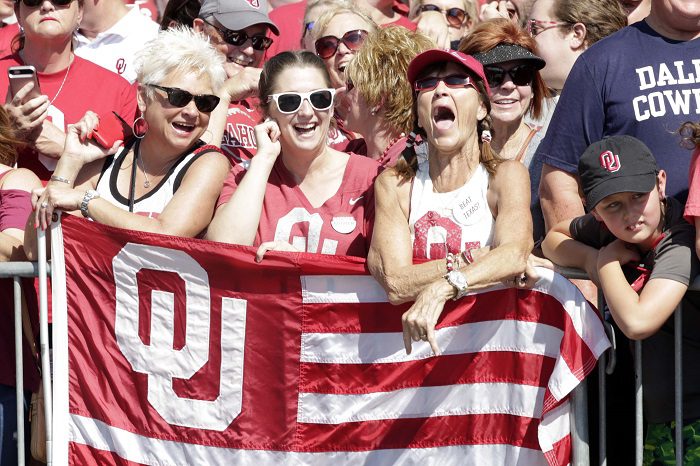 It's that time of year where football is scarce across Big 12 country. If you're like me, you need a football fix and quick. This mailbag is for all you football junkies out there who root for a Big 12 school who not only have questions about your team, but other teams in the conference as well. So, join me, grab a cold brew or your favorite drink and relax as I answer all your Big 12 questions in my mailbag. For those interested, I will send out a tweet (@Derekduke25) every Monday at noon until last call (No, not 2 AM) at 8 PM CT for you to send in your questions to be answered every Tuesday right here at Heartland College Sports.
I will pick the best question for each mailbag and label it as my question of the week. The winner gets a free HCS Koozie to keep your beer cold (Unless you like it warm, but that's just plain wrong). It was busy question day which tells me that this mailbag is working harder than me at my day job. Unlike the "Big 12 blog" over at ESPN (I say that loosely because one story a week is a tragedy), we here at HCS are determined to give you the best Big 12 coverage on the planet. I want to thank each one of you who submitted a question this week and for those reading, I am glad you could join me. I am enjoying a late-night cocktail myself and let's get this party started!
There are probably some that don't give a rats you know what about how my weekend was. If you do care or even if you don't, I am going to tell you anyways. Didn't do much at all this weekend. Had a very chill and relaxing couple days off. In case you have been living under a rock, we posted a story about an interesting series of events about a high school football player (Jeffery Carter) committing to Texas A&M instead of taking a visit to Oklahoma. For the people upset, we don't care where the kid decides to go to school at. Wish him nothing but the best but to us, the series of events that happened before the commitment was funny quite frankly in my book considering the time everything unfolded. Again, hope the kid does well there and this story has been twisted all sorts of ways and if you read the article (A lot of people just read the headline and join the angry mob), you will see we don't blame the kid. If you have time I strongly suggest you check it out in the recruiting section of our website. Anyways, I made it through the day and have fended off tons of aggie twitter users. I'll say one last thing about the A&M fan base. If my team only finished higher than fourth one time since 2012 in my own division (Not conference, division), I would be upset too. On to the mailbag!
@jonkev50 asks: Rank each college town in the Big 12, based on weather, game atmosphere, tailgating and food.
Duke: So, I am going to be flat out honest with you. I have not been to every Big 12 venue. Hell, I have never even been to the states of Kansas, Iowa and West Virginia for that matter, so I am totally unqualified to answer that question. As a staff though, I believe put together we have been to every venue in the Big 12. However, until I visit all 10 venues, I can't fairly rank them. I hope to be traveling outside the state of Texas (where I live) some this season to cover a few games if possible. Again, one day I will gladly be able to answer this question honestly.
@ShreckJames asks: Will the Big 12 be around in 5 years? If not, where do you think the schools will end up? If so, do you see the Big 12 adding any schools?
Duke: Oh boy! More expansion talks! Did I just wake up from a nap I took in the summer of 2016? It sure feels like it. Personally, I don't think the Big 12 is going anywhere. Go back and look at those revenue numbers. The Big 12 sits behind the Big Ten and the SEC but aren't too far off. Meanwhile the Big 12 is ahead of the ACC and PAC-12. The Big 12 is in great shape right now and when the TV contracts are due in a few years, you will see. I am not even going to wonder down that path of adding schools because there were no obvious choices back in 2016 just like there aren't now. Bottom line: The Big 12 is fine and is here to stay no matter what SEC fans or Paul Clownbaum tells you. Also, another tip? Don't listen to ESPN either.
@RPTexan asks: What is your adult beverage of choice for all the Big 12 game time slots to ensure a quality Saturday viewing experience?
Duke: So, the time slots in my time zone (central time) are usually 11 AM, 2:30 PM and then an evening game anywhere between 6 and 8 PM for the Big 12. Let me put on my drinking cap here and think this through. I can crush beer literally at any time of day. I have been on a few fishing journeys that started by cracking a cold one at 5 AM. I don't recommend that but for the early slot (11 AM) I would start off with some screwdrivers (OJ and Vodka). For the 2:30 time slot that one would be a bit tricky. I would say that would be the best time for a beer or something really refreshing since it will likely be at one of the hottest points in the day. I'll go beer for that time slot. Finally, is the night game. For those games (usually prime time games) I am digging in the liquor cabinet for that. For me personally it would be an old fashioned or just some great whiskey or bourbon in general. Now, I try to cover some of these games, so drinking isn't exactly allowed but I don't mind having one outside the stadium talking to people before I head in. Also, to all you rookies out there, PACE YOURSELF!
@bigxiicountry asks: Will the Big 12 be won this season without the best QB in the league (eyeball test, statistically, etc.) and will this start a trend? Explain if you feel like it.
Duke: This is a great question Kory. For this season, I will say no because I think Oklahoma is my favorite heading in and winning yet another Big 12 title. Do I think Kyler will be a good quarterback? Yes, but I am not going to put him ahead of Will Grier at West Virginia. Another example of this would be Charlie Brewer at Baylor. I think Charlie is the second-best quarterback in the Big 12 right now and I have Baylor finishing 7th. I think you can have a top 3 quarterback in this league and be able to win the conference but if you go back and look at the history it doesn't always prove that to be true. 2012: Collin Klein at K-State. Best QB that year and Big 12 champs. 2013: Bryce Petty at Baylor and he won a Big 12 title. 2014: Trevone Boykin at TCU and Bryce Petty at Baylor. Both guys were top 2 and shared a Big 12 title even though TCU officially got the nod. Of course, we can group 2015-2017 together for Baker Mayfield. Best quarterback in the Big 12 and won 3 straight conference titles. Patrick Mahomes (TTU QB 2014-2016) and Mason Rudolph (OSU QB 2014-2017) were damn good too along with Boykin (2014-2015) at TCU. I really believe the team around the quarterback makes the difference. If you have the best quarterback in the league, you just need the team around you to be good. Where if you are a lower tier quarterback, you need a very good team around you (strong run game, good defense, etc.). Great quarterbacks can hide certain flaws and good teams around a bad quarterback can hide certain flaws but, in the end, you need a good quarterback to win this conference. Of course, there is one exception every year. Alabama. They can have a middle of the road type guy and that team around him can cover up almost anything because the talent on that roster is so high. Also, another thing to think about is down years. There will be some years (Maybe this year) where some teams can come in a steal a Big 12 title while others are down. I can literally go on and on about this topic for hours.
@mundodelovoide asks: Can you name the 5 most underrated players in the Big 12?
Duke: If there was an article out there about this topic I am not sure where I could find something like that? Hmm, let me think for a second here. Oh yeah! How about right here on Heartland College Sports? Just click my name at the top of the article and it will show you all the articles I have written here. I wrote about this back in June and I listed one underrated player for each Big 12 team. Here is the link if you need help finding it. Enjoy it here! 
@JoSCobbs90 asks: Who you got in the WVU/OU matchup the day after Thanksgiving and will we see that match up back to back weeks?
Duke: As of right now, I'm picking the Sooners. Until somebody knocks them off, I must go with them. While I think the matchup after Thanksgiving will be a huge game with Big 12 title implications, I still like the Sooners. That game is a coin toss for me. It's all going to come down to defense in that game and I will go with the Oklahoma defense (right now) over the Mountaineer defense. It's a very bad matchup defensively for West Virginia because they gave up over 200 yards on the ground last season and the fact that Oklahoma has one of the best offensive lines in the country as well as a guy like Rodney Anderson carrying the football, that is a bad matchup. Again, I am going off what I see as of right now, obviously it all can change when the season gets in full swing. For the Big 12 title game, I have a Red River Showdown rematch. Texas vs Oklahoma for the Big 12 crown. But if Texas fails to make it there, the Mountaineers are my next option to get to Arlington in December. The defense of West Virginia is really the only thing holding me back on that team.
**Sign up here for our HCS weekly e-mails for a chance to win FREE Heartland College Sports and Big 12 team gear!!**