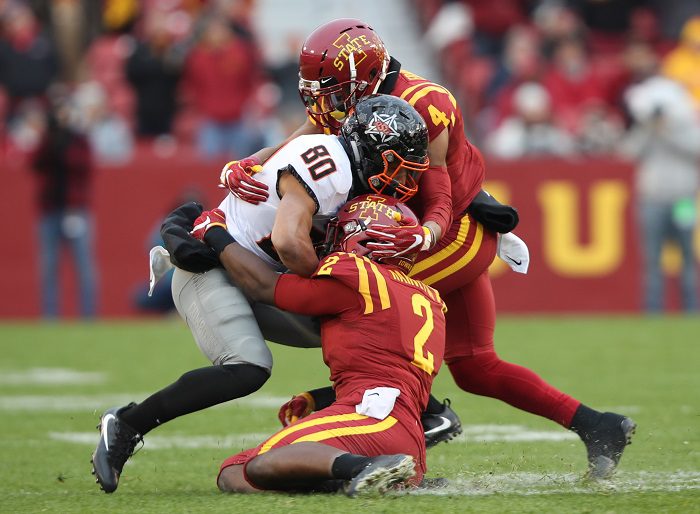 Here is everything you need to know about the upcoming Big 12 showdown in our Oklahoma State vs. Iowa State preview and prediction.
Game Info
2:30 p.m. CT  | Saturday, October 6th 2018  | Boone Pickens Stadium, Stillwater, Oklahoma
TV: ESPN 2 (Jason Benetti, Kelly Stouffer, and Olivia Dekker)
Local Radio: Cowboy Radio Network (Dave Hunziker, Dave Holcomb, and Robert Allen)
Satellite Radio: Sirius 83, XM 83, Internet 83
Internet Radio: https://okla.st/osutunein
Key Players
Oklahoma State
Wide Receiver Landon Wolf
Since we aren't allowed to ask about Jalen McCleskey's sudden transfer we are left only with speculation.  I think Landon Wolf's play in Lawerence might be a clue as to why he decided to move on from Stillwater. Dillion Stoner had already cut into McCleskey's targets and Wolf shined in his first ever start in place of the  injured Stoner. He led the team in receptions and yards, even scoring his first career touchdown! He looked tough and played bigger than his 5'11" inside receiver frame. With Tylan Wallace surprising people and being one of the better wideouts in the conference and Tyron Johnson's speed requiring help over the top on most plays the chance is there for Wolf to  thrive again this week.
Running Back Chuba Hubbard
Starter Justice Hill carried the ball 31 times in the Cowboys win against Kansas last week.  It looks like Mike Gundy and company finally remembered they had one of the better backs in the nation!  But against a much tougher Cyclone defense, not to mention the rest of the season, Hill will need someone to step in and absorb some of those hits. Backfield depth was strength going into the season but with LD Brown being dinged up Hubbard has gotten a few more carries the last two games, touching the ball more than back up JD King. King is powerful and falls forward and can gut out tough yards but Hubbard is a more elusive runner and his pure speed can make a defense pay in chunks if any of the front seven is out of position.  Add in his ability to catch the ball out of the backfield and I expect him to play a bigger role going forward.
Iowa State
Wide Receiver Hakeem Butler
Butler has to be excited to play the Cowboys.  OSU blitzes a lot, leaving receivers one on one with the corners who get beaten more often than Cowboy fans want to think about it.  Add in the he is 6'6" and he has to positively be drooling thinking about the stature of the safeties he's about the face. Butler has had an up and down season, being ineffective against Iowa and TCU, but playing well against Akron and absolutely abusing OU.  The Cyclones haven't been a chunk play team this season, instead using a more methodically approach to their offense but against OSU expect them to take more than a few shots downfield. If the Cowboys defense has lapses in coverage like it did against Kansas last week he could have a career day.
Quarterback Zeb Noland
Last years hero Kyle Kempt is injured so its the Zeb Noland show in Ames.  Noland has a bigger arm and more of a gunslinger attitude than Kempt but isn't as good at managing the game. He did throw for 360 yards against the Sooners earlier this season and almost knocked off Oklahoma State last season after coming in for the also then injured Kempt.  The Cowboys like to send pressure and if the quarterback can find the holes quickly you can have a lot of success throwing the ball against them. Noland will need to keep his head on a swivel and make the right reads against the rush, and them make the most of the deep ball chances with Butler.
Running Back David Montgomery
Head Coach Matt Campbell says Montgomery is "day-to-day" with a deep bruise on his upper arm.  I'd expect him to play though, with what is likely his final season of college ball and last chance to beat the Cowboys after a few years of close loses.  Montgomery is one of the best backs in the nation and was a big part of Iowa State's success last season. He is almost impossible to take down at first contact and runs extremely tough and in an old school style not seen often in today's game.  He also catches well and is very dangerous out of the backfield and on screens. The Cowboy's run defense has been pretty good this season behind the strength of their front seven but Iowa States seems to have finally settled on a group for their offensive line and with OSU's Calvin Bundage (LB) not at 100% and Darrion Daniels (DT) done for the year Montgomery should have lanes to work.  If he plays it will go a long way towards making Zeb Noland day easier by forcing OSU's defense to respect the run.
Key Storylines
Will David Montgomery play?  How effective will he be if he does? From my understanding it's a pain management issue so I'd count on him giving it a go.  Montgomery is a tough kid and won't want to let his team down. The Cyclones haven't beaten Oklahoma State since 2011, and the last three season OSU has had to come back from double digit deficits to win including last years game that ended on a controversial interception in the end zone.  This is a game the Cyclones want to win as much as any game on their schedule.
Will the real Taylor Cornelius please stand up?  Against Boise State the Corndog looked good and Cowboy fans thought he had turned the corner.  Then the Texas Tech game happened. OSU used a pass heavy game plan and Cornelius struggled, Against Kansas with the run featured Cornelius looked much more like a capable quarterback although he still struggled with accuracy on his deep balls.  Also Kansas might be better but they are still Kansas. Matt Campbell and Iowa State will put up a much better fight on defense than the Jayhawks did.
Prediction
Oklahoma State 28, Iowa State 21
My colleagues here at Heartland thought I was crazy when I picked Iowa State to finish 6th in the Big 12 this season. While they were a trendy pick as a dark horse Big 12 Champion contender I couldn't get over the fact that last season eight of their games were decided by 10 points or less.  Yes, a few more bounces their way in 2017 and they win 10 games but a few more go the other way and they go 2-10. I think Matt Campbell is a tremendous coach and I believe he has Iowa State going the right direction but the talent gap between them and the top half of the Big 12 is still there.  Oklahoma State may not be OU or Texas and Mike Gundy gets a lot of flak for his recruiting rankings but he knows the players he wants and he develops them as well as anyone so I think the overall talent edge is still there.
Iowa State is tough and they aren't going to go down easy, but I feel like their offensive style is exactly what OSU's new defensive scheme is designed to stop.  The Cyclones will also be able to slow down Oklahoma State with Campbell and his staff finding a way to keep everything short and forcing Taylor Cornelius and Justice Hill to go on long, extended drives.  It should be a fun running back duel with two of the best in the nation going head to head but I feel like the Cowboys will come out on top late.
**Sign up here for our HCS weekly e-mails for a chance to win FREE Heartland College Sports and Big 12 team gear!!**