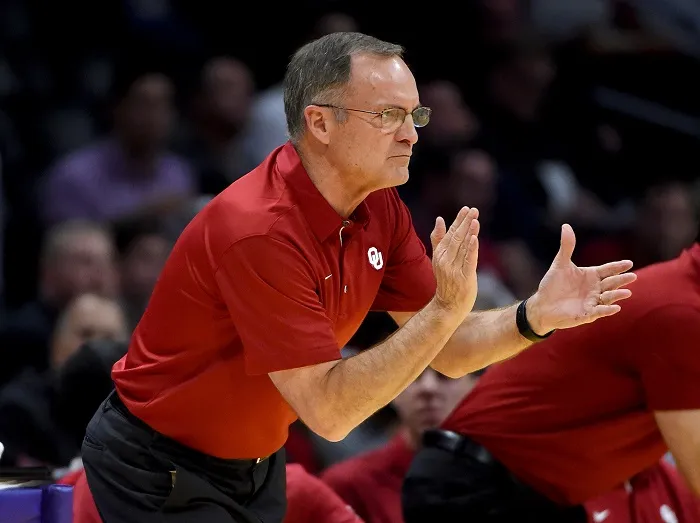 Leading up to the season opener Heartland College Sports will analyze each of the Big 12 men's basketball teams. Today it's the Oklahoma Sooners.
2017-18 Record: 18-14 (8-10 Big 12)
Postseason
NCAA: lost to Rhode Island, 83-78 (OT) in the first round of the NCAA Tournament.
Top returning 2017-18 Leaders: G Christian James, 6-foot-4 (11.9 ppg, 4.4 rpg), F Jamuni McNeace, 6-foot-10 (6.8 ppg, 5.4 rpg), G Rashard Odomes, 6-foot-6 (7.2 ppg, 3.5 rpg), F Krisitan Doolittle, 6-foot-7 (2.8 ppg, 4.3 rpg), F Brady Manek, 6-foot-9 (10.2 ppg, 5.2 rpg).
Players lost: F Khadeem Lattin (6.6 ppg, 5.9 rpg, 61 blocked shots, leaves OU as its all-time leading shot blocker); G Trae Young (27.4 ppg, team-leading 274 assists, 3.9 rpg , left early for the NBA Draft); G Kameron McGusty (left program); G Jordan Shepherd (left program).

Recruits signed: G Jamal Bieniemy, 6-foot-3, Katy, Texas (Tompkins HS); F Kur Kuath, 6-foot-9, Biemnon, South Sudan (Salt Lake CC).
Transfers eligible for 2018-19 season: G Aaron Calixte, 5-foot-11, Stoughton, Mass. (Maine); G Miles Reynolds, 6-foot-2, Chicago, Ill. (Pacific).
Transfers expected to sit out in 2018-19: G Austin Reaves, 6-foot-5, Newark, Ark. (Wichita State).
Looking ahead to 2018-19: Head coach Lon Kruger has a big job ahead of him this season. The Sooners lost Young to the NBA and Lattin, their top inside presence. Additional losses are the two guards that he had hoped would take up Young's slack after he left early — McGusty and Shepherd — bolted after the season. Kruger didn't have many scholarships to begin with, so he dipped into the graduate transfer pool to find two guards for this season — Calixte and Reynolds. The good news is both of them are pretty good fits. Calixte averaged 11.2 points per game and was an 82 percent free throw shooter at Maine while Reynolds averaged 13.3 points per game and shot 37 percent from the 3-point line. Kruger needs them to contribute immediately. Bieniemy was a Top 10 recruit in the state of Texas, so there's a chance he could hit the floor right away, too. Most of all Kruger is counting on improvement from the players he has returning. Manek could be one of the conference's top forwards and, with Young gone, the path is clear for him to be more assertive. Kruger praised the sophomore's offseason work ethic at media day. McNease will have to assume Lattin's mantle inside. Doolittle needs to grow as an offensive post. James will need to remain a double-digit scorer and Odomes needs to take a step forward. Kruger has pieces, but it's going to take most of November and December to work through them. By Big 12 play he'll need a rotation of eight or nine players and at least one of them to assume that "star" role that Young occupied a year ago. Kruger admitted at media day that the "star" player could be a combination of three or four players.
Media Day quote: "Last year (Manek) was thought of as a stand-still shooter, starting to put the ball on the floor, starting to post up, always been a good rebounder, blocked shots more than expected. So he's got a bright future. He's a great player." — Oklahoma head coach Lon Kruger.
**Sign up here for our HCS weekly e-mails for a chance to win FREE Heartland College Sports and Big 12 team gear!!**