Baylor Bears
Behind Third-String QB, TCU Pulls Off 'Gutsy' Win Over Baylor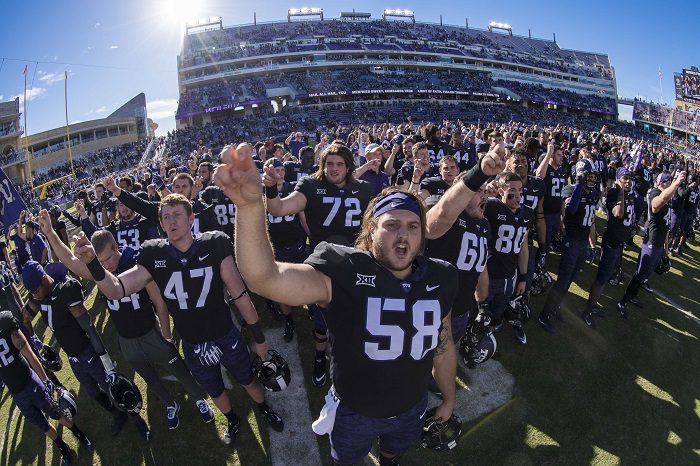 TCU's season has been defined by injury. So why not have to deal with another one in Week 12 of the season, playing your biggest rival, with bowl eligibility at stake. That's what happened to the Horned Frogs on Saturday when back up quarterback Michael Collins left the game with a leg injury late in the first quarter. Enter: third-stringer Grayson Muehlstein.
Muelstein wasn't asked to do much, but he did do enough (11/15, 137 yards, one touchdown) to help the Horned Frogs go into Waco and spoil the Bears' Senior Day with a 16-9 win.
Jalen Reagor was the offensive star of the show again for a Horned Frogs team that has struggled on offense in recent weeks. He turned a short pass into a 65-yard touchdown in the second quarter. Then in the third quarter in a 9-9 game, Reagor scored a 37-yard touchdown on a fourth-and-1 reverse that even fooled the head coach. "It was a great call by Sonny Cumbie on 4th and 1. It fooled me," Gary Patterson quipped after the win.

It wasn't pretty, as both teams had special teams errors, along with a combined 17 penalties. But TCU just made fewer mistakes, notably winning the turnover battle 3-0.
Patterson added after the win, "It's hard to win ballgames. It doesn't matter what situation you're in. We've been spoiled. That was a gutsy win — there wasn't any reason we should have won that ballgame to be honest with you."
TCU is coming off a trip to the Big 12 Championship game last season, but it hasn't been nearly as easy this season after losing over 20 seniors from 2017 and dealing with the aforementioned injuries. With the win, TCU is now 5-6 and just thrilled to keep its bowl eligibility alive.
As exciting as the win was for the Horned Frogs, it was that deflating for Baylor. The Bears had a chance to become bowl eligible on Senior Day for a group of seniors who have been through far more than they ever expected during their time in Waco. But head coach Matt Rhule admitted they were their own worst enemies in the loss, saying, "We turned the ball over three times, had 9 penalties… I thought that really interrupted any opportunity we had to score and get the lead. I thought our defense, except for two plays, played a fantastic football game, but obviously that wasn't quite enough for us." 

Quarterback Charlie Brewer finished 14 of 29 for 163 yards with zero touchdowns to one interception. It was arguably his worst (full) game of the season as he spent much of the afternoon scrambling for his life. Brewer did score Baylor's only touchdown of the day on a 7-yard run that saw him flip his way into the end zone over the TCU defense. But the Bears promptly missed the extra point and that would be their only, and last, lead of the day.
"I'm deeply sad we couldn't have them walk off the field winning the football game the way we wanted them do. But that's certainly not their legacy and we'll try to get them a win next week," Rhule added.
As for TCU, Patterson had the same message looking ahead, but with a different and more positive spin, saying, "I'm just proud — these seniors have another opportunity to get a win in front of a home crowd and have a chance of making a bowl game." 
The Horned Frogs will host Oklahoma State in the regular season finale on Senior Day next Saturday, while Baylor will face Texas Tech at AT&T Stadium in Arlington.
**Sign up here for our HCS weekly e-mails for a chance to win FREE Heartland College Sports and Big 12 team gear!!**