Big 12 News
West Virginia's Missing Pieces Key in Loss to Syracuse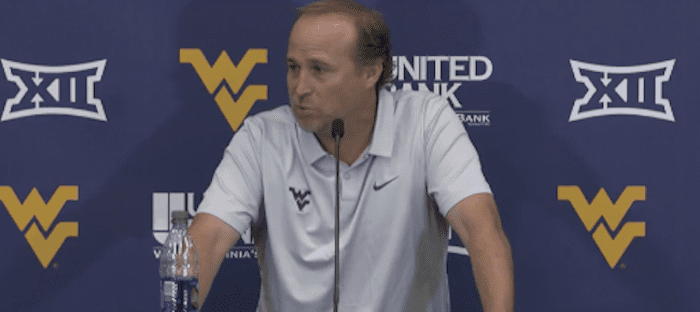 Let me start by saying, the frustration from West Virginia fans is understandable. Before the season started, I don't think anyone had this team playing in the Camping World Bowl. But whether you were okay with it or not, it doesn't matter. Why? Because there was a football game that had to be played in Orlando on Friday evening. While the Mountaineers were going into the game shorthanded (no Will Grier, Gary Jennings, or Yodny Cajuste), there still was one team standing in the way of their ninth win of the year. It was their former Big East rival Syracuse who were coming off one of their best regular season finishes since the early 1990's. 

This game didn't exactly start out great for either team because in the first four drives of the game, only one team was able to score thanks to a West Virginia field goal midway in the first quarter. But on the very next drive, the Syracuse offense finally put together a long 10-play drive that resulted in an Abdul Adams short touchdown run to put the Orange up 7-3. Then thanks to a Kenny Robinson interception, the Mountaineers gave starting quarterback Jack Allison great field position to work with and fortunately they capitalized thanks to a Kennedy McKoy touchdown run. The Orange would score again by way of another Abdul Adams touchdown while West Virginia was able to put just three more points up before the half ended. Syracuse went into the half leading 14-12.
From a West Virginia standpoint, nothing good happened from here on out. The Mountaineers offensive struggles continued with Jack Allison at the helm as the offense put up just six more points in the second half from two more field goals. Meanwhile, Syracuse would outscore West Virginia 17-0 in the fourth quarter to ice the game and win the Camping World Bowl 34-18. For West Virginia, the offense struggled all game under quarterback Jack Allison. The defense played as well as they could before giving up 17 in the fourth quarter but without a doubt in my mind, this one falls on the shoulders of the offense. With the loss, the Mountaineers finish the 2018 season at 8-4 in what some would call a disappointing season.
**Sign up here for our HCS weekly e-mails for a chance to win FREE Heartland College Sports and Big 12 team gear!!**