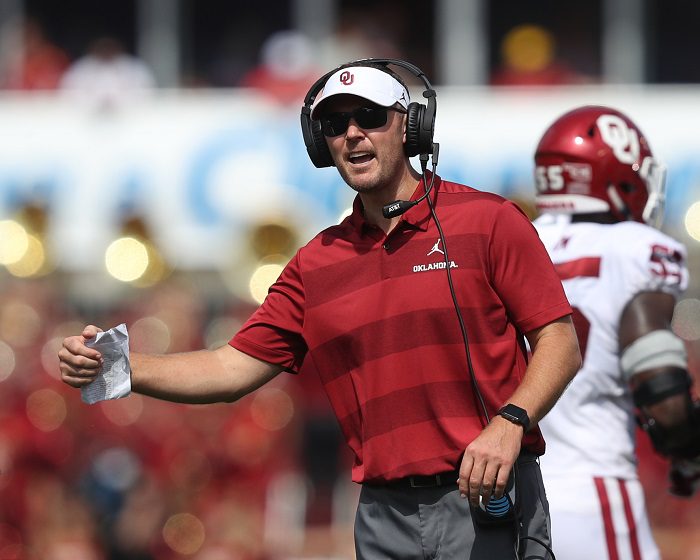 College basketball is heading down the home stretch, college baseball has started, but let's not forget (I know many of you aren't) that spring practice is already getting underway across the country. We will handle spring previews for every Big 12 football team and roll them out based on when their respective spring practices begin. Next up are the Oklahoma Sooners who will start up spring practice on Thursday March 7th.
Most Exciting Returnee: WR CeeDee Lamb
Although Oklahoma will be talented at wide receiver, they do lose superstar Marquise Brown to the NFL. However, I wouldn't worry much if you are a Sooner fan because CeeDee Lamb has proven to be a more than reliable option in the passing game. Last season he caught 65 passes for 1,158 yards and 11 scores. He is a freak athlete and will be a preseason All-Big 12 selection (At least on my ballot). With so many pieces moving around on offense, one thing will surely stay the same which is that CeeDee Lamb will continue to be a playmaker for this football team.
Most Exciting Newcomer: QB Jalen Hurts
This one was easy. The Alabama grad transfer is now in Norman and ready to take the reigns to be the starting quarterback for the Oklahoma Sooners. In case you were living under a rock, Jalen was the Alabama starting quarterback from 2016-2017 before eventually losing his job to current Alabama quarterback Tua Tagovailoa. In his first two seasons at Bama, Jalen threw for over 4,800 yards with 40 touchdown passes to just 10 picks. While he did a great job of taking care of the football, he wasn't as effective as he was his freshman year when it came to throwing the football. However, when it comes to running the football, few quarterbacks if any are better at that than Jalen. Jalen rushed for 1,809 yards and 21 touchdowns as a starter. Yeah, that's insane. While he is a great runner, his passing game could use some work but who better to coach him up than his current head coach Lincoln Riley? After all, he has produced two Heisman quarterbacks in the past two seasons. Could we see a three peat in New York City?
What is the biggest offensive and defensive storyline to watch?? Go to our next page!