Big 12 News
WVU Big Man Sagaba Kontae Declares for 2019 NBA Draft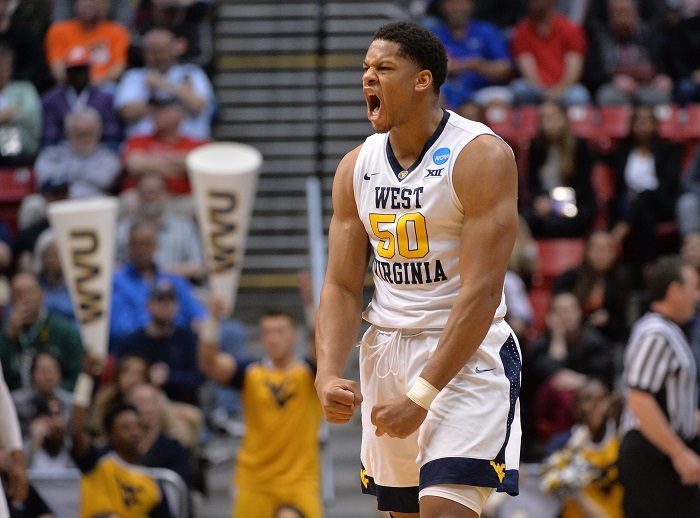 The West Virginia Mountaineers could be without big man Sagaba Konate next season, as he will reportedly declare for the 2019 NBA Draft, according to CBS Sports' Jon Rothstein.
Of course, under NCAA rules, Konate could return next season, as he is allowed to withdraw from the NBA Draft after getting an early evaluation from NBA scouts and front office officials. Kontae did this last season, when he was after a Big 12 All-Defensive Team honor and a season that saw him break the WVU record for blocked shots. He averaged 10.8 points, 7.6 rebounds, and 3.2 blocks per game in 2017-18.
This season, Konate averaged 13.6 points and 8.0 rebounds with 2.8 blocks, but he only played in eight games after missing most of the season with a knee injury. However, there was controversy in Morgantown as to how bad Konate's knee injury was, with several doctors concluding there was apparently nothing structurally wrong with the big man's knee.
"It's up to him and his brother when he plays and he doesn't play," head coach Bob Huggins said after Konate surprisingly missed a game against Rhode Island in December.
The Mountaineers had a rough season, finishing 15-21 overall and 4-14 in Big 12 action before eventually losing to Coastal Carolina in the CBI. Our full season recap for the Mountaineers can be found here. WVU does have several players besides Konate set to return next season, along with an All-American coming into the program.
**Sign up here for our HCS weekly e-mails for a chance to win FREE Heartland College Sports and Big 12 team gear!!**