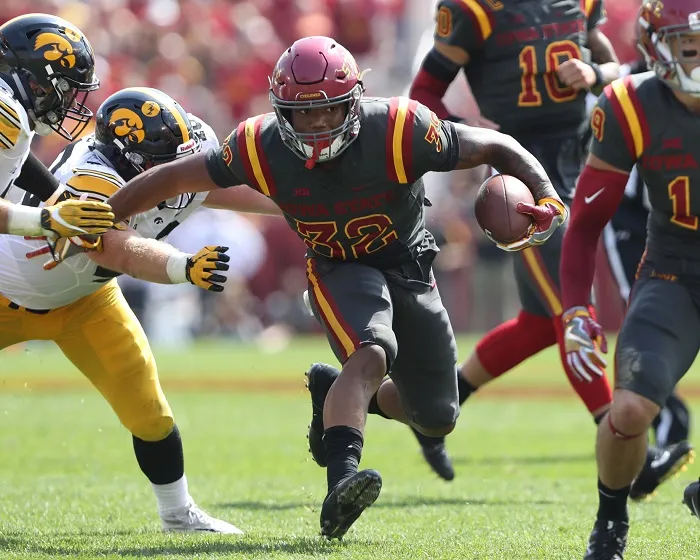 We have a kickoff time announced for one of the most anticipated games of the Big 12 non-conference schedule. The Iowa State Cyclones home match up against the Iowa Hawkeyes will begin at 3:00 p.m. local time on Saturday, September 14th. The team made the announcement on Twitter on Thursday morning.
Kickoff time and television announced for the Iowa State-Iowa game on Sept. 14#ProveIt

🌪🚨🌪 pic.twitter.com/stfoa1C15R

— Cyclone Football (@CycloneFB) May 30, 2019
Despite the rapid improvement the Cyclones have had under Matt Campbell, the Hawkeyes have been a thorn in his side since coming to Ames. Iowa State is 0-3 against Iowa under Campbell. The team has lost 42-3 in 2016, 44-41 in overtime in 2017 and 13-3 last season.
Iowa has won four in a row in the series. This came after Paul Rhoads had a good run, beating his arch rival in three of four games, but his problem was an inability to beat anyone in the Big 12. Campbell has obviously not had that problem and there's no way any Iowa State fan would trade in Campbell's success just to do what Rhoads did, which is beat Iowa.
Anyway, with the mid-afternoon start time, should Heartland College Sports set its first tailgate for this game on September 14th? Let us know in the new HCS Forums! Link below!
**We now have FREE Big 12 Forums here at Heartland College Sports. Go sign up here and join our conversation! **