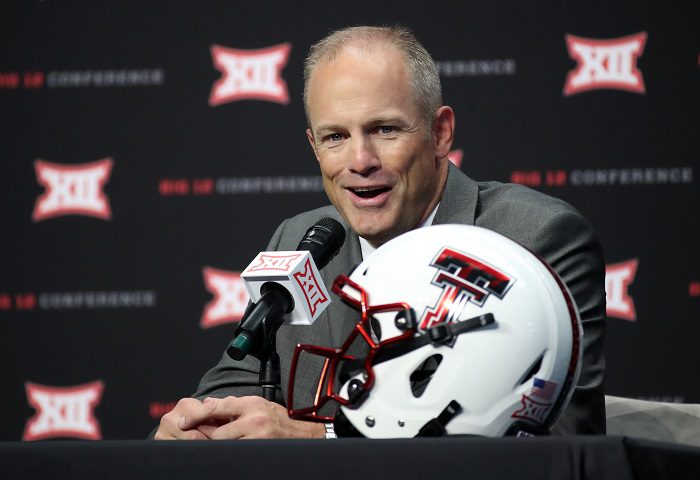 Texas Tech fans have seen success before in their football program. They know what it feels like and what it looks like. Of course, this was all thanks to former head coach Mike Leach. Sure, I could get into a novel about his firing, but I will save that for when ESPN does a 30 for 30 on that down the road. Since Leach was shown the door, Tech fans have seen nine years of mediocre football and that would be putting it lightly, depending on who you asked.
Since the 2009 season, Tech has had three years where the team has won more than seven games. In 2010, 2012 and 2013, Texas Tech won eight games (including bowl games). The two head coaches during this nine-year stretch were Tommy Tuberville and golden boy and as well as a Tech favorite, Kliff Kingsbury. Surprisingly enough, two of those three eight-win seasons belong to Tuberville, who I can safely say everyone in Lubbock couldn't stand anyway. While the Kliff years looked promising early on, his last five seasons were not so great, going 27-35 overall and 15-30 in Big 12 play. That's not going to cut it no matter what school you are it (OK, it might work at Kansas). In fact, since Mike Leach left, Texas Tech hasn't had a winning conference record, and maybe something that is even scarier is the fact that Texas Tech has went 10-25 at home against Big 12 opponents with four of those wins coming against Kansas.
When asked about the previous records at home, coach Matt Wells said: "First and foremost, I think winning game at home is one of the most important things we can do. It's been a focus of mine as a head coach since I've been at Texas Tech. We want to make Jones Stadium one of the hardest places to play in the Big 12. The respect that I have for our fans and our fan base has grown. I didn't know the records to be honest with you, before I was hired but I've been able to see that through the success of the basketball team and it's something I respect, their respect for Tech, the Red Raiders, they will travel, they come out and they're passionate, they're loud and the Raider Power chant is real and I want to give them a winner at home and I think creating that atmosphere at the Jones."
Whether it's good or bad, Matt Wells isn't paying attention to the records, previous regimes, or anything that was there before him. He understands that Lubbock and West Texas is hungry for a winner in football. They have seen success in other areas but when it comes to football, there is no doubt that Tech is behind. All of the success that the basketball and baseball programs have had with Chris Beard and Tim Tadlock have made Tech fans even more desperate to see some winning on the football field, which is also adding pressure to Wells' plate.
The good news for coach Matt Wells is that quarterback Alan Bowman is healthy and ready to go. Yes, there are serious defensive questions, but I'm sure that Wells is happy to have inherited such a good, young quarterback. Let's just hope he can do something with the program while Bowman is there and most importantly, build around him. We all remember Patrick Mahomes at Texas Tech, however that regime will always be known as the, "What could have been?" regime. They didn't win much during Mahomes' time there because Kingsbury failed to get any sort of team around him. Let's hope Matt Wells doesn't make that same mistake.
**We now have FREE Big 12 Forums here at Heartland College Sports. Go sign up here and join our conversation! **