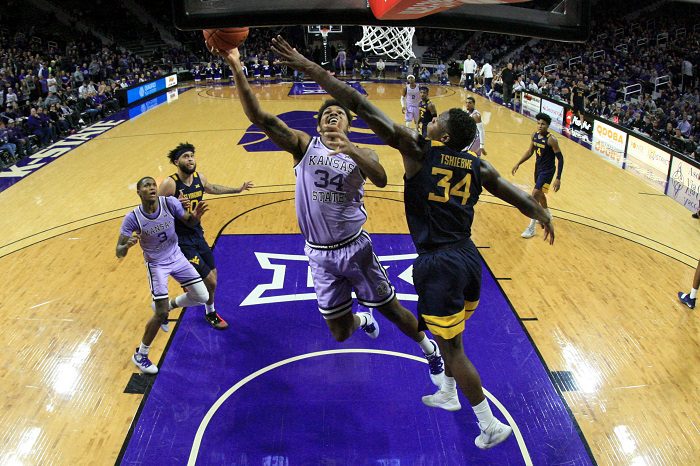 The third week of Big 12 basketball saw us define the tiers within the Big 12, saw K-State get its first win and saw a lot of blowouts. Here is this week's Good, Bad and Ugly for Big 12 men's basketball.
THE GOOD
TIER 1 IN THE BIG 12
I did a radio hit with the Big 12 Morning Show on Sirius/XM radio and I did our weekly Heartland College Sports Radio Show with Pete Mundo, and in both cases I was asked this question — are we deep enough into the Big 12 season to know what the tiers are in this league?
Oh, yeah, that's easy.
Tier 1, in my opinion, is made up of four teams — Baylor, Kansas, Texas Tech and West Virginia. I'm not sure the order matters that much when we're looking ahead to the NCAA Tournament. Because, to me, all four of these teams is going to make it, barring a major injury that derails them. But, right now, the Bears are the best of the bunch.
Why have these teams risen to the top? Talent, obviously. But, just as importantly, all four of these teams has a clear identity and they maximize that every time they play. They know who they are, they know what their player rotations are and they know how to ride the inevitable peaks and valleys of a game. All of those things will serve them well as the Big 12 season continues. Because the fun part is coming soon. Each of these four teams has at least one game against each of the other teams (in Baylor's case, the Bears have two remaining against both Texas Tech and West Virginia).
They may pick each other off a bit as the season goes on. That's inevitable. But these are the teams that define the conference at the moment and the teams built to make a deep run in March. They're the top tier, and there's no question about that.
By the way, if you're in a Big 12 market where the Heartland College Sports Weekly Radio Show isn't on the radio, make sure you check out the podcast version available where you can find great podcasts, including the Apple Store.
MAYBE K-STATE IS STARTING TO FIGURE IT OUT
Kansas State won its first Big 12 game on Saturday, flat out destroying West Virginia at home in a victory that, frankly, I found stunning. Kansas State shot nearly 60 percent, including 50 percent from the 3-point line, and forced 18 turnovers. They also got great games out of Cartier Diarra and Xavier Sneed, who had 25 and 16 points, respectively. This has to be part of the formula for the Wildcats moving forward — Diarra and Sneed have to be volume scorers, and they have to be almost unapologetic about it.
But there is another piece to this and it's the development of the younger players on their roster. During radio appearances this past week I talked about the Wildcats missing the mark on developing players during the past few seasons with Barry Brown Jr., Kamau Stokes and Dean Wade in the starting lineup. It seems players like Mike McGuirl, Makol Mawien and Levi Stockard III simply haven't moved their games forward as K-State fans would have hoped. Saturday's game, despite the win, was a prime example. Mawien and Stockard played sparingly, despite starting. McGuirl wasn't even in the Octagon of Doom as he's under concussion protocol. But, Mawien has hit double-figures once in the last five games and has been inconsistent on the glass. Stockard has hit double figures just one this season. McGuirl, who has started most of the season, is averaging 6.4 points in 12 games.
These are players who have had time to develop in Bruce Weber's system and they've either hit their ceilings as players or Weber's staff simply haven't gotten them where they need to be.
That's why looking at the Big 12 stats for this team, and not the overall stats, gives us a window into where the Wildcats might be going. Yes, Sneed and Diarra are 1-2 in scoring. But third? It's Dajuan Gordon (8.0 ppg). He's followed by Montavious Murphy (6.8 ppg) and David Sloan (6.0 ppg). The key here is that all three players are in their first year with the Wildcats. Gordon and Murphy are true freshmen. Sloan is a junior college transfer.
It's a telling statement when three of the program's first-year players have taken advantage of the opportunity to contribute on the floor as compared to three players who have been in the program much longer.
We knew this season was going to be a difficult one for the Wildcats. You don't just replace Brown, Stokes and Wade. The rough start to Big 12 play has yielded opportunities for the Wildcats' newest players and they've taken advantage. That should serve K-State will the rest of the season and beyond.
The goal, to me, is to be in a good position to achieve an NIT bid. That means finishing the season with a .500 record. That's attainable, if Diarra and Sneed keep scoring and these first-year players keep progressing.
WHY THE BIG 12-BIG EAST CHALLENGE IS A GOOD THING
On Friday I posted a piece about the Big 12-Big East Challenge, which occurred in December and saw the Big 12 only win two games. No, that doesn't look great, and I don't want to say that winning is irrelevant in this case. But there are good reasons for playing the challenge in the first place, and I explore those in the piece linked here. Plus, I have a couple of ideas that I think could spice up the challenge, which has three more seasons on its current contract.
THE POSTGAME PERISCOPE
After each evening's Big 12 games I do a Postgame Periscope on Twitter. It's instant analysis and breakdowns of each Big 12 game that evening and it takes no more than 10-15 minutes. One of them from earlier this week is below. I had a comment about the stuff behind me. I have a sports room in my house and that's where I film the Postgame Periscope, so the stuff behind me will change from time to time.
This week the Periscopes will take place on Monday and Tuesday, with two games on Monday and three games on Tuesday. Check my Twitter feed (@PostinsPostcard) for updates on games and when the Periscope starts each night. And, yes, I have a face for radio. But we're gonna do this anyway.
#HookEm and #SicEm take the wins tonight in #Big12MBB and @heartland_cs breaks it down. https://t.co/ragEp09gEa

— Matthew Postins (@PostinsPostcard) January 16, 2020
THE BAD
TIER 2 IN THE BIG 12 IS A WORK IN PROGRESS
Remember earlier in the article when I talked about Tier 1? Well, Tier 2 in the Big 12 is everyone else. You'll have to wait until my Big 12 Power Rankings to come out on Monday to see where I rank the other six teams. But it's clear to me after five games that there isn't much that separates the remaining six teams in this league. They're all talented enough to win every night and have just enough deficiencies to take one on the chin every night, which can make for some unpredictable basketball — and some interesting bubble-team fates come March. To mean, none of them should feel safe and none of them should feel out of it when it comes to March Madness or the NIT.
WHERE ARE THE TIGHT GAMES?
We associate the Big 12 with great basketball. We associate it with exciting finishes. Well, the first five rounds of games have been anything but.
Through the first five rounds of Big 12 games the average margin of victory is 13.8 points. What's more just two games have been decided by one possession — TCU over Iowa State in overtime on Jan. 4 and TCU over Kansas State on Jan. 7. Yep, the Horned Frogs have both wins.
In fact, only two other games have been two-possession games. Those occurred in the first two rounds of Big 12 action. So, there have been no one- or two-possession finishes in the Big 12 since Baylor's 5-point win over Texas Tech on Jan. 7.
These things have a tendency to work themselves out in the course of a full league season. But, for right now, the last-second heroics have been kept to a minimum.
THE BACK-AND-FORTH MOUNTAINEERS
The West Virginia Mountaineers have already proven to be one of the best teams in the Big 12. But they're also going to have weeks like the past seven days because they're such a young team.
The Mountaineers absolutely clobbered the TCU Horned Frogs, 81-49. The Mountaineers played great defense and turned into the offensive team that head coach Bob Huggins wants them to become, shooting better than 50 percent from the floor. That game was in Morgantown.
On Saturday in Manhattan, Kan., of course, the Mountaineers fell hard to Kansas State, 84-68. Not a single starter hit double figures and while 44 percent from the floor isn't a bad percentage these days, you have to look at the first half — 36.7 percent from the floor and 10 percent from the 3-point line — to understand why the Mountaineers lost this one. They fell so far behind they couldn't recover, especially since K-State shot nearly 60 percent.
That might be the good news for the Mountaineers — even the best teams in the Big 12 aren't going to shoot that percentage every night. But it also shows the challenge that Huggins faces with this young team — keeping them on an even keel night after night and dealing with the inevitable valleys such as Saturday. The mental development of this team will be just as important in the long run.
THE UGLY
OKLAHOMA STATE REMAINS WINLESS, BUT ….
The Cowboys are now the only winless team in the Big 12. That in of itself puts them in the ugly category. What's worse is they had Baylor on the ropes at home on Saturday and couldn't finish the deal.
But we saw signs this week that the Cowboys are starting to figure it out. Their loss to Texas earlier in the week was highlighted by better shooting, around 40 percent. The Baylor game was their best Big 12 game to this point. The Cowboys shot 41.7 percent from the floor and from the 3-point line. Lindy Waters III and Thomas Dziagwa appear to finally be out of their shooting slumps. Both were in double figures. Head coach Mike Boynton Jr. moved Dziagwa to the bench and Kalib Boone into the starting lineup and the move helped the offense considerably. He also slid the struggling Yor Anei out of the starting lineup and he responded with his best game in Big 12 play (8 points, 8 rebounds). These could all be signs that the Cowboys are starting to turn it around.
The next two games are key to keeping the momentum moving. The Cowboys are in Ames, Iowa, to face Iowa State, a team struggling nearly as much as the Cowboys. Then, on Saturday, the Cowboys are in College Station, Texas, for their Big 12-SEC challenge game. Texas A&M is the worst team in the SEC. This week represents a real opportunity to put a couple of wins together before Kansas comes to town for a Big Monday game on Jan. 27.
TCU COMES BACK TO EARTH
TCU's three-game winning streak to start league play looked great on paper, but I was more interested in how competitive the Horned Frogs would be on back-to-back road games, the first at nationally-ranked West Virginia and the other at Oklahoma.
Well, ugh.
The Horned Frogs went to Morgantown and they were never really in it, losing 81-49. The Mountaineers were a buzzsaw, and with TCU having just one legit post in Kevin Samuel, it was hard for the Horned Frogs to compete with a team that has two of them (Derek Culver and Oscar Tshiebwe). So, after that, I was even more curious to see how the Horned Frogs would deal with the Sooners on Saturday.
Well, ugh.
The 20-point loss to the Sooners didn't necessarily expose the Horned Frogs so much as it simply solidified who they are — an average Big 12 team that, if it wins the right games, can still win 18-20 games and make the NCAA Tournament. The Horned Frogs have one of the league's best scorers in Desmond Bane, an emerging play-maker in R.J. Nembhard and a solid center in Samuel. The rest of the team is not as dynamic, and that makes maximizing its opportunities against the second tier of the Big 12 all the more important in avoiding a second straight trip to the NIT.
Losses like those against the Mountaineers and the Sooners won't help that case.
BIG 12 NOW GAMES THIS WEEK
On Tuesday TCU hosts Texas Tech and Iowa State hosts Oklahoma State on Big 12 Now, so if you don't have the subscription to ESPN Plus, here's the link. We've made it really easy to sign up.
| | | |
| --- | --- | --- |
| BIG 12 STANDINGS | Conf. | All |
| Baylor (2) | 5-0 | 15-1 |
| Kansas (6) | 4-1 | 14-3 |
| West Virginia (12) | 3-2 | 14-3 |
| Oklahoma | 3-2 | 12-5 |
| Texas Tech (23) | 3-2 | 12-5 |
| TCU | 3-2 | 12-5 |
| Texas | 2-3 | 12-5 |
| Iowa State | 1-4 | 8-9 |
| Kansas State | 0-4 | 8-9 |
| Oklahoma State | 0-5 | 9-8 |
RESULTS
Tuesday, Jan. 14
Texas Tech 77, Kansas State 63
Kansas 66, Oklahoma 52
West Virginia 81, TCU 49
Wednesday, Jan. 15
Baylor 68, Iowa State 55
Texas 76, Oklahoma State 64
Saturday, Jan. 18
Baylor 75, Oklahoma State 68
Kansas 66, Texas 57
Kansas State 84, West Virginia 68
Oklahoma 83, TCU 63
Texas Tech 72, Iowa State 52
NEXT GAMES (all times CST unless noted)
Monday, Jan. 20
Texas at West Virginia, 6 p.m., ESPNU
Oklahoma at Baylor, 8 p.m., ESPN
Tuesday, Jan. 21
Kansas State at Kansas, 6 p.m., ESPN2
Texas Tech at TCU, 7 p.m., Big 12 Now on ESPN+
Oklahoma State at Iowa State, 7 p.m., Big 12 Now on ESPN+
Saturday, Jan. 25
Iowa State at Auburn, 11 a.m.
Missouri at West Virginia, 11 a.m.
LSU at Texas, 1 p.m., ESPN
Mississippi State at Oklahoma, 1 p.m.
Tennessee at Kansas, 3 p.m., ESPN
Oklahoma State at Texas A&M, 3 p.m., ESPNU
TCU at Arkansas, 3 p.m., ESPN2
Kentucky at Texas Tech, 5 p.m., ESPN
Kansas State at Alabama, 5 p.m., ESPN2
Baylor at Florida, 7 p.m., ESPN
**We now have FREE Big 12 Forums here at Heartland College Sports. Go sign up here and join our conversation! **