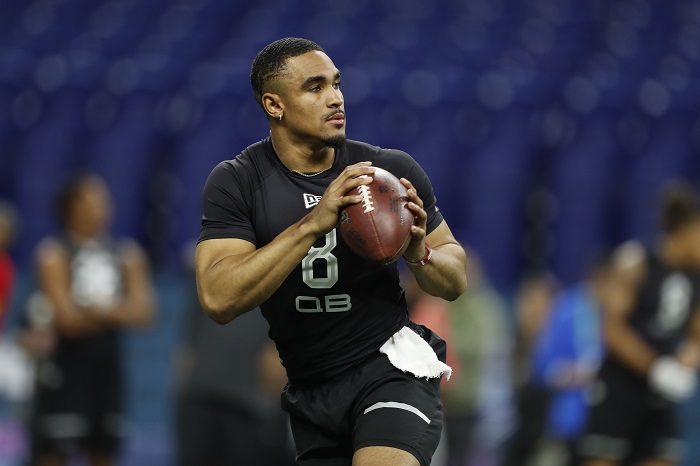 The 2020 NFL Draft is in the books and 12 Big 12 players were selected during all seven rounds. The first Big 12 player off the board was Oklahoma WR CeeDee Lamb to the Dallas Cowboys and the last was TCU safety Vernon Scott to the Green Bay Packers in the seventh round.
So with all those players off the board and some free agent pick ups as well, here is a rundown of some accolades for our former Big 12 players we will all be rooting for at the next level.
Best Fit: James Lynch, Minnesota Vikings (Fourth Round)
Come on, tell me you can't see James Lynch in Viking purple for 10 years sacking quarterbacks across the NFC North? I see it perfectly and it feels like the ideal spot for Lynch who is coming off of being named the Big 12 Defensive Player of the Year. Is he the next Jared Allen? Probably not, those are huge shoes to fill, but he will be a grinder who could very much exceed expectations of his fourth-round selection.
Biggest Steal: Lucas Niang, Kansas City Chiefs (Third Round)
Niang had a first-round projection before last season's injury. He's a beast at 6'7", 330 pounds and allowed zero sacks in two seasons as TCU's right tackle. The Chiefs goal is to keep the best QB, Patrick Mahomes, in the NFL upright, and Niang could end up being one of the biggest steals of the entire 2020 NFL Draft, and it just so happened to be done by the reigning Super Bowl champs.
Fun to Follow: Bravvion Roy, Carolina Panthers (Sixth Round)
Matt Rhule is now the head coach of the Carolina Panthers and he is bringing his nose tackle from Waco to Charlotte. Bravvion Roy was one of the most underrated players in the Big 12 last year and let's see if Roy playing again for his college head coach can be an explosive player at the next level and make people wonder how he slipped 183 picks until Carolina picked him up.
Undrafted Player to Watch for: Ray Lima, Miami Dolphins
Is Ray Lima going to be the undrafted free agent that people joke about in a couple of years? If everything clicks just right, it could be. Todd McShay at a fifth-round grade on Lima, who didn't build up sexy stats, but he always clogged up the middle and took on double teams on Iowa State's defense, which was one of the best in the Big 12 the past two seasons. This will be an interesting story to follow.
Likely Bust: Jalen Hurts, Philadelphia Eagles
The reality of a bust is that it has to be a first or second round pick. I think Hurts will have a fine career in the NFL as a back up or possibly a 3rd-and-short type of player with the option of running or passing, but a second round pick for a player that you're expecting to do just that? Seems awfully high and like someone who would have been available in the third round or later. I don't understand the pick and while I am rooting for Hurts, I've seen enough to have little confidence in his passing game translating to the next level.
**Want to win a $25 gift card?  Go sign up here and join our conversation! The best poster each week wins a gift card to your favorite establishment!**