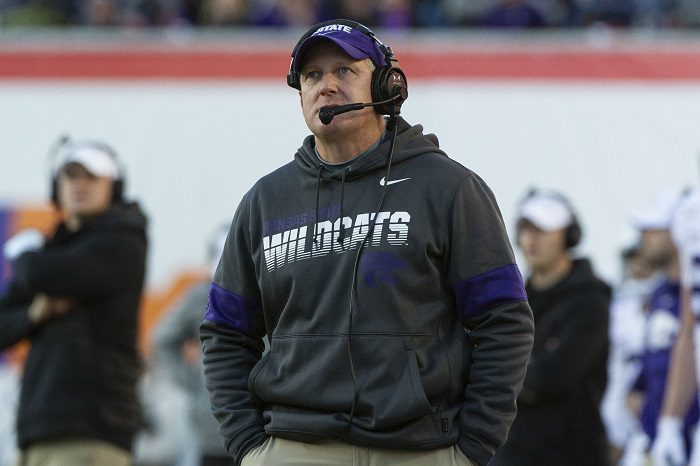 I hate saying these words: the SEC got it right. But the conference did just that. They avoided playing a non-conference schedule during this strange COVID-19 season and that was the right call.
Just ask the Big 12 if it regrets playing one non-conference game. It should.
The Big 12 non-conference schedule is over with conference play starting this weekend. The conference finished 5-3, with Oklahoma, Texas, Texas Tech, West Virginia and Oklahoma State getting wins, while Iowa State, Kansas State and Kansas lost, and Baylor and TCU had their games delayed/postponed/cancelled due to COVID-19.
But there are three reasons, yes in hindsight, the Big 12 should've avoided these non-conference games.
1. The offseason was inconsistent
No spring practice, plus a stop-and-go for fall camp meant that players and coaches would not be nearly as prepared for the start of the season. Granted, you could say the same about their opponents, but a few of the Big 12's non-conference opponents had played games prior to playing their Big 12 game. Considering so many coaches will tell you the biggest improvements come between Game 1 and Game 2, that gave these Group of 5 schools an edge.
2. Financials
The Big 12 teams still had to cut big checks to their lesser opponents in the non-conference. Iowa State paid Louisiana $350,000, Kansas State paid Arkansas State $550,000 and Kansas paid Coastal Carolina $200,000. That's a combined $1.1 million Big 12 teams paid to lose games to Sun Belt teams. Considering many of these Big 12 games had no fans, or 25% stadium capacity at most, these universities were missing out on hundreds of thousands of dollars in gameday revenue without parking, food, drink and merchandise. So what's the point?
3. There was never any upside
The Big 12 didn't have any Power 5 non-conference games, so all they could do is hurt their standing in the non-conference. They were favorites in every game, so even losing one would be a stain on the conference. And there was not going to be a chance for Texas to beat LSU, or Oklahoma to beat Tennessee, or Iowa State to finally get over the Iowa hump. So while a bad loss for a Big 12 team can be negated by a big non-conference win, there was no great non-conference win to get, so the upside was zero.
I realize a lot of this is Monday Morning Quarterbacking. However now as we go through the season, the Big 12 will have a ton of black eyes on the conference resume that could hurt the conference's ability to get into the College Football Playoff this season.
The SEC decided not to play any non-conference games, and they've been gaming the system for years, playing only eight conference games and explaining it by talking about "how tough" the SEC is. Maybe the SEC did know best.
The Big Ten will also only play conference games since they aren't starting until late October. While they could find themselves with a ton of issues based on their criteria for playing during COVID-19, you know the committee would love to get a Big Ten team in there.
The Big 12 still has a good shot, but it's margin for error is limited thanks to its non-conference performance, which was a complete mistake, in hindsight.
**Want to win a $25 gift card?  Go sign up here and join our conversation! The best poster each week wins a gift card to your favorite establishment!**