Baylor Bears
Big 12 Football Week 14: The Good, the Bad and the Ugly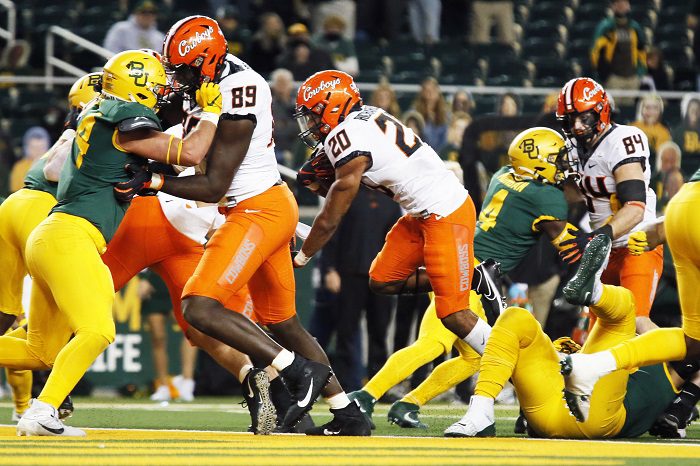 I hear it all the time, "Who has the best conference in college football?" SEC? Big 10? ACC? What about the Pac-12? Very rarely are you going to hear the words "Big 12" coming out of someone's mouth in that conversation. Whether you do it or not, there are plenty of folks out there who love to bash the Big 12 conference (cough, Paul Finebaum, cough). It was another crazy weekend in the Big 12 and there was plenty of jam-packed action throughout Saturday to get through.
The Good
Oklahoma State (Beat Baylor 42-3)
I am not sure about you, but I thought the Cowboys would show up to Waco unmotivated and I was completely wrong. Who was this Oklahoma State team on Saturday? The offense put up a whopping 608 yards of offense and despite Spencer Sanders turnovers, wide out Dillon Stoner had a career day with 247 yards receiving along with three touchdowns. The man was unstoppable, and it is just sad it took this long for Spencer to get on the same page with him.
Despite being without superstars Tylan Wallace and Chuba Hubbard, the offense had a great rhythm, and the run game was once again supreme as Oklahoma State had 261 rushing yards as freshman Dominic Richardson led the way with 169 yards and three scores.
And how about that defense? They did not get a turnover yet absolutely shut down the Baylor offense allowing just three points all game and held them to under 160 yards on the day. Just as I thought the defense was taking steps back, they showed up on Saturday with a chip on their shoulder to finish the season strong. Still, it is a shame that this team could not put it all together this season and be playing in Arlington next weekend.
TCU (Beat Louisiana Tech 52-10)
It was not a true Big 12 game, but it was a true butt kicking. To sum it all up, TCU completed 14 passes and won by 42 points. What the Horned Frogs did not do through the air, they made up for on the ground as they racked up 333 rushing yards. But it was not a one man show as Zach Evans and Kendre Mille combined for 266 of those rushing yards and four touchdowns. Both were phenomenal and how about freshman wide out Quentin Johnston? He showed superstar potential as he had 133 yards receiving on just five catches along with a touchdown.
And the defense was just as good as the offense for TCU. They held the Bulldogs in check all night as their lone touchdown came in garbage time in the fourth quarter. Also, the Frogs defense got five sacks and three turnovers on the day as well.
Overall, it was a good showing by TCU and with the win, the Frogs have now won five out of their last six games to end the regular season.
Florida and Miami Lose
Two top ten teams lost on Saturday, with Miami falling to UNC and Florida against LSU. This is great news for Iowa State and Oklahoma, as both will move up in the College Football Playoff rankings this week ahead of the Big 12 Championship next weekend. While it seemed impossible weeks ago, the door is now open for the Big 12 Conference to make the College Football Playoff and become the first two-loss team to do that.
The Bad
The Weekend
I love college football. I think everyone knows that or else I would not be doing what I am doing. After a crazy unpredictable season, I am glad we had football this season. Even when times were tough, college football was here for us. With that said, this may have been the worst or one of the worst weekends of Big 12 football I can remember. I understand games got cancelled and maybe the Baylor/Oklahoma State game should have been to but of course, money plays into all of this. The more games that get cancelled, the more dollars the conference loses.
For us to end the regular season with these games was tough to watch and quite frankly, my interest at times was lacking. These games had no impact on the Big 12 championship picture and honestly, it really had zero impact on bowl selection as well. I guess I am happy for those seniors who got to play at home one last time, but I don't know about you but thank goodness I had a couple drinks to get through this final weekend before the Big 12 title game.
The Ugly
Baylor (Lost 42-3 to Oklahoma State)
Let me start by saying I did not expect this game to happen. Baylor had a total of 50 people out between staff and players due to COVID-19. Yet they still managed to play the game and I respect that kind of effort to make the game happen. However, this was the result of that and to be quite honest, this looked more like a JV Baylor team on Saturday. They were a shell of themselves and it was tough to watch.
At halftime, this team was down 28-0 and was outgained 347 to 52. It was over after two quarters. The offense was pathetic, and it was tough to see Charlie Brewer end his Baylor career at home like that. Brewer was 13 for 26 with just 68 yards passing in three quarters before going to the locker room with an injury. Say what you want about Brewer, but his toughness cannot be questioned, and I respect the hell out of that young man and everything he has done for that program.
After Brewer left, we finally got to see Jacob Zeno and believe it or not, he led Baylor into Oklahoma State territory for the first time all game long. The offense was able to avoid the shutout under Jacob Zeno but still, it was not nearly enough to avoid the disastrous day.
The defense was bad and could not stop the Cowboy offense at all outside of some cheap turnovers. I do not know what was worse, the offense or the defense for Baylor but it is just a shame it had to end this way for their home finale.
**Want to win a $20 gift card?  Go sign up here and join our conversation! The best poster each week wins a gift card to your favorite establishment!**