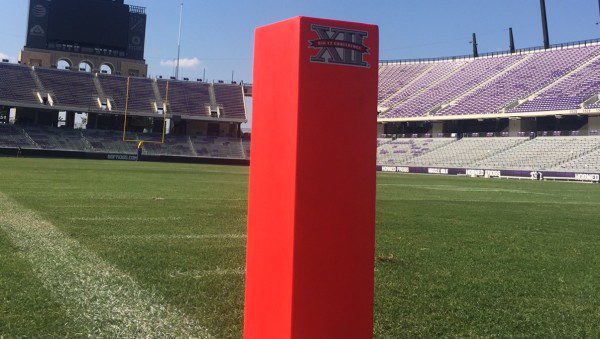 We know you miss college football as much as we do, it's a given. After what can easily be considered one of the best seasons as of lately for the Big 12 Conference, capping off a perfect 5-0 record in the bowl season, we want our Big 12 football action back already. While it's still early, even for spring football, sports betting platforms around are already buzzing with predictions of who will end up coming out on top of the conference. So as we wait for our beloved Big 12 gridiron action to come back, let's break down some very early predictions of what we could end up seeing once the season gets going.
Oklahoma Will Win The Conference Again, No Big Surprise There
When speaking of excellence in Big 12 football and college football in general the Oklahoma Sooners are always right up there in all discussions and it's easy to understand why. After winning six straight Big 12 Championships and with a roster absolutely stacked with talent all over, the Sooners are always the team to beat in the conference. With Spencer Rattler, an early 2021 Heisman Trophy favorite coming back and a bulk of their defensive players coming back as well, the Sooners are just too good. Add to all that that defensive coordinator Alex Grinch will be back to showcase just why the Sooners defense was regarded as one of the best of the country in the second half of last season then it's a no brainer to take the Sooners in a heartbeat.
If the Sooners are able to win another Big 12 title, which would be their seventh in a row, they can count on having a guaranteed spot in the College Football Playoff for sure. Oh yeah and one last thing, Kennedy Brooks will be back. He had back to back 1,000-yard rushing seasons before opting out of the 2020 season, so you know he'll come back wanting to blow everyone out of the water to stack up his draft capital.
The Longhorns Will Be Good, Maybe Great, But Not Enough
There are certain jobs in college football where you either put up in the greatest way possible or shut up, no matter what. One of those jobs is being the head coach of the Texas Longhorns football team. With Steve Sarkisian now in charge and with the coaching staff he has built around him the buzz and excitement is palpable, but will it be enough?
The Longhorns desperately need to realize that if they can exploit Bijan Robinson's true talents as a No.1 running back. With help from Keaontay Ingram and Roschon Johnson and taking into account how Sarkisian loves a good running offense then Texas should be a true threat in the Big 12. On the defensive side of the ball, Alfred Collins needs to come out as the true leader of a defense that cannot continue giving up points like it's free barbecue tastings for all. If they stick to the four-man defensive front they'd been playing with last season, they'll be able to do wonders, but maybe not enough to take Oklahoma's spot as top school in the conference yet.
Iowa State Will Be In The Big 12 Championship Game Again and Lose, Again
Sorry Cyclones fans, we mean no harm but we're not lying here. Matt Campbell's Iowa State team has absolutely all the chops to dominate in the conference again this year. Especially since basically almost all of their players from last season are coming back once again. Expect QB Brock Purdy to come out looking smooth and good from the get go, even more so given the fact that he'll have a slew of top talent veteran receivers to work with. But the true key will be none other than RB Breece Hall returning.
With Iowa State's entire offensive line coming back for another season this only spells wonders for Hall who will be looking to become Iowa State's first three-time 1,000-yard per season rusher. He rushed for 1,572 yards last season, so it's ok to assume that the junior will be shredding through defenses left and right. 
It's a toss up at the end of the day whether the Cyclones can take down the Sooners or not. But taking into account that Oklahoma is also stacked up to the brim with talent, Oklahoma might be the safe choice to beat Iowa State for the Big 12 championship.