Trending Now
Oklahoma, Oklahoma State Lead Big 12 With Best Opening Odds to Win 2023 National Championship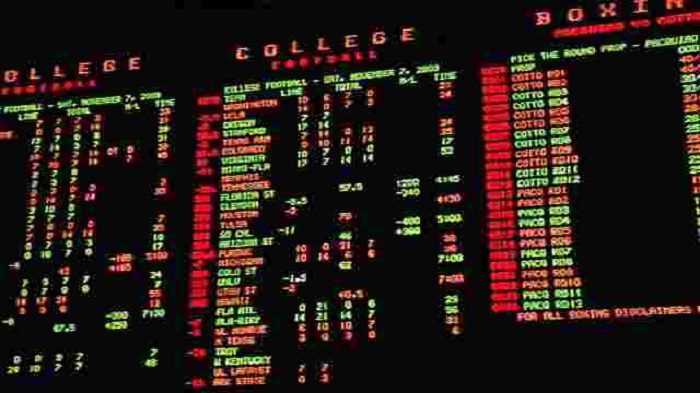 After last night's National Championship Game, a somewhat surprising outcome with Kirby Smart's Bulldogs whooping Nick Saban's Crimson Tide 33-18, what are College Football fans left to do? Well, look ahead to next year of course. After all, there are only eight months until the next game, so we'd better get started speculating while we have time.
BetOnline.ag released odds for next season's national champion and Alabama is, of course, the overall favorite to win it all in 2023 at 13/4 odds, followed by Georgia at 7/2 and Ohio State at 7/1. Three Big 12 schools made the top 10, and not one of those three won the conference in 2021.
Oklahoma is listed as the favorite in the Big 12 with 18/1 odds, followed by Oklahoma State and Texas at 33/1 odds. Baylor is next in line for the Big 12 at 50/1 odds with Iowa State next at 150/1. Kansas, the longest shot on the board, is currently listed at 1000/1 odds to take home the national championship next season.
Here is a look at the complete list, courtesy of BetOnline.ag, with the Big 12 team in BOLD.
| | |
| --- | --- |
| Alabama | 13/4 |
| Georgia | 7/2 |
| Ohio State | 7-1 |
| Clemson | 12/1 |
| Michigan | 12/1 |
| Texas A&M | 16/1 |
| Oklahoma | 18/1 |
| Notre Dame | 20/1 |
| Oklahoma State | 33/1 |
| Oregon | 33/1 |
| Texas | 33/1 |
| Utah | 33/1 |
| Wisconsin | 33/1 |
| Michigan State | 40/1 |
| USC | 40/1 |
| Baylor | 50/1 |
| Miami (FL) | 50/1 |
| Arkansas | 66/1 |
| Auburn | 66/1 |
| Florida | 66/1 |
| Iowa | 66/1 |
| LSU | 66/1 |
| Penn State | 66/1 |
| BYU | 80/1 |
| Cincinnati | 80/1 |
| Houston | 80/1 |
| Kentucky | 80/1 |
| NC State | 80/1 |
| Ole Miss | 80/1 |
| Pittsburgh | 80/1 |
| Wake Forest | 80/1 |
| Louisiana | 100/1 |
| South Carolina | 100/1 |
| Tennessee | 100/1 |
| UCLA | 100/1 |
| Fresno State | 125/1 |
| Florida State | 150/1 |
| Iowa State | 150/1 |
| Maryland | 150/1 |
| Nebraska | 150/1 |
| North Carolina | 150/1 |
| Arizona State | 200/1 |
| Mississippi State | 200/1 |
| Purdue | 200/1 |
| TCU | 200/1 |
| Washington | 200/1 |
| Boise State | 250/1 |
| Coastal Carolina | 250/1 |
| Indiana | 250/1 |
| Kansas State | 250/1 |
| Louisville | 250/1 |
| Virginia Tech | 250/1 |
| West Virginia | 250/1 |
| Boston College | 300/1 |
| Missouri | 300/1 |
| Northwestern | 300/1 |
| Texas Tech | 300/1 |
| Appalachian State | 500/1 |
| Arizona | 500/1 |
| Army | 500/1 |
| California | 500/1 |
| Colorado | 500/1 |
| Georgia Tech | 500/1 |
| Illinois | 500/1 |
| Memphis | 500/1 |
| Minnesota | 500/1 |
| Navy | 500/1 |
| Oregon State | 500/1 |
| San Diego State | 500/1 |
| SMU | 500/1 |
| Stanford Cardinal | 500/1 |
| Syracuse | 500/1 |
| UCF | 500/1 |
| Vanderbilt | 500/1 |
| Virginia | 500/1 |
| Washington State | 500/1 |
| Kansas | 1000/1 |