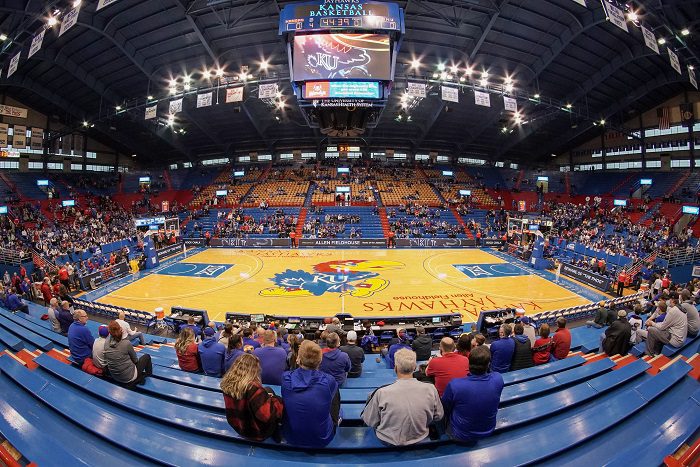 As far as college basketball 'bucket lists' go, Allen Fieldhouse at Kansas has to be on the list, right? That's what I thought, too.
When my alma mater, Stephen F. Austin, scheduled a game with Kansas in Lawrence earlier this season, there was no way I was missing that. It was a chance to see my team play one of the 'blue bloods' of the game, but also a chance to knock Allen Fieldhouse off my list.
Allen Fieldhouse opened in 1955, which I found interesting. I think one just assumes that the Jayhawks have been playing there since James A. Naismith started the program in 1898. Yep, that Naismith, the guy that created basketball. As a fun aside, Naismith's last living grandson just happened to be at my game.
Pure Hoops
There are no bells and whistles at Allen Fieldhouse, named for the coach that succeeded Naismith, Forrest 'Phog' Allen. A little more than 16,000 seats, most of which are bleacher seats. No luxury suites. No upscale concessions (at least for the rank-and-file like me). Just a place to play basketball.
I loved it. Where else can you go and be able to say that you saw a game in the same building where Wilt Chamberlain played AND is the home of the original rules of basketball?
Nowhere else.
At the same time, Allen Fieldhouse wasn't quite what I expected. I came in through a side entrance, which is where you can find the original rules of basketball inside the DeBruce Center. You'll know it by the incredible façade they've created that features the rules of basketball, which serves as an 'overpass' of sorts along the walkway.
I walked in that entrance and found myself by the Jayhawks' locker room. It's not visible, of course, but the door to it is right there as you come in. This led to the concourse of Allen Fieldhouse, and it's one of the most interesting things about the arena, I think.
History Lesson
The best arenas are the ones that turn their arena into a history lesson, and Kansas excels at this. Walk down the concourse directly from the locker room and you'll walk into a hallway with photos of legendary Jayhawks on one side and scores of small plaques highlighting program letterwinners on the other. Meanwhile, you walk underneath banners letting you know just how many national championships and Final Fours the Jayhawks have been to, etc …
This is something that basketball arenas, in my opinion, do a better job of than football stadiums — integrating their history with the gameday experience.
The next thing I noticed was at each corner of the concourse you get an open view into the court at floor level. This surprised me a bit. It's not something I'm used to as a fan. Usually, when I'm media, I'm one of a select few that can access the floor via a tunnel. At Allen Fieldhouse, they almost let me roam freely before the game, including onto the sideline of the court. I was never harassed by a usher.
Honestly, that's a tremendous understanding on Kansas' part that their court is a big part of the history of the game, and that many fans come there to soak that in.
Around the other side of the concourse is the Booth Family Hall of Athletics. If you're looking at Allen Fieldhouse from the outside, where you'll find the statue of Phog Allen, that's the main entrance, and the Booth Family Hall is directly on the other side. On non-game days it's open to the public. On gamedays, it shuts down for a time and then re-opens to ticketholders to tour before and during the game.
This is your walking history lesson of Kansas basketball (and a little Kansas football thrown in). If you're not well-acquainted with Kansas basketball, this is where you need to go first. Spend some time there and soak it all in.
From the Seats
My seats were in Section 13 and, frankly, it was a great seat, even if I was 20-30 rows back. As a 'Fieldhouse,' it has a similar feel to Butler's Hinkle Fieldhouse, in that the seats rise from the floor more gradually, and less steeply, than you find in more modern arenas. You're not necessarily 'on top of the action,' but you don't feel far away from it, either.
Once the game starts, Allen Fieldhouse holds in every bit of the noise you would expect from a program that sells out practically every game. The student sections, which are on the baseline right behind the basket, is one of the loudest I've been around. On a night when school was done, those sections were full, 4,000 strong.
I've been to a football game and a basketball game at Kansas, and the 'Rock Chalk' chant definitely hits differently indoors.
From where I sat I could see those banners you see on TV — the national championship banners and the "Pay Heed, All Who Enter: Beware of the Phog" banner.
When the game was over, unlike other venues, no one was in a hurry to usher you out. I lingered for 30 minutes after the game, walking around, taking in areas of the Fieldhouse and court that I didn't a chance to take in during pre-game and watched as others fulfilled what I would imagine was the same 'bucket list' experience I had.
Everyone loves 'their' arena. Mine, William R. Johnson Coliseum at Stephen F. Austin, doesn't have a lot of frills either. But it's my house, it's where I watched my first college basketball games. No matter what, that's the arena that will be closest to my heart.
What was great about Allen Fieldhouse and Kansas was how willing it was to share its experience with the rest of us, the ones that can't be there every game, or for the big games the Jayhawks host every year.
As a basketball fan, for that, I'm grateful I made the trip. If you get the chance, you should go and knock it off your list, too.
You can find Matthew Postins on Twitter @PostinsPostcard.