Big 12 News
New WVU Offensive Coordinator Graham Harrell With Early Analysis of Quarterbacks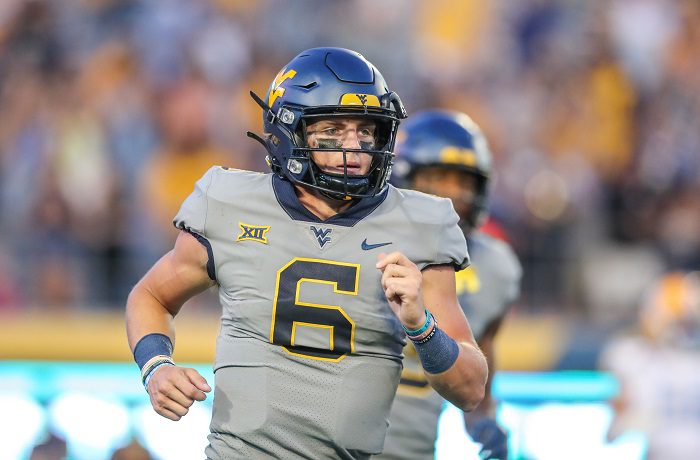 The West Virginia Mountaineers will have a new starting quarterback for the first time in three seasons next fall. Jarret Doege transferred to Western Kentucky and the Mountaineers have a clean slate to hit the reset button at the most important position.
Frankly, it seems like a good thing for all involved. Neal Brown also has a new offensive coordinator in Graham Harrell coming over from USC.
Harrell talked to WVUSports.com about his quarterbacks room and had the highest praise for the newest face, highly-touted recruit Nicco Marchiol.
"(Nicco) is a kid I know a lot of people are excited about and we're excited about and he's a super-talented kid," he said. "I think he has a lot of intangibles that you need as a quarterback. He has great energy and a lot of great leadership qualities, and that's important."
 
Harrell also added commentary on Garrett Greene, who played sparingly in 2021 as Doege's back up, and freshman Will "Goose" Crowder.
 
"Of the other two that have been here, Garrett is an athletic kid that can run around and make some plays and does a really good job with that. The athletic side of things is an extra dimension defenses have to prepare for," he explained.
 
"I got to watch a little bit of developmental tape of Goose, and I liked what I saw," Harrell added. "He's a really good looking kid and in spending the short amount of time I have with him, the thing that excites me about Goose is he has a presence that you are looking for in a quarterback."
Harrell is a well-respected OC in college football and is back in the conference where he made his name. Harrell played his college ball at Texas Tech under Mike Leach and still ranks fourth in NCAA history with 15,793 career yards passing.
But now, he's in charge of helping decide one of the most-watched position battles in the entire Big 12 Conference this offseason. Who do the Mountaineers go with at quarterback heading into a critical Year 4 for Neal Brown, who is looking to break out of a streak of mediocrity since taking over for Dana Holgorsen.
This decision will go a long way in determining if he's able to do just that.