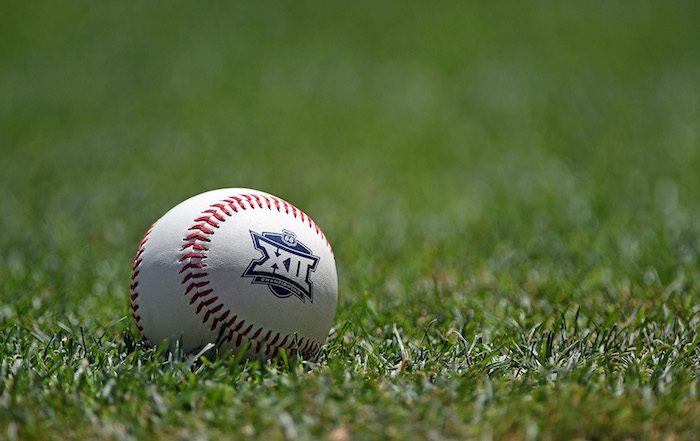 It has been a long offseason but the road to Omaha officially starts on Friday. That's right folks, college baseball is back! Don't let the MLB let you down because there is plenty of action on the diamond around the Big 12.
For years, the Big 12 Conference has been one of the best conferences for college baseball, and 2022 looks to be like another promising year with three teams in the preseason top 25.
This year, the season is starting off with a bang as we have several teams playing ranked opponents right off the bat. Between showdowns with the SEC and others, let's take a peek at this upcoming opening weekend of Big 12 baseball.
Notable Games
#7 Oklahoma State at #3 Vanderbilt
If you are going to watch one series only this weekend this is the one to watch. What is better than a top ten showdown on opening weekend? Vanderbilt was the 2021 runner up and while they do lose some quality arms, they still are poised for a trip to Omaha. Meanwhile Oklahoma State has sort of a roster overhaul but in a good way as they were able to add some solid players such as Victor Mederos and Griffin Doersching. This is by far the deepest team Josh Holliday has had at Oklahoma State and this should be the year where they go back to Omaha for the first time since 2016. Buckle up because this is going to be one fun series to soak in.
State Farm College Baseball Showdown Tournament
If you have time to sit around and watch college baseball all day, then this is the tournament for you. It features three Big 12 teams in Oklahoma, Kansas State, and Texas Tech facing off against Arizona, Michigan, and Auburn. To me, there are two teams that stick out which of course are the ranked teams in Texas Tech and Arizona. But let's talk a look at the field, shall we?
The Competition
Arizona is obviously the heavy hitter of the other three teams in this tournament. The Wildcats are the defending Pac-12 champions and are looking to repeat that along with another trip to Omaha. Meanwhile, Michigan continues to get better and could be a team to watch in the Big Ten. They have some solid veteran players on their roster and can be a team that gives Oklahoma and Kansas State some trouble. Then of course is Auburn who wasn't particularly good last season, but they play in the loaded SEC.
The Big 12 Teams
It's clear that Texas Tech is the best team out of this group from the Big 12. They have plenty of bats led by none other than superstar Jace Jung who led the Big 12 with 21 homers last season. Much like TCU, they have talent, but it is just a matter of putting it all together on the field.
As for Oklahoma, last season was a rough one. The good news is that Peyton Graham and Jimmy Crooks return, but they have some questions when it comes to pitching. If they can figure things out there, then they could be one of the better teams in the Big 12.
Last but not least are the Kansas State Wildcats who I felt like were snubbed from the postseason last year. While they do lose All-American pitcher Jordan Wicks, they have a trio of good players in Nick Goodwin, Dylan Phillips, and Terrence Spurlin. But just like the Sooners, pitching will be the key to their season.
Friday 2/18
Oklahoma vs Auburn
Kansas State vs #15 Arizona
#14 Texas Tech vs Michigan
Saturday 2/19
Kansas State vs Michigan
#14 Texas Tech vs Auburn
Oklahoma vs #15 Arizona
Sunday 2/20
Kansas State vs Auburn
#14 Texas Tech vs #15 Arizona
Oklahoma vs Michigan
Other Games
#1 Texas vs Rice
The number one team in the country starts their season at home in a three-game series against Rice. While the Owls haven't been what they used to be, they do have a new head coach with Jose Cruz Jr. but still have work to do as a program. Meanwhile, Texas has plenty of talent to go around and will look to flex their muscles on opening weekend and show everyone that they belong on top. The Longhorns should sweep the Owls with ease.
Baylor vs Maryland
While other games around the league may take center stage this is an interesting series to keep an eye on. Maryland was a postseason team last season and bring back some solid pitching once again this year. Meanwhile, Baylor had a rocky season in 2021 but looks to bounce back this year. The Bears bring back a ton of experience and have a star in outfielder Jared McKenzie. This will be one of those series that Baylor will need to win to build up that resume come selection time.
Kansas vs Illinois
The Jayhawks start their season down in Corpus Christi, Texas for a three-game series against Illinois at Whataburger Field. The Jayhawks return five of their top six hitters from a year ago however pitching is a big question mark with this team. Much like their opponent Illinois also has some pitching issues as well, but they do return most of their lineup from last season.
Baseball at the Beach Tournament
West Virginia vs Central Michigan (2/18 & 2/20)
West Virginia vs Kent State (2/19)
West Virginia is one of those teams that will need some players to rise up. They have some solid bats on offense, especially with Austin Davis, however, there are just so many question marks. This program has gotten better, and it will be interesting to see if that can take that next step forward under Randy Mazey.
The good news is that West Virginia will be playing not too far from Myrtle Beach. The bad news is that will have three tough games ahead. Kent State is no slouch in the MAC Conference as they have finished third in back-to-back seasons. Kent State should be a good test for this West Virginia team. However, the mismatch will be against Central Michigan who won the MAC last year and have one of the best one-two rotations in college baseball with Jordan Patty and Andrew Taylor coming back.
MLB4 Tournament
TCU vs San Diego State (2/18)
TCU vs Cal (2/19)
TCU vs Houston (2/20)
The Horned Frogs start their 2022 campaign off in Arizona with new head coach Kirk Saloos. TCU was an experienced team last season, but they lost quite a few players from the 2021 team. They have the talent to compete in the Big 12 but they will need some of that talent to step up this season. The bats are there but pitching will be the question for this ball club.
TCU starts off going against a sub-par SDSU team before getting a good test against Cal. The Golden Bears return seven starters from a year ago and could end up making a regional down the road. As for their final game against Houston, that should be the easiest out of their three games in the desert as the Cougars still have a lot of work to do.