Baylor Bears
Five Biggest Takeaways from Week 16 of the Big 12 Men's Basketball Season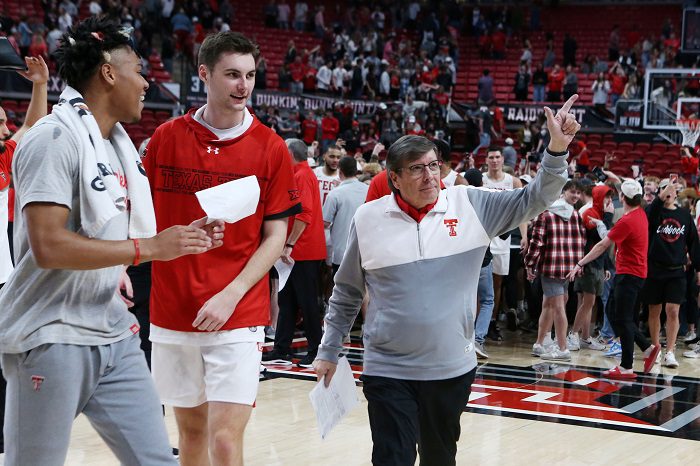 The Big 12 Conference is done with Week 16 of the 2021-22 men's basketball season. So let's dive in and check out our five takeaways for the week.
What's Left to Decide?
With one week left in the Big 12 regular season, there is still plenty to determine in terms of the standings and Big 12 Tournament seeding.
First place: The Kansas loss to Baylor tightens things up a bit, with Baylor now a half-game back. If Baylor wins out, and Kansas wins out, then the Jayhawks win the Big 12. Kansas, however, has three games this week and Baylor only has two. In the event of a tie, they'll share the regular-season title and will have split their season series. There is also a scenario where Texas Tech wins out, Baylor loses once, Kansas loses twice and it's a tri-championship. So, that's fun (and probably a bit unrealistic). This is Kansas' title to lose, and with two games against TCU in three days, plus a home game with Texas, there's a chance Kansas could lose one. But I don't see two. And I'm not certain Baylor will win both this week, either.
TCU: No team has more to gain, or lose, than TCU. The victory over Texas Tech solidified their NCAA Tournament hopes. But, like Kansas, the Horned Frogs have three games this week. Win all three and TCU would finish fifth. Win two of three and TCU would be .500 and no worse than sixth. Lose all three and the Horned Frogs could fall into a first-day Big 12 Tournament game. Much of that, of course, comes down to what the teams below it do.
The Day 1 game: Remember — since Oklahoma State is banned from postseason play, there is only one Day 1 game this year. West Virginia is a lock to play in that game. Oklahoma and Kansas State, realistically, are the two teams duking it out to play the Mountaineers. And, wouldn't you know it? The Sooners and Wildcats play in the season finale.
My predictions? Here is how I think the seeding will fall in the Big 12 Tournament:
No. 1 Kansas
No. 2 Texas Tech
No. 3 Baylor
No. 4 Texas
No. 5 Iowa State
No. 6 TCU
No. 7 Oklahoma
No. 8 Kansas State
No. 9 West Virginia
Numbers are Fun, Ball-Screen Edition
There are plenty of metrics around that tell us that the Big 12 is the best conference in the country. You can also use your eyeballs. But, the metrics are cool, too.
This week, I stumbled across something that Iowa State basketball retweeted, for obvious reasons. First-year coach T.J. Otzelberger is hanging his hat on defense in Ames, and JG Trends, which says it is 'Turning complex analytics into actionable info' had analytics and info that the Cyclones liked.
The Cyclones were rated as the No. 3 team in the country in adjusted ball screen defense. Now, the site doesn't exactly define 'what' adjusted ball screen defense. But let's make the intuitive leap being highly ranked in this category is a good thing.
The Cyclones weren't the only Big 12 team on the list, naturally.
Five Big 12 teams were in the Top 25 — Iowa State at No. 3, Oklahoma State at No. 4, Texas at No. 14, TCU at No. 18 and Texas Tech at No. 23.
If you're looking ahead, this is even better. Future Big 12 members Houston (No. 1) and Cincinnati (No. 17) are on the list, too.
Just another reason why there's no question the Big 12 is the best league in the country.
A Couple of Milestones
This is probably Isaac Likekele's last season in Stillwater. The Oklahoma State guard has an additional year to use due to COVID-19. But, unlike this season, the Cowboys will have fit their scholarships under the limit of 13 next season.
Whether Likekele stays or goes, he'll have put together one solid career at OSU. Last week, he passed the 1,000-career point mark.
It's a shame he and the Cowboys don't have a chance to play in the postseason. Likekele both there last season, as he took a back seat to No. 1 prospect Cade Cunningham and emerged as one of the top rebounders in the Big 12.
Meanwhile, Kansas State guard Nijel Pack hit his own milestone last week, coming from behind the 3-point line.
Pack has another week of regular-season play and the Big 12 Tournament, at least, to add to it. Would … 100 3-pointers be out of the question?
Another Reason Tech is a Final Four Threat
The Texas Tech Red Raiders have plenty of ways to beat you. Yes, tech is one of the best defensive teams in the country. Yes, the Red Raiders' balanced offense means you can't just focus on one player.
But, then there's the points in the paint (or the PIP's, as a couple of friends of mine like to call them). If you watch Tech, you know the Red Raiders have a team built to score inside. But Tech was kind enough to remind everyone of just HOW well it can score inside after its win over Oklahoma last Tuesday.
Yes, that's nearly double what opponents have done against the Red Raiders this season.
As far as legitimate Final Four threats out of the Big 12, the Red Raiders are on the short list, and that's just one reason why.
Three Games That Intrigue Me This Week
Baylor at Texas, Monday: There is potential for Texas to improve its Big 12 Tournament seeding.
Kansas at TCU, Tuesday: If the Horned Frogs are going to upset Kansas, it's probably going to have to happen in Fort Worth.
TCU at West Virginia, Saturday: After a brutal four-game stretch against ranked teams, something tells me that TCU will need this win.
You can find Matthew Postins on Twitter @PostinsPostcard.