Big 12 Basketball
Big 12 Basketball Mailbag: Bruce Weber Drama, Texas Tech Offense, Kansas' Defensive Struggles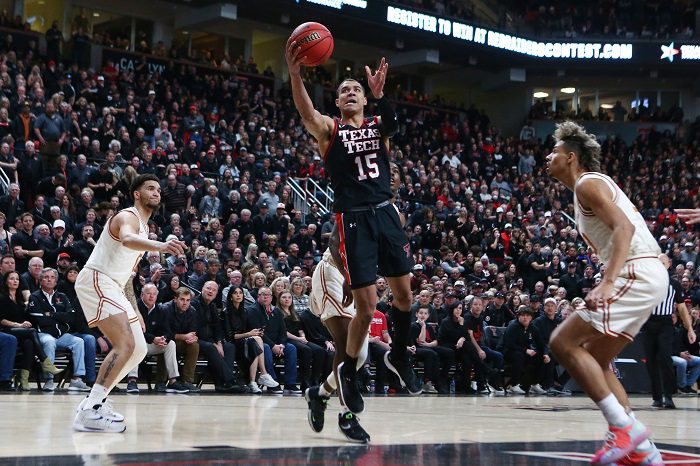 Welcome to the HCS Big 12 basketball mailbag, our ninth and final mailbag of the 2021-22 Big 12 men's and women's basketball season.
This mailbag is for all you basketball junkies out there who root for a Big 12 school that not only have questions about your team but other teams in the conference. So, join me, grab your favorite drink (I'm back to the Tito's and soda in my SFA tumbler), and relax as I answer all your Big 12 questions.
For those interested, I will send out a tweet (@PostinsPostcard) Wednesday night and you'll have until Thursday at 5 PM CT to send in your questions to be answered every Friday right here at Heartland College Sports. And our site owner, Pete Mundo, will solicit questions on our Facebook page.
I want to thank each one of you who submitted a question this week and for those of you that are reading. For future reference, feel free to answer questions about men's and women's basketball, as we've added women's Big 12 coverage to our HCS content this season.
After this mailbag, it's on to the postseason, so check out the site for great Big 12 Tournament content for both the men and the women. And, if you're in Kansas City next week and you see me, say hello. More importantly, buy me a drink. I'll be parched by then.
So many great questions, and we have time for four.
Carl Nielsen on Facebook Asks: Can K-State finally move on past (Bruce) Weber?
Ah, the Bruce Weber questions continue. I'll hold firm on what I believe — if the Wildcats don't make the NCAA Tournament, Weber is out the door. Interestingly, our Joe Mathieu wrote a piece on three coaches that COULD replace Weber. There's one I really like, and I would imagine there is one that Wildcats fans like, too.
John Madison on Facebook asks: Does the Big 12 Tournament really matter in the big picture, either in the minds of players and fans, or in the NCAA seeding?
Big picture? Well, naturally, it depends on what happens. I think there are six teams solidly in the field — Baylor, Iowa State, Kansas, TCU, Texas, and Texas Tech. TCU and Iowa State could see volatile changes to their seeding, depending upon what happens. Oklahoma has the most to gain from a long tournament run, especially the way the Sooners have played the last two weeks. But OU is on the outside looking in at the moment.
If you want some chaos theory, I think there's a way the Big 12 could get EIGHT teams in the NCAA Tournament. For that to happen, K-State and OU have to reach the title game and K-State has to win. It's implausible, but not totally impossible. Nijel Pack certainly doesn't think so.
As for players and fans, I've covered that tournament twice. The one in 2020, naturally, was canceled. But when Iowa State won it in 2019, how MUCH that title mattered was written all over the faces of those players and fans. So, yes, to players and fans, what happens in Kansas City matters quite a bit.
Robert Powell on Twitter asks: How does Tech get (Kevin) Obanor and (Bryson) Williams hot at the same time and similarly how does Tech get its offense rolling again?
The question is interesting. Just two weeks I was talking about how well the Red Raiders' offense was playing. Now Texas Tech has failed to score 70 points in three of its last four games but has still gone 3-1. That Red Raider defense will keep them in every game. What's interesting is that the Red Raiders have played just one ranked team in that stretch. And, Tech has actually shot above their season average in three of those games. The problem COULD be that in those four games the Red Raiders averaged 16.5 turnovers, three turnovers above their season average.
As for Obanor and Williams, well, Williams has definitely carried the load between the two the last four games, averaging 17.5 points per game. Obanor hasn't even cracked double figures in that time, averaging 4.5 points. In fact, Obanor seems to have fallen off the map after that 23-point, 13-rebound outing against Baylor on Feb. 16. While Williams gets more volume, Obanor relies on efficiency. He's had double-digit shot attempts in just three conference games, but he's hit double figures in eight games. Take the games where he had fewer than 10 shot attempts and hit double figures and he's shooting 68 percent. Take the other games (fewer than 10 shot attempts and less than 10 points) and he's shooting 31 percent.
Williams appears to be where he needs to be. Obanor needs to get back to making the most of his touches and, perhaps, selecting better shots.
Pete Smith on Facebook asks: How concerned should Kansas fans be right now about how this team is playing?
Well, the win over TCU on Thursday night put a bit of a bandage on it, but yeah, it's time to worry a bit. Kansas has lost two of its last three games. But the offense is there for Kansas. It's the defense that is the trend one has to watch. Did it start with that Kansas State win two weeks ago? Yes, the Jayhawks scored 102 points that night. But lost in that win was the fact that Kansas GAVE UP 83 points. Since then, the Jayhawks have given up 80 points to Baylor, and then 74 points and 68 points to TCU. While that's a good trend, the Jayhawks have the worst scoring defense in the Big 12 (68.8 points this season) and are third-worst in just conference games (69.6 points). That defense has the potential to betray the Jayhawks.
You can find Matthew Postins on Twitter @PostinsPostcard.