Baylor Bears
Baylor's Nicki Collen Named Big 12 Women's Basketball Coach of the Year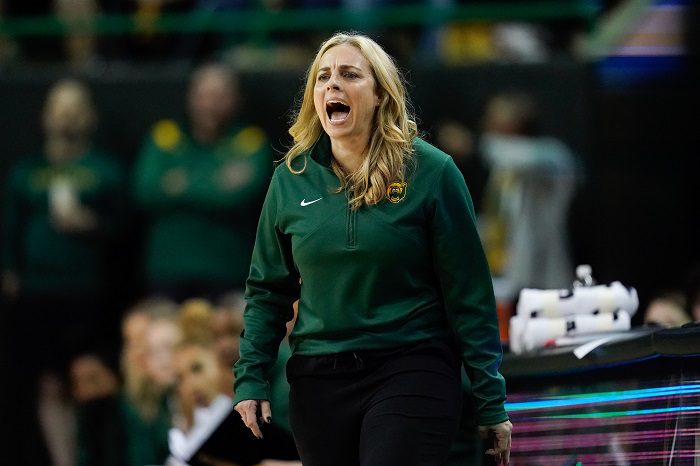 Baylor head coach Nicki Collen is the Heartland College Sports Big 12 women's basketball coach of the year for the 2021-22 season.
Of the four superlative awards for the 2021-22 season, this was the most difficult to decide. Oklahoma's Jennie Baranczyk turned the Sooners into one of the most dynamic offenses in the country. Kansas' Brandon Schneider is about to lead the Jayhawks to their first NCAA Tournament in nearly a decade. For a while, it looked like the award could have been given to Iowa State's Bill Fennelly.
But, Collen claims the award after a season in which the Bears, for the first time in quite some time, looked vulnerable.
Back on Jan. 12, the Bears were 0-2 in the Big 12 after a 68-59 loss to Kansas State and an 83-77 loss to Oklahoma. Collen, in her first season replacing Kim Mulkey, had a team adjusting to her pro-style system and one that was fighting COVID-19. Between the Kansas State and Oklahoma losses, the program had to pause for a few days.
In fact, the Bears' next game — at Kansas on Jan. 16 — nearly led to the Bears starting 0-3 before they pulled out an 82-79 victory.
From there, the Bears started looking like the Bears again. The first big test came Jan. 23 as the Bears beat Iowa State, 87-61. The Cyclones had Ashley Joens coming off of a missed game due to COVID, but the Bears made sure it didn't matter.
Then, Baylor had its only other loss of league play, an 78-77 loss to Oklahoma at home on Feb. 2. Baylor, again, looked vulnerable, especially with back-to-back games with Texas coming up immediately after.
Instead, Baylor won both games, both by double digits. The Bears ended up winning their last 10 games of the season to claim the Big 12 title.
Collen did it with a short bench, using a rotation of just seven players for most of the Big 12 season. As the season went on, she was able to put more trust in her new point guard, Jordan Lewis, while Collen's coaching and system allowed forward NaLyssa Smith to elevate her game after a season in which she was the Big 12 Player of the Year. Her patience with guards Sarah Andrews and Ja'Mee Asberry paid off, too, as their 3-point shooting helped open the floor for the rest of the team.
Collen had to take over for a legend, bring in a new system, work with a short bench and lead her team out of an 0-2 start. For that, Collen certainly deserves the award in the most crowded field of our four superlative awards.
You can find Matthew Postins on Twitter @PostinsPostcard.