Big 12 News
Oklahoma State Women's Basketball Hires Jacie Hoyt as Next Head Coach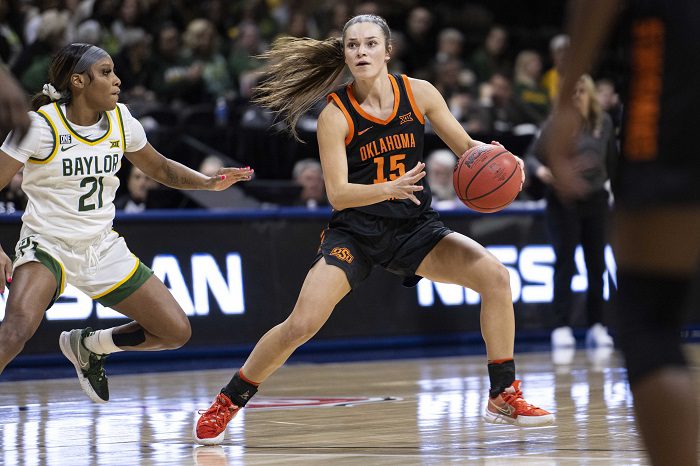 The Oklahoma State Cowboys women's basketball program has hired Jacie Hoyt to be the next head coach, the university announced in a release on Sunday.
The 34-year-old has spent the last five seasons as head coach of the UMKC Roos, where she compiled an 81-65 overall record and a 48-31 mark in conference play. Her job turning around the program should not be overlooked, as the six Kansas City coaches before her combined to go 242-437 overall and 144-215 in conference play. This past season, she coached the Roos to their first postseason appearance in a decade.
In a statement, Hoyt said, "There are a million reasons to be excited about Oklahoma State. First and foremost, it's the people and the leadership there. Everyone I've had conversations with at OSU aligns with the beliefs and characteristics that lead to success. It's the community as well. OSU has a fan base that supports the program and we are passionate about giving them something to proud of."
This past season, the Roos ranked in the top 30 nationally in both three-point field goal percentage and free throw percentage. But this is nothing new for her program, as Kansas City ranked 62nd or better nationally in three-point field goals made in four of her five years as head coach.
Hoyt's playing days date back to Hoxie, Kansas, where she scored over 2,000 points in three years, and then went to Wichita State where she was a team captain and starting point guard for her final two seasons.
Hoyt replaced Jim Littell, who led the program for a decade, but parted ways with Oklahoma State earlier this month.
Littell took over as the head coach for the Cowgirls in 2011 after former head coach Kurt Budke died in a plane crash on November 17, 2011. Since then, Littell has led OSU to a 203-139 record and six appearances in the NCAA Women's Basketball Tournament. However, Oklahoma State went 8-19 this past season, while going 3-15 in Big 12 play.