Big 12 News
Big 12 Board Wants New Commissioner Hired in Next 90 Days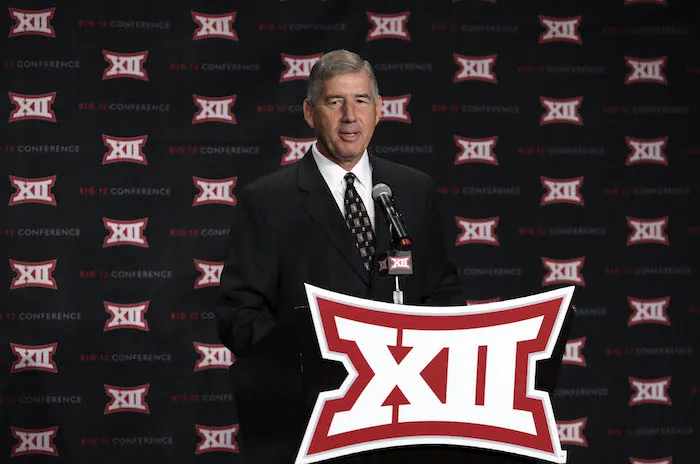 The Big 12 Conference is set to have new leadership for the first time in a decade as commissioner Bob Bowlsby announced his plans this week to step away from his role sometime this year.
When is that sometime? Well a new report from The Athletic says the Big 12 board is looking to find their next commissioner before the football season.
The Athletic spoke with Lawrence Schovanec, Texas Tech's president and the chair of the Big 12's board, and he said their goal is to have their new commissioner hired in the next 90 days. Baylor athletic director Mack Rhoades agreed on that timetable, calling it "ideal and necessary".
Bowlsby will remain commissioner until his successor is appointed, at which point he will transition into a new interim role at the conference's request and is "subject to the mutual agreement of Bowlsby and the new Commissioner."
The new commissioner will have to hit the ground running on some critical issues. Can UCF, Houston and Cincinnati get out of their AAC deals and join the Big 12 with BYU to start the 2023 season? What about when Oklahoma and Texas leave for the SEC? Will there be Big 12 divisions? And these issues are just the tip of the iceberg for the next commissioner.
During Bowlsby's tenure, the Big 12 has won 25 NCAA team national championships. In 2020-21 the Big 12 captured 5 NCAA team national championships, including a Baylor University men's basketball title. Also, for four consecutive years, the Big 12 has placed men's basketball teams in the Final Four. In football, the Big 12 has placed teams in the College Football Playoff New Year's Bowls throughout its seven-year history. The Big 12 is the home of two of the last five Heisman Trophy winners and was the only Conference to place a team in the Final Four and CFP semi-finals in 2017-18 and 2018-19.
There will be plenty of time to debate Bob Bowlsby's legacy, but for now, the pressure is on the conference to find its next commissioner at one of the most crucial times in the league's history.