Big 12 News
Oklahoma Softball Loses First Game of 2022 Season, Falling to Texas 4-2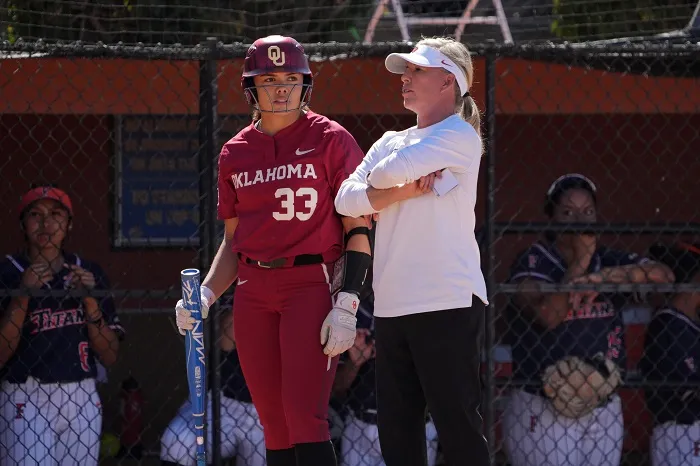 The Oklahoma Sooners softball team is no longer undefeated after losing its first game of the 2022 season 4-2 to Texas in the final game of their three-game series.
The Sooners had taken the first two games of the series 3-0 and then a run-rule 9-1 win on Friday, before Texas snapped the winning streak on Saturday afternoon in Austin.
Jordy Bahl was in the circle for the Sooners, but gave up four runs, three earned over six innings of work. This was her worst outing since giving up six runs against Tennessee in late February. In fact, it was the first time she had given up any runs in her last four starts, with the last time she allowed anyone to score against her was on April 1st against UAB, when she gave up one run. The loss was Bahl's first of the season, and her career, and dropped her to 16-1 on the year.
The game was scoreless until the fifth inning, when Mary Iakopo drove in an unearned run caused by an error earlier in the inning. Then in the sixth inning, after Texas loaded the bases, Mia Scott cleared them with a two-out, three-RBI triple to left center field, to give Texas a 4-0 lead.
The Sooners didn't go down easy, as Kinzie Hansen hit a two-run homer in the 7th inning, but Hailey Dolcini would finish off the inning for the win, improving to 14-5 on the season.
With the win, the Longhorns improved to 31-12-1 on the season, while Oklahoma dropped to 38-1. For Oklahoma, it means this winning streak, which is 40 games dating back to last season, will remain the third-longest winning streak in Division 1 college softball history. In 2019, that Oklahoma softball team won 41 games in a row. The longest winning streak is Arizona softball, who won 47 games in a row from the 1996 season into the 1997 season.
The Sooners are off until next Wednesday when they play North Texas, before hosting Iowa State for a three-game series next weekend. Meantime, Texas hosts Houston on Wednesday and then opens a three-game set at Oklahoma State on Friday.