featured
Four Sooners, One Cowgirl Among 25 Finalists for USA Softball Player of the Year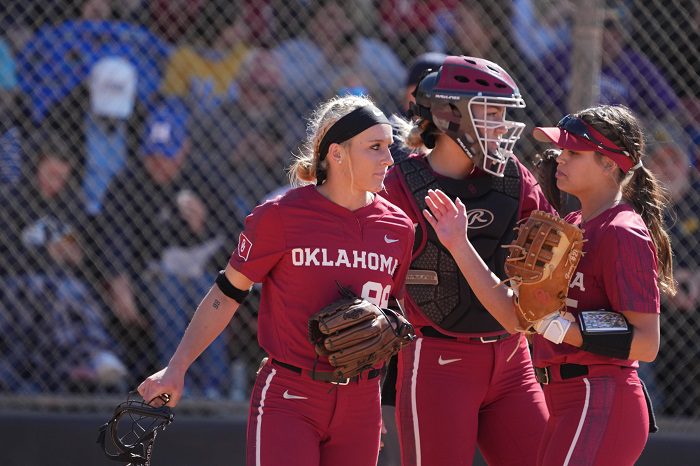 USA Softball released its "Top 25" Finalists for the 2022 USA Softball Collegiate Player of the Year on Wednesday and five players from the Big 12 made the list.
The top-ranked Oklahoma Sooners had four players on the list, while the seventh-ranked Oklahoma State Cowgirls were represented as well.
That gives the Big 12 one-fifth of the entire field of finalists with five, with the Pac-12 represented with five, the SEC with six, the ACC with five, the Big Ten with two, and two for the AAC.
Oklahoma players to make the list were: UTL Jocelyn Alo, RHP Jordy Bahl, OF Jayda Coleman, and SS Grace Lyons. The Sooners were one of three teams with multiple selections, the others being Arizona State (2) and UCLA (2).
Jocelyn Alo won the award last season after maintaining a .475 batting average, 34 home runs, and 89 RBIs with a ridiculous slugging percentage of 1.109. Through 39 games, she is on pace to virtually match her 2021 season. Alo currently has a batting average of .490 (No. 1), 21 home runs (No. 1), and 49 RBIs (No. 6) with three regular-season series, the Big 12 tournament, and the NCAA tournament left on the schedule.
Jordy Bahl, Oklahoma's freshman ace that has taken the country by storm, is off to an incredible start of her collegiate career. Through 99.1 IP, Bahl has recorded 162 strikeouts, and maintains an ERA of 0.85, good for sixth in the country. Bahl will be an issue for opponents once the postseason starts and should be an anchor for this pitching staff for the rest of the way.
Sophomore outfielder Jayda Coleman is also listed for the Sooners, holding a .456 batting average and a perfect 1.000 fielding percentage. Her six home runs and 28 RBIs have been clutch for the Sooners and some of them have come at the most opportune times when OU needed them most.
Oklahoma's Grace Lyons is quite possibly the best shortstop in America, carrying a .926 fielding at the position. Lyons ranks eighth in home runs (17), 26th in RBIs (44) and third in slugging percentage (1.000) nationally.
Oklahoma State is represented by RHP Kelly Maxwell, who has been terrific for the Cowgirls in her third year of action for Kenny Gajewski's squad. She ranks 11th nationally in ERA (1.04), and in just 20 appearances she has 198 strikeouts.
The list will be trimmed down to 10 finalists on May 4 and the top three will be announced on May 18. The winner of the 2022 USA Softball Collegiate Player of the Year will be revealed prior to the Women's College World Series.