featured
Oklahoma State, Texas Fall in Latest USA Softball Top 25 Poll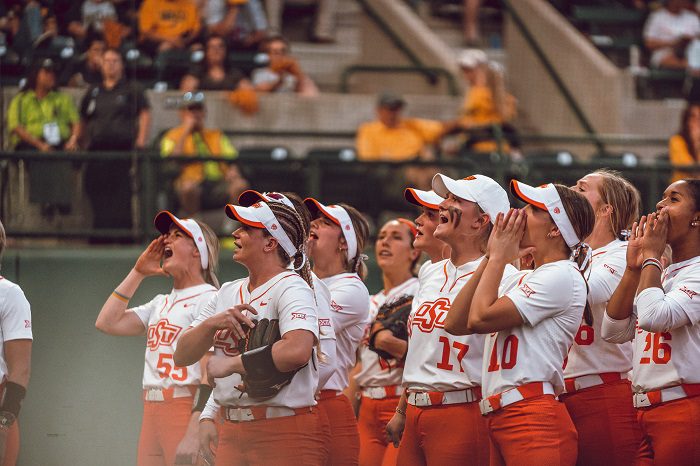 It was a competitive final week of the Big 12 regular season, and the USA Softball Collegiate Top 25 Poll reflected that on Tuesday morning.
Oklahoma State, who had the prospect of traveling to Norman for a three-game series this weekend, dropped just one spot to No. 8 after being swept by the Sooners. OSU's ranking this week shows me that the poll has great respect for the Cowgirls and a great respect for their opponent over the weekend as well. If Oklahoma State can have an impressive showing in the Big 12 Tournament this weekend, it will go a long way in helping them be one of eight teams to host through Super Regionals.
The Texas Longhorns won their series against Baylor last weekend, but they were embarrassed by the Bears on Saturday, losing 3-17 in Austin. As a result, UT fell from 14th to 16th and is now viewed as a fringe host team for Regionals next weekend. With Selection Sunday directly following the Big 12 Tournament this weekend, Mike White's squad needs to make a strong impression to keep themselves on the right side of 16.
Finally, the Oklahoma Sooners retained their spot atop the rankings after an impressive sweep of Oklahoma State to secure their 10th consecutive Big 12 regular-season title. The Sooners again received all 25 votes for first place and hold a 48-1 record that has many people wondering if they could be one of the best teams in softball history. There is a long way to go, but they have certainly looked the part up to this point.
Here is a look at the complete ESPN.com/USA Softball Collegiate Top 25.
1.) (25) Oklahoma (48-1)
2.) Virginia Tech (40-6)
3.) Florida State (48-5)
4.) Arizona State (37-8)
5.) Arkansas (41-8)
6.) UCLA (40-8)
7.) Alabama (41-10)
8.) Oklahoma State (38-12)
9.) Northwestern (39-9)
10.) Tennessee (38-15)
11.) Washington (34-13)
12.) Duke (40-7)
13.) Florida (41-15)
14.) Kentucky (35-16)
15.) Clemson (37-14)
16.) Texas (37-16-1)
17.) UCF (44-12)
18.) LSU (34-20)
19.) Georgia (40-15)
20.) Auburn (39-14)
21.) Notre Dame (39-9)
22.) Missouri (33-19)
23.) Michigan (34-15)
24.) Oregon (31-17)
25.) Arizona (32-18)
Dropped Out: Stanford
New to Poll: Arizona
Others receiving votes: Stanford (23), Ole Miss (11), San Diego State (9), Texas A&M (8), Utah (8), Wichita State (7), Louisiana (5), Mississippi State (5), South Florida (5), Nebraska (2), Oregon State (1), Western Kentucky (1).