Big 12 News
Oklahoma Softball Adds Pac-12 Freshman of the Year Cydney Sanders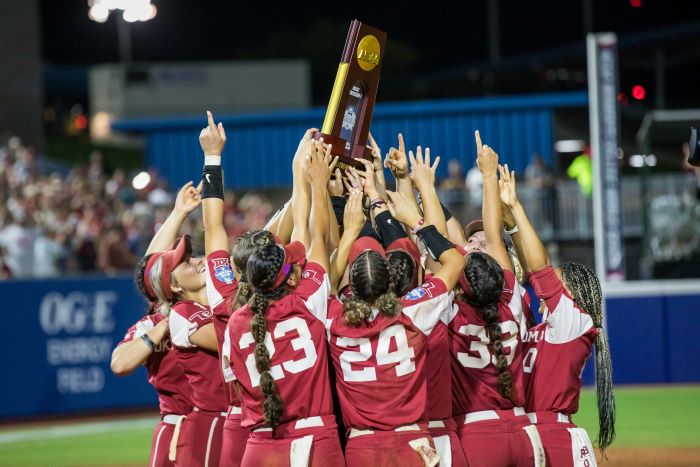 Patty Gasso and the Oklahoma Sooners are tooling up for another run after winning back-to-back titles in 2021 and 2022.
Well, they just got a whole lot better, as scary as that is, as Gasso's squad added one of the nation's top sluggers to their roster as Arizona State transfer Cydney Sanders inked with the Sooners on Monday.
Sanders, the Pac-12 Freshman of the Year in 2022, started at first base for the Sun Devils and was a problem for opponents at the plate. She led the Sun Devils in several offensive categories last season, including including home runs (21), RBI (63), slugging percentage (.952), walks (45) and total bases (139).
Her 21 homers this season set the new single-season record in Tempe, and her batting average of .425 was good for 21st nationally. Adding Sanders to an already stacked lineup will certainly help offset the loss of all-world talent Jocelyn Alo, especially when you consider that the Sooners also added Sanders former teammate Alynah Torres last month as well.
"I think every coach in the country was picking up their phone when they saw Cydney's name in the portal," Gasso said in an Oklahoma press release. " She was a perfect fit for our needs with some of the power we lost from our outgoing senior class.
"She put up tremendous numbers her freshman season leading to her being named a first team All-American. She'll come into this program and easily pick up some of what we lost, but be able to make her own path. She's a great fit and we're very excited about her future as a Sooner."
Oklahoma might not be done yet either, as the Sooners are trending as the destination for Texas A&M transfer Haley Lee. A 2022 second-team All-American, Lee would bring even more power to a lineup that already might be more potent from top to bottom in 2023, which seems outrageous considering what Oklahoma did this season.