Big 12 News
Bob Stoops on Cale Gundy Resignation: 'He Created an Incident that Led to These Consequences'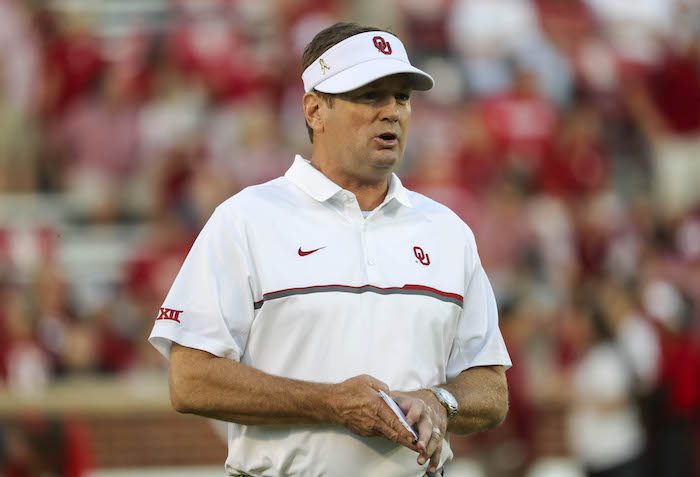 Legendary Oklahoma football coach Bob Stoops had already put out a statement on the resignation of longtime Sooners assistant Cale Gundy, but Stoops expanded on his statement in KREF sports radio on Tuesday.
Stoops said, "You can't have a side. There is no good side. There's no right or wrong side. It's just a very unfortunate situation."
Stoops added, "Cale, I love him to death… no one has done more. He's been incredible. We all know in any occupation you might be in, one wrong moment or incident can have severe consequences. Every occupation out there. And sadly, whether it's poor judgement or awareness, he created an incident that led to these consequences."
Stoops wrapped up his comment by saying, "That one moment doesn't define Cale as a person or his character or heart."
Here's the audio of Stoops' comments.
Cale Gundy said in his public resignation letter that he read aloud "a word that I should never — under any circumstance — have uttered" off the screen of a player's iPad during a film session last week.
He added, "The unfortunate reality is that someone in my position can cause harm without ever meaning to do so. In that circumstance, a man of character accepts accountability. I take responsibility for this mistake. I apologize."
The post also notes that Gundy "did not even realize" what he was reading and, as soon as he did, "I was horrified."
Head coach Brent Venables also put out a statement that read in part,  "It's with sadness that I accept Coach Gundy's resignation. He's dedicated more than half of his life to Oklahoma football and has served our program and university well… The culture we're building in our program is based on mutual respect. Our staff is here to develop successful student-athletes, but also young men of character. As the leaders of this program, it's essential that we hold ourselves to the highest standards as we model for our players the type of men we want them to become."
During Cale Gundy's time in Norman, Oklahoma has won 14 Big 12 titles, along with the 2000 national championship.
Offensive analyst L'Damian Washington will replace Gundy on an interim basis.