Oklahoma Sooners
Watch: Oklahoma Punter Michael Turk Proposes to Softball Player Grace Lyons After Bedlam Win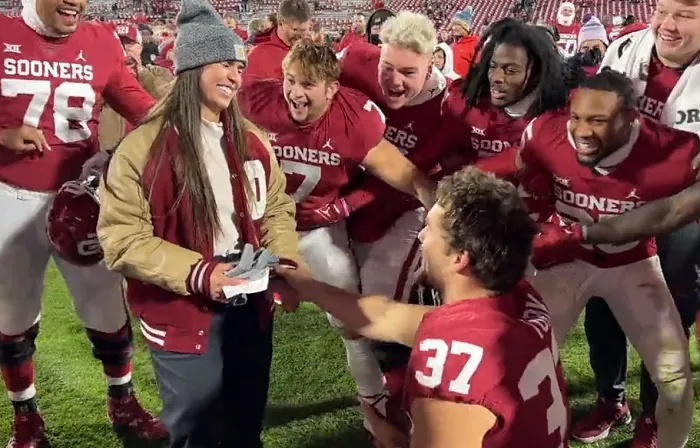 Oklahoma beat Oklahoma State 28-23 on Saturday night. And then after the game, Oklahoma punter Michael Turk won off the field when he proposed to his girlfriend, Oklahoma softball player Grace Lyons.
The Oklahoma Football Twitter account shared the video on Sunday.
Here's how it all went down. And before you watch it, Lyons did, in fact, say "Yes!"
These relationships should pay off for Oklahoma athletics recruiting in about 20 years as well. But a big congrats to Turk and Lyons.
As for the game, Oklahoma jumped out to a 28-0 lead, but would not score the rest of the game before pulling out the 15-point victory. It was a mostly-ugly game from the second quarter on, but for Oklahoma, they continued their dominance in this series, improving to 91–19–7 against their in-state rivals.
And for Mike Gundy, he fell to 3-15 against Oklahoma.
The Cowboys finished the season on Saturday at home against West Virginia, while Oklahoma travels to take on Texas Tech to wrap up their regular season.