Big 12 News
Oklahoma State QB Spencer Sanders Enters Transfer Portal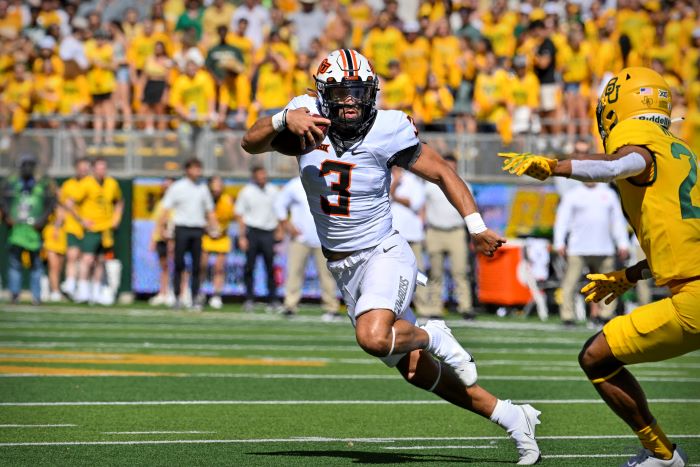 Oklahoma State quarterback Spencer Sanders announced on Monday that he has entered the NCAA Transfer Portal.
Rumors had circulated on Twitter for a couple of weeks but nothing substantial had come of it until Monday afternoon when several outlets reported that Sanders had officially entered his name into the portal.
Sanders started for the Cowboys each of the last four seasons. He's thrown for 9,553 yards, 67 touchdowns, and 40 interceptions with a 61.1 completion percentage during his time in Stillwater.
"It is with a very heavy heart that I announce my decision to enter the transfer portal today, and in the spirit of the 'Cowboy culture,' I wanted everyone to hear it directly from me," Sanders said in a post. "I appreciate all that Cowboy fans and the Oklahoma State family have given to my family and me in these memory-filled five years."
With Sanders heading out, Mike Gundy and the Cowboys are left with freshmen quarterbacks Garret Rangel and Gunnar Gundy, as well as highly-touted incoming freshman Zane Flores.
It's unclear whether the Pokes will go after a quarterback in the transfer portal, but given the situation, it wouldn't be surprising. Unfortunately, head coach Mike Gundy has been vocal about not wanting to reach into the transfer portal. Now, he might not have a choice if he want's a proven commodity at quarterback in 2023.