featured
HCS Roundtable: Staff Picks For TCU vs. Michigan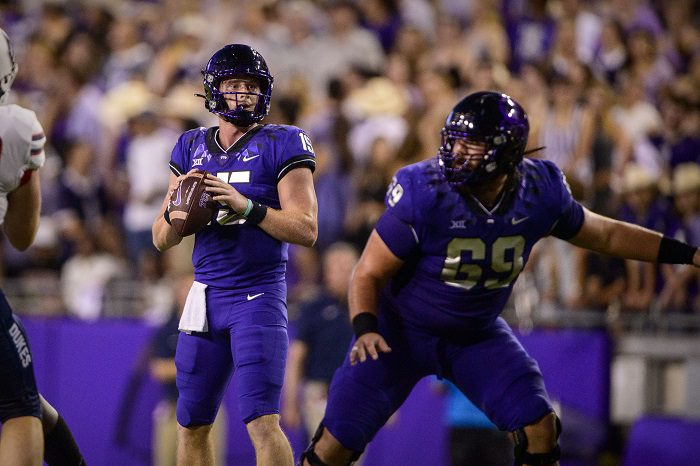 On Saturday, the TCU Horned Frogs and Michigan Wolverines will do battle in the VRBO Fiesta Bowl, the first of two College Football Playoff semifinal games.
TCU will likely enter the game somewhere around a touchdown underdog, with kickoff slated for 3:00 p.m. CT on New Years' Eve.
Here are the Heartland College Sports' staff picks for TCU vs. Michigan.
Pete Mundo
TCU is getting completely disrespected in this game. All the "experts" are looking at this game and thinking it's 2012. A high-flying Big 12, Air Raid offense that is small and won't be able to handle the big boy football of Michigan on both sides of the football. But in the words of Lee Corso, "Not so fast my friend". This TCU team has SIZE on both sides of the ball. Are they Michigan big? No. But they can absolutely compete in the trenches with this team, while having the speed that Michigan does not possess. The 3-3-5 defense can stop, or slow down, the running game of the Wolverines and force them to beat you through the air, which will be tough against the TCU secondary. Let's not forget this team completely shut down Texas' offense and Bijan Robinson (12 carries, 29 yards) in November. On the other side, Max Duggan and Kendre Miller will get the tough yards on the ground and will open up and opportunity or two downfield for a big play that will be a difference maker. TCU shocks the college football world (well, not really, just those who don't follow the Big 12).
Prediction: TCU 31, Michigan 27
Bryan Clinton
This game is going to be close. In fact, I believe this will be the best pair of college football playoff games that we have had since the system was implemented. Most years, we see one game become extremely lopsided, while the other turns out to be competitive. This year, we get good football in both games and I do think TCU has a real shot at winning this game. However, Michigan is one of the most efficient teams in the country, both offensively and defensively. If Michigan gets a sizable lead, it will be tough for the Frogs to do what they've done all year and come back to win the game in the end. I think this game is close all the way through, but Michigan's run game wins it for them in the end, as they hold off Max Duggan and the Horned Frogs to make the National Championship to take on… the Ohio State Buckeyes.
Prediction: Michigan 35, TCU 31
Derek Duke
It's been a hell of a year for the TCU Horned Frogs, and they've had some great stories to go along with it. From Max Duggan going from backup quarterback to Heisman finalist, to Sonny Dykes being named coach of the year, it's definitely one for the books. Every time I pick against them this season, they always seem to be able to pull out a win. BUT I have to pick against them one last time. TCU has played some good teams this season, but they have not faced any team quite like Michigan yet. The Wolverines destroyed Ohio State a few weeks ago and have overall been dominant all year long. Max Duggan has carried TCU this far, but I don't think he will be able to carry them to a win today. Unfortunately, my heart says Michigan takes this game.
Prediction: Michigan 31 – TCU 24
Matthew Postins
I've done some radio hits this week and I've talked about what I think will be the difference in this game, which is the running game. Michigan has one of the best in the country and the line won the Joe Moore award, given to the nation's best line. They're so good it doesn't matter if its Blake Corum or Donovan Mitchell behind them, and Mitchell has been fantastic for two games. But Michigan's running game is more traditional. TCU head coach Sonny Dykes and offensive coordinator Garrett Riley have taken the Air Raid and turned it on its head with power run principles that work, especially when the Horned Frogs are ahead and can turn Kendre Miller loose downhill. Unlike some, I think this is a close game in the fourth quarter, and we all know what happens with TCU in a close game. The Horned Frogs won't need to run 'bazooka' today, but they will need a field goal to win it.
Prediction: TCU 33, Michigan 30