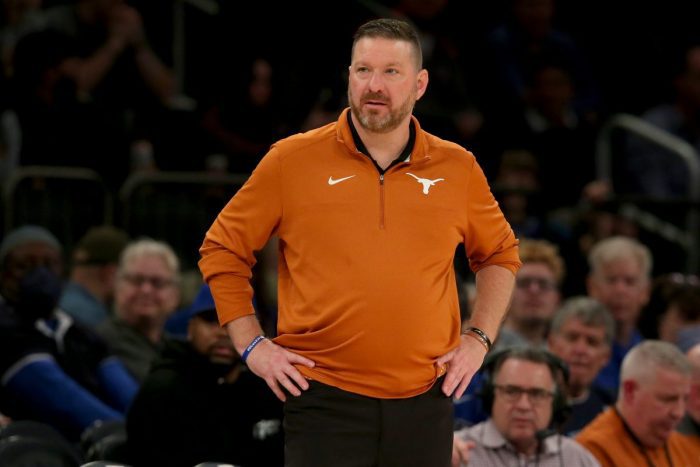 Texas Longhorns' head basketball coach Chris Beard has been fired by the University of Texas after having been suspended without pay since mid-December due to pending felony assault charges that stemmed from a domestic dispute with his fiance.
"The University of Texas has parted ways with Chris Beard," Texas athletic director Chris Del Conte said in a statement. "This has been a difficult situation that we've been diligently working through. Today I informed Mr. Beard of our decision to terminate him effective immediately. We thank Coach Rodney Terry for his exemplary leadership both on and off the court at a time when our team needed it most. We are grateful he will remain the acting head coach for the remainder of the season. We are proud of our student-athletes, coaches and staff, who throughout this difficult time have continued to make us proud to be Longhorns."
On December 12, Beard was suspended indefinitely after reports surfaced that he had been arrested for assaulting and strangling a woman, who turned out to be his fiance. "The University takes matters of interpersonal violence involving members of its community seriously," the university said in a statement at the time.
However, his fiancé is told a different story after the fact.
On December 23, Randi Trew put out a statement, according to Tony Plohetski of the Austin American-Statesman, saying, "Chris and I are deeply saddened that we have brought negative attention upon our family, friends, and the University of Texas, among others. As Chris' fiancé and biggest supporter, I apologize for the role I played in this unfortunate event. I realize that my frustration, when breaking his glasses, initiated a physical struggle between Chris and myself. Chris did not strange me, and I told that to law enforcement that evening. Chris has stated he was acting in self-defense, and I do not refute that. I do not believe Chris was trying to intentionally harm me in any way. It was never my intent to have him arrested or prosecuted. We appreciate everyone's support and prayers during this difficult time."
Regardless of Trew's latest testimony, Beard is out at Texas and will likely lose more than just his reputation in the case.
According to a report from Matt Norlander of CBS Sports, Texas was seeking to fire Beard for causem and in doing so would negate any responsibility in the money that Beard was due with his new contract. Before the 2021-22 season, Beard signed a contract with Texas for seven years, $35 million through 2028, and that now appears to be null and void given the circumstances.