Baylor Bears
Big 12 Basketball Coaches React to Bill Self Hospitalization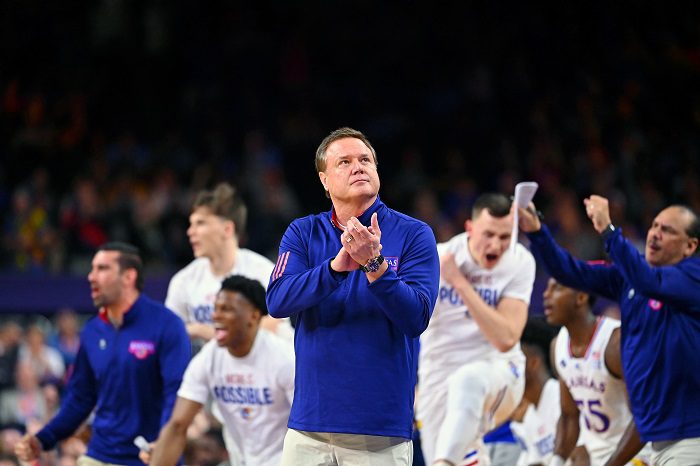 KANSAS CITY, Mo. — Baylor head coach Scott Drew had kind words for Kansas coach Bill Self, who missed Thursday's Big 12 Tournament game due to an illness.
Drew spoke after the Bears fell to the Iowa State Cyclones, 78-72, in the Big 12 Tournament quarterfinals.
"Thoughts and prayers go to Coach Self and praying for a speedy recovery for him," Drew said. "We are all prayerful. At the end of the day, we're blessed to play a game and God let's us do what we're passionate about. Life is short and winning the game of life is the most important thing."
Kansas men's basketball coach Bill Self wasn't on the bench for the Jayhawks' Big 12 Tournament quarterfinal game against West Virginia on Thursday.
A few hours before the game, Kansas sports information disclosed that Self would miss the game as he recovers from an illness. Assistant coach Norm Roberts served as the acting head coach in Self's absence.
Kansas Basketball also confirmed that Self is doing well and is receiving care at the University of Kansas Health Systems.
Iowa State head coach T.J. Otzelberger said that he texted Self earlier Thursday to wish him a speedy recovery.
"Coach Self has always treated me well," Otzelberger said. "I respect him and I respect their program. I certainly want to wish him the best. Texted him earlier today and let him know we're keeping him our thought and prayers. For all of us, it takes a lot out of everybody. There's a lot of demands (in coaching) And you hope that everyone is doing everything they can. And you wish everybody the best. But you know it also takes its toll."
West Virginia coach Bob Huggins said he hadn't spoken to Self yet and said he wanted to speak to the KU staff before he called to ensure it was the right time to call. He referenced his own health issues during his time talking about Self.
Huggins had a heart attack in 2002 while he was at Cincinnati and collapsed in 2017 when his defibrilator went off.
While Self didn't have a heart attack, he understands what Self is going through right now.
"I want to do what's in his best interest," Huggins said. "And I'm sure, you know, at some point we'll talk. He and I talk. You know, I've been through those things and it's not any fun, you know and I especially I think — I think it would be really hard for Bill this time of year because of him trying to make another run for a national championship, and him being in the state he's in now, I would think that would be very difficult.
"I want Bill to get well, you know?" Huggins continued. "I want to say as soon as he can, but really I think what I need to say or mean to say is that I want him to come out of there the way he's always been."
You can find Matthew Postins on Twitter @PostinsPostcard