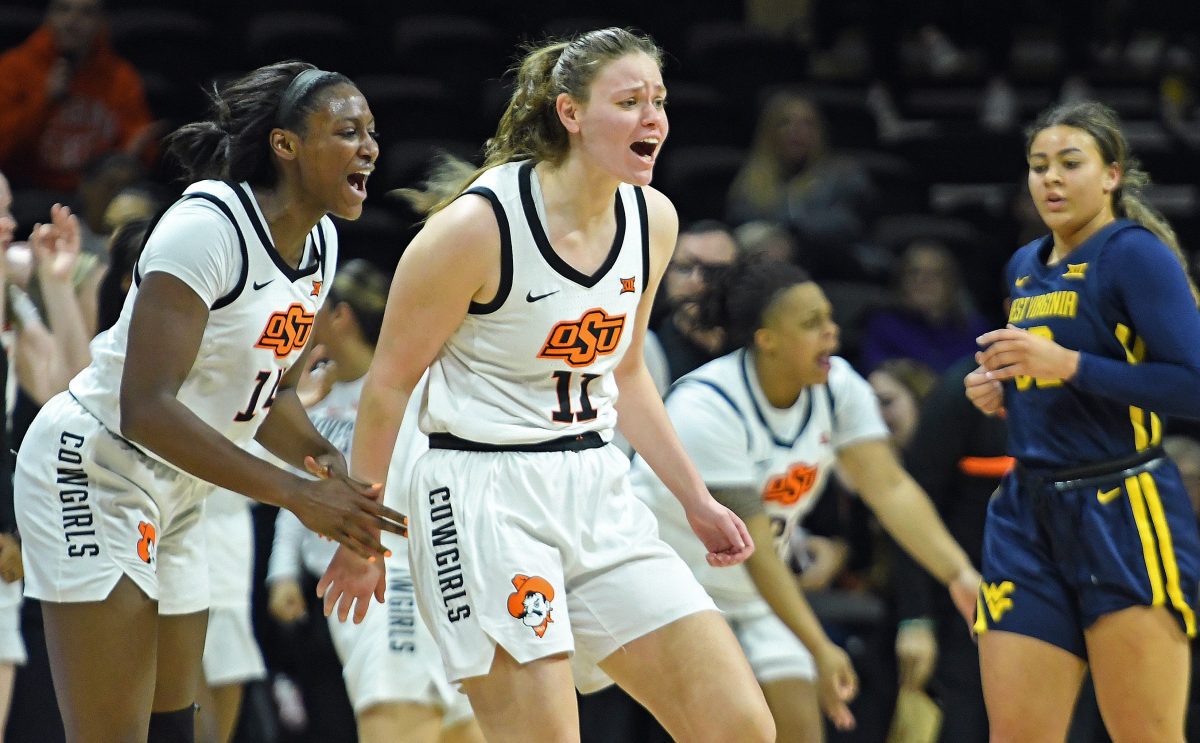 Here is everything you need to know about Oklahoma State and Texas in our Cowgirls vs. Longhorns Big 12 Tournament women's basketball preview.
Game 7: No. 4 Oklahoma State (21-10) vs. No. 1 Texas (24-8), noon CT, Saturday
Season series (Tied, 1-1): Oklahoma State def. Texas, 86-82, in Stillwater, Okla., on Jan. 6; Texas def. Oklahoma State, 78-69, in Austin, Texas, on Jan. 28.
Big 12 Tournament results: Oklahoma State: def. No. 5 West Virginia, 62-61; Texas: def. No. 9 Kansas State, 60-42.
Winner gets: a berth in Sunday's Big 12 Championship Game.
Projected starting lineups
Oklahoma State: G Naomie Alnatas, G Terryn Milton, G Lexy Keys, F Taylen Collins, C Kassidy De Lapp
Texas: F Khadija Faye, F DeYona Gaston, G Rori Harmon, G Shay Holle, G Shaylee Gonzalez
Player to watch
Oklahoma State
F Taylen Collins: All the buzz after Oklahoma State's win over West Virginia was about Terryn Milton's last-second shot. But, Collins, a forward and one of the holdovers from last year's nine-win team, had a great game. She finished with a double-double, 14 points and 15 rebounds. Her coach, Jacie Hoyt noticed, and pointed it out during the postgame press conference. Collins has been quietly productive all season, averaging nearly 10 points and nine rebounds per game. When she has a double-double OSU is 6-3. It's not a lock but it helps.
Texas
F DeYona Gaston: Rori Harmon drives the bus, but Gaston is the fuel that moves it. The forward started the season sharing playing time with Aaliyah Moore. But after Moore tore her ACL at midseason, Gaston moved into full-time starters minutes and thrived to the point that the coaches honored her as First-Team All-Big 12. She is the Longhorns' second-leading scorer, averaging 12.2 points per game, just behind guard Shaylee Gonzalez. She also averages 5.7 rebounds and 1.1 blocked shots per game. She's a player the Longhorns can't afford to see in foul trouble.
Key storylines
Oklahoma State
Oklahoma State made a coaching change, as the Cowgirls lured Hoyt, a former Kansas State assistant, from Kansas City to take over the program. She inherited a team that won just nine games last season and had only a few holdovers. With those holdovers she blended nearly a dozen new players and turned them into a 20-win team and a likely NCAA Tournament team. The Cowgirls made waves, beating Texas once, sweeping Baylor for the first time in nearly a decade and beating Iowa State to wrap up a six-game winning streak. The Cowgirls entered the Big 12 Tournament on a three-game losing streak.
Against the West Virginia Mountaineers in the quarterfinals, the Cowgirls snapped that three-game losing season dramatically, with a last-second lay-up by Terryn Milton that lingered on the rim for a few seconds before falling.
Keep an eye on Claire Chastain, who didn't play in Friday's game. That's why De Lapp was in the starting lineup.
Texas
Texas came into the season with high expectations, fueled by winning the Big 12 Tournament and reaching the Elite Eight last season. Texas also imported a quartet of transfers that they expected to make a significant impact. Some of them, such as Shaylee Gonzales, have. Others, like Taylor Jones and Sonya Morris, have battled injuries this season. Rori Harmon, who was banged up to start the season, has been consistent through it all.
But the elevation of Gaston's game throughout the season, and moving Shay Holle back into the starting lineup, sparked a month-plus surge that helped Texas share the Big 12 Championship with Oklahoma and earned the No. 1 seed in Kansas City.
It may look like Texas blew out Kansas State, but the game was tied at 18 at halftime and Texas was shooting less than 20 percent. Gaston, naturally, was the one that picked the Longhorns up, scoring 13 points. But Texas can't have that kind of start again.
Prediction
Texas 67, Oklahoma State 65: OSU won its home game close, Texas won its home game by nearly 10 points. On a neutral court and one in which OSU and non-OSU fans will be cheering against Texas, the Longhorns find a way late.
You can find Matthew Postins on Twitter @PostinsPostcard.