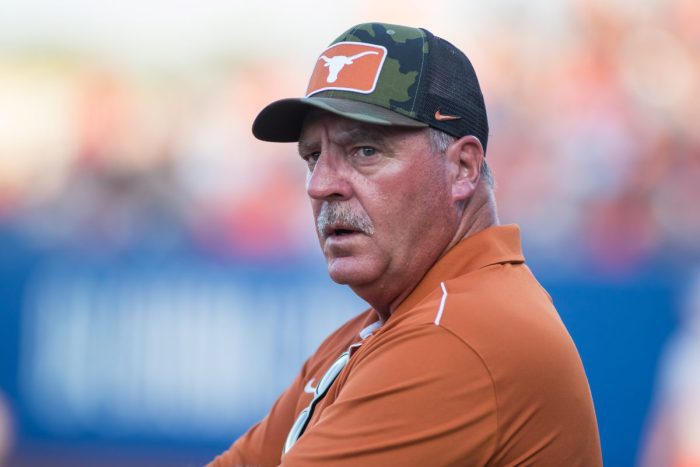 We've reached the final couple weeks of the regular season. So, with that in mind, here's this week's edition of the Top 25.
1. Oklahoma – The Sooners got the revenge that most of us saw coming. They shut out the Baylor Bears in a three-game set by a 13-0 count. They're now on a 34-game winning streak since that lone loss and take on Tulsa Wednesday night, before welcoming in Kansas, who just claimed its first series victory in four years.
2. UCLA – The Bruins, too, are looking mighty unstoppable right now. They've rattled off 17 wins in a row since their last loss at Oregon more than a month ago. They'll head to Utah with the Pac-12 Regular Season Title already in hand.
3. Tennessee – Tennessee rallied back from a six-run deficit for an 11-10 win in the middle contest of a three-game sweep over Florida. Kiki Milloy is making a serious bid for National Player of the Year and helped facilitate that comeback. The Vols have won eight in a row since those two losses at home to Baylor and are off to Fayetteville, Ark., to take on the Arkansas Razorbacks.
4. Florida State – I have a really hard time leaving the Seminoles at No. 4, but the teams above them just aren't losing. Honestly, I think they just might be the second-best team in the country right now and would likely be my pick to face Oklahoma for the national championship if the tournament were starting today. But I have a methodology that rewards teams who keep winning and disallows dropping them when that's the case. Florida State has won nine of its last 10, with a rivalry game against Florida on tap, then at Notre Dame over the weekend.
5. Texas – The Longhorns are a new addition to the Top 5 after their surprising three game-sweep over Oklahoma State. It's surprising because it figured to be a 2-1 type series one way or the other on paper. Texas rallied back twice in the seventh inning when it was being no-hit and won the finale 5-2 to bring out the brooms. 
6. Clemson – The Tigers did nothing wrong this weekend. It's just that Texas impressed in a way that few of us saw coming. Clemson improved to 44-5 while sweeping Pittsburgh. It'll take on Liberty in a key non-conference game before heading to Blacksburg, Va., to take on Virginia Tech.
7. Georgia – Georgia put South Carolina back in more of the place I've had it. I was reluctant to rank the Gamecocks, even with their sweep of Texas A&M a week earlier, and the Bulldogs proved me right. They took all three by a 14-2 score. They'll face Mercer Wednesday night, before having the weekend off.
8. Duke – Last week I mentioned how many others had the Blue Devils in the Top 10, and I had them just outside. Well, they've joined the mix. They easily took care of another ACC opponent in Georgia Tech to run their winning streak to 12 straight. Next up is pesky Longwood in the midweek and three at Pittsburgh.
9. Oklahoma State – The Cowgirls are the big faller this week after an 0-4 week. Including the first two losses to Texas, they dropped four consecutive games in the final inning. The three-run decision on Saturday evening just added more insult to injury for a team that's searching for any offense to return, as Texas Tech is next up.
10. Washington – Washington dealt with a tough Utah team that swept Stanford the week before, and it fared quite well. After dropping the series opener 2-1, Washington outlasted Utah 6-5 in nine innings late on Saturday evening, then turned around and won the series with a 5-3 victory on Sunday. The Huskies are 33-10 heading into a couple non-conference games against Seattle and Utah Valley.
11. Stanford – The Cardinal fall a spot despite taking two of three from rival California. All three were excellent, low-scoring, one-run games. Stanford rallied in the finale to grab the series and is 34-10 entering contests at Fresno State and Arizona State.
12. Arkansas – The Razorbacks picked up a really nice series win over Kentucky on the road. That included an 8-1 triumph in the opener and 14-6, five-inning run-rule in game two, before they fell short of a sweep. The SEC's top team comes to town this upcoming weekend in Tennessee, and Arkansas still has a very outside chance to catch it, but a sweep and help would probably have to be in store.
13. Oregon – Somehow the Ducks just keep lurking kind of unnoticed despite rattling off nine in a row. They scored a very nice sweep of Arizona and are 31-11. Pacific and three in Berkeley against California are next.
14. LSU – This turned out to be a much better weekend than the last for the Tigers. They wiped Mississippi State, featuring an incredible game-ending catch by center fielder Ciara Briggs in the second contest on Saturday. With that, LSU heads to Alabama at 37-11 overall and 10-8 in SEC play.
15. Wichita State – Perhaps nobody is higher on the Shockers than I am. They're up another two spots in my poll after holding East Carolina to only two runs and scoring 16 of their own in three W's over the weekend. A rainout against Oklahoma is a bit of a downer, considering it would have helped the RPI.
16. Northwestern – There's just not really a challenger for the Wildcats in the Big Ten. But the closest team to them, Nebraska, could make some noise with a sweep this weekend in Evanston, Ill. That seems unlikely, though. With two out of three at Michigan last weekend, Northwestern figures to have the league race under control.
17. Baylor – Baylor's hosting hopes took a hit, even if it was a three-game sweep at the hands of the best team in the nation. A 2-2 season against Oklahoma would have spoke volumes. Instead, three losses later the Bears must respond against Texas State and lowly Iowa State this weekend.
18. Auburn – In softball, the Tigers and Tide don't play every season, but they did this one. And the Tigers got the better of them, taking two of three in Tuscaloosa. That's even after losing the opener. They defeated Montana Fouts 3-1 in game three to improve to 35-14 on the year and 11-7 in the SEC.
19. Alabama – So, with all that in mind, the Tide check in just behind Auburn. It feels like I'm a broken record, but this team is truly Fouts, a couple really good position players and not much else. Any other year, I have a hard time believing Alabama would host, but at 34-15 and 10-8 in the conference, it's still in shape if it can finish strong.
20. Utah – Following up off the series victory over Stanford, the Utes put themselves in good position to grab another on the road. They bested Washington in that game one pitcher's duel, but were unable to carve out another win. Utah then took care of Utah Valley, so it's 31-10 and 12-6 in the Pac-12, with UCLA arriving in Salt Lake over the weekend.
21. Florida – The middle matchup changed everything in Knoxville this weekend. Florida held a 9-3 lead entering the fifth inning before complete falling apart. It tried to rally, but to no avail, and then lost the final game. Now the first of two meetings with in-state rival Florida State awaits.
22. Texas A&M – A competitive series went the Aggies' way against Ole Miss in College Station. Dropping the first meeting 8-5, they came back to top the Rebels 6-3 and 13-8 in games two and three, respectively. Then Texas A&M defeated Prairie View to pick up win No. 30 before hosting Missouri.
23. Louisiana – Louisiana dropped a game against Troy it would have liked to have with the Sun Belt regular season race coming down to the end. Still, two of three has it sitting at 16-2 and two games up, one in the loss column, on Marshall. The Ragin' Cajuns are 36-13 and just outside of the Top 10 in RPI.
24. Kentucky – Kentucky drops a spot after its series loss to Arkansas at home. This is a team that has looked formidable at times and questionable at others. It should be able to take care of business this week, with four games against Eastern Kentucky and Mississippi State.
25. Central Arkansas – One of the most dangerous teams in the country had its 14-game winning streak snapped, but against a good team in Liberty. That 4-3 decision in favor of the Flames kept the Bears from sweeping and was only their second Atlantic Sun loss all season. They're at Jacksonville State next.
Just missed: Boston University, California, Louisville, Missouri, Virginia Tech