Big 12 News
Oklahoma State LHP Kelly Maxwell to Transfer to Oklahoma: Report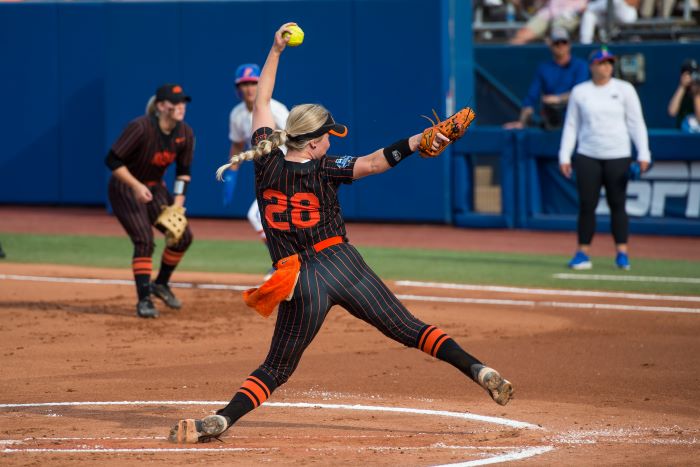 According to a report from Extra Innings Softball, one of the best left-handed pitchers in all of softball has resided in Stillwater, Oklahoma over the past four seasons, but will don the Crimson and Cream in 2024.
Kelly Maxwell, a graduate transfer from Oklahoma State, will spend her final year as an Oklahoma Sooner.
A two-time All-American with the Cowgirls, Maxwell entered the transfer portal last month after leading OSU to their third consecutive Women's College World Series appearance this past season.
Maxwell talked about how difficult the decision was then, leaving the school she'd called home for the last four seasons.
"This was not an easy decision but one that I felt was best, for my own personal happiness," Maxwell wrote. "Thank you for being there and supporting me as I made some of the best memories of my life."
During her time with Oklahoma State, Maxwell compiled 746 strikeouts over 494.2 IP, and maintained a 1.58 career ERA. In 2022, which is her best to date, Maxwell held a 1.22 ERA over 189.2 IP with 313 strikeouts.
With the loss of Jordy Bahl shortly after Oklahoma won its third straight national championship, the Sooners' pitching staff had something of a void in the circle. While still having Kierston Deal and Nicole May, Patty Gasso had lost her ace, and needed to pivot quickly.
So, OU responded by adding three of the best arms that the transfer portal could offer, with Wisconsin's Peytn Monticelli, Liberty's Karlie Keeney, and now Kelly Maxwell. Add to that SJ Guerin, one of the top pitchers in the 2022 class, and Gasso and pitching coach Jennifer Rocha have plenty to work with heading into 2024.