Basketball
How the Big 12 Should Create Travel Pods in a 16-Team Conference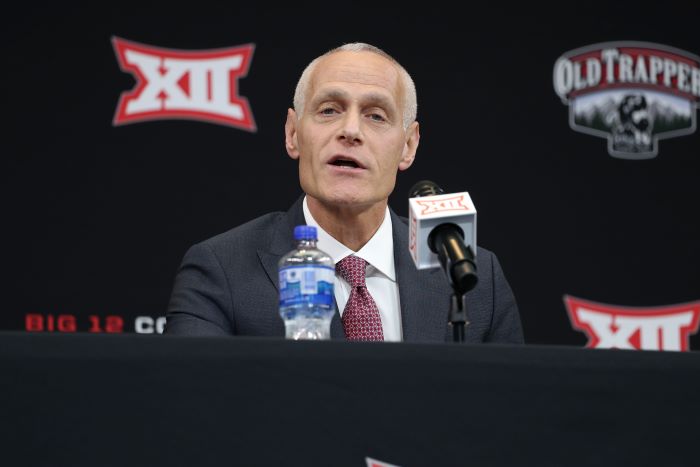 We're now about a week into the reality of what the future 16-team Big 12 is going to look like. The conference will stretch from Utah to Florida and from Arizona to West Virginia. It will mean a lot more time for athletes and coaches on airplanes. It's not ideal, but welcome to big-time college sports in the 21st century. The Big 12 didn't start this, as we've noted many times, it's just done its best to survive, and now thrive.
So here we are, and it will be important for the Big 12 schedule makers to figure out how to best way to limit travel across all sports. It just makes sense from the standpoint of the well-being of the players and coaches, along with costs related to travel.
So my proposal would be four separate four-team pods. These would not be divisions and they would have nothing to do with the standings, but it would allow travel to be limited as best as possible.
West Pod: Utah, BYU, Arizona, Arizona State
Southwest Pod: OSU, Texas Tech, Baylor, TCU
Heartland Pod: Kansas, Kansas State, Colorado, Iowa State
East Pod: UCF, WVU, Cincinnati, Houston
The Pod Breakdown
It's not perfect, but it's the best I can come up with. The toughest traveling pod of the four is obviously the East, but I included Houston in with the other schools, since it geographically makes some sense (as much as anything else), plus Houston, UCF and Cincinnati have known each other since their AAC days and could continue to slowly build some rivalries over time.
From a competition perspective in the other pods, the Heartland Pod is all old Big 12 North schools, the Southwest Pod is three former Southwest Conference schools, plus Oklahoma State, who has been playing Tech and Baylor since the Big 12 was originally formed, and obviously TCU since its Big 12 addition a decade ago. And the West Pod is three of the new Pac-12 schools, plus BYU, with the four located in two states.
How to Schedule
I would suggest that the each Pod plays each other every year in football, rotating home and away, and twice a year in basketball. So of nine conference football games, three will be against your own pod. And in 18 conference basketball games, six will be against your own pod (one home, one away).
That leaves six conference football games. I would have each team rotate playing two teams from the other three pods every year. Let's take BYU. The Cougars would play UCF/WVU every other year, swapping with Houston/Cincinnati. And that would mean only once every four years would BYU have to travel to UCF or West Virginia, because every other meeting would be in Provo. One year they travel to UCF, but host WVU. The next year year they travel to Houston, but host Cincinnati. Follow that up with a year hosting UCF, but traveling to WVU. You get the picture. That's not as bad as those screaming about travel seem to make it.
Meantime, in basketball, to fill out 12 remaining conference games, you could play the other 12 teams in the other three pods once per season, but once again, factoring in home and away, you're talking about UCF traveling to Arizona State every other year. And if the Big 12 schedules the basketball games so a team like UCF doesn't have to travel to Utah and BYU in the same year, or if they do, it's a Saturday/Monday back-to-back road trip, the schedule isn't nearly as complex or concerning as some want to make it.
Final Thoughts
None of this is ideal. And if I had my druthers, we'd still be in the original Big 12 from the early 2000's. Alas, we're not. And a final reminder, it's not the Big 12's fault that we're not. But obviously I'm thrilled about the future of this conference and what the 16-team league will bring to the table.
Yes, there will be more travel, but it's not nearly as concerning as some are making it out to be. If done right, and I have no doubt the Big 12 will do it right, then this can be a league that is thriving and taking care of its athletes and employees. Both can be done. And I expect the Big 12 to do it.