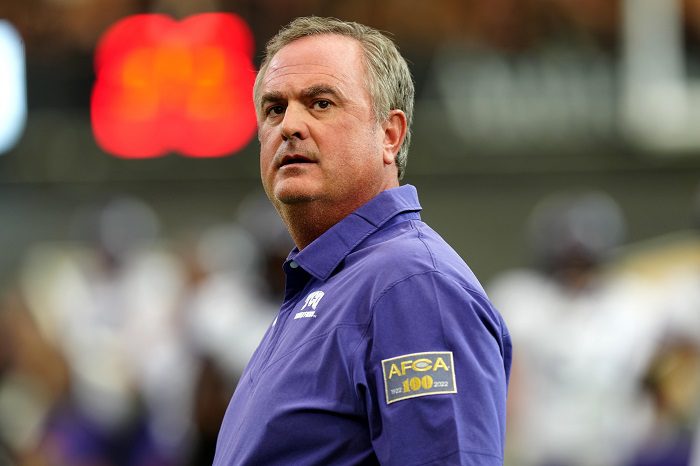 The TCU Horned Frogs were back on the field in Week 2 after a disappointing loss to Colorado in the season opener. The competition was a major step down as the Frogs hosted Nicholls in Fort Worth on Saturday night.
TCU jumped out to an enormous lead and never looked back as they rolled to a convincing 41-6 win over Nicholls on Saturday night. Here are three thoughts on the game.
Chandler Morris' Night
Chandler Morris had an incredibly efficient night, finishing 26/30 for 263 yards, two touchdowns and zero interceptions. 13 TCU players caught passes, including Alabama transfer JoJo Earle, who caught one of Morris' two touchdown passes. That connection is going to be critical for TCU to have the kind of season it wants to have in 2023. But it was a lesser-known transfer wide receiver who had the best game of the night. Warren Thompson, formerly of Arkansas and Florida State, led TCU wide outs with eight catches for 92 yards.
TCU's Issues
You can't read too much into a game like this, but if you want to find an area of concern, it would be the running game, which only produced 3.5 yards per carry for 129 yards, and if you take out Chandler Morris, who rushed for 63 yards and one touchdown, the numbers are even worse. Trey Sanders only had five carries for 13 yards. Once again, you can't read too much into a game vs. Nicholls, but if you want to nit pick, that's the part of the game to look at. Of course, calming that concern should be last week's 262 rushing yards in the loss to Colorado.
Conference Play Begins
Next up for TCU is the first Big 12 conference game of the season as the Horned Frogs are set to travel to Houston for a prime-time match up on FOX. Then it will be a non-conference game against SMU, before jumping back into league play the following week. We're still learning more about what exactly this TCU team is capable of being this season, and this next game on the road, in an old Southwest Conference match up, will be very telling.