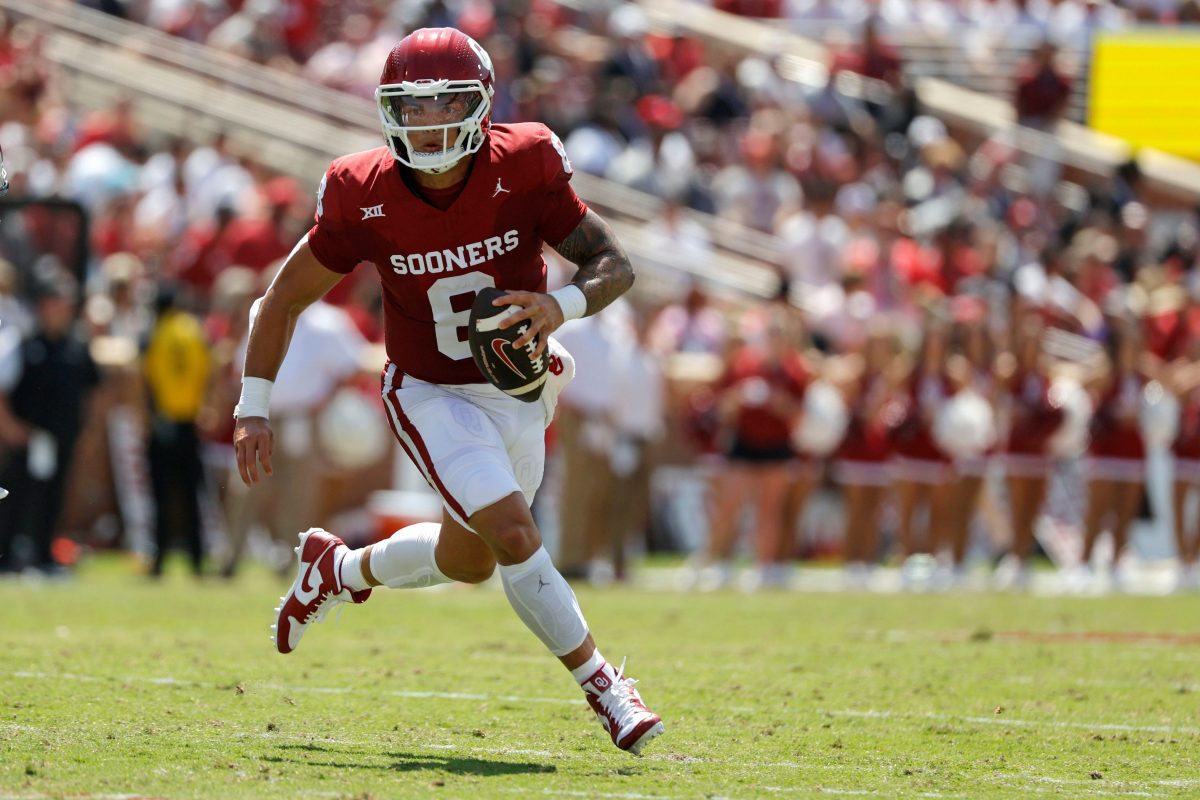 Here is everything you need to know ahead of the matchup between the Iowa State Cyclones and the Oklahoma Sooners.
GAME INFO
Saturday, September 30; 6:00 p.m. CT; Oklahoma Memorial Stadium; Norman, OK
TV: FS1
Radio: Sooner Sports Radio (Toby Rowland, Teddy Lehman, Gabe Ikard); Cyclone Radio Network (John Walters, Eric Heft, Ryan Harklau)
Records: Oklahoma 4-0 (1-0 Big 12); Iowa State 2-2 (1-0 Big 12)
Rankings: Oklahoma ranked No. 14 (AP); Iowa State NR
Last Week: Oklahoma 20, Cincinnati 6; Iowa State 34, Oklahoma State 27
Series History: Oklahoma leads, 79-7-2
Last Meeting: Oklahoma 27, Iowa State 13
Line: Oklahoma (-20.0)
Fun Fact: Although the Sooners are 79-7-2 against Iowa State all-time, Oklahoma lost two of its four regular season meetings between 2017-20. However, OU has won each of its last three meetings against the Cyclones despite averaging just 27.3 points in those game.
KEY PLAYERS
IOWA STATE CYCLONES
QB Rocco Becht
Last week against Oklahoma State, Iowa State QB Rocco Becht brought the Cyclones' offense to life with a 348-yard, three-touchdown performance against the Pokes. Now, heading into a much different test against Oklahoma, the question is can he do it again? The last Iowa State quarterback to have 300+ yards, 3+ touchdowns, and no interceptions was Kyle Kempt's performance against Oklahoma in 2017. It will take an effort like that from Becht if the Cyclones are going to pull off the upset.
DB Beau Freyler
Iowa State safety Beau Freyler is the definition of a playmaker for the Cyclones. Freyler leads Iowa State in tackles (26) through four games, and ranks second in sacks (1.0) and interceptions (1). If the Cyclones' defense is going to limit Dillon Gabriel and the Sooners' offense, it will likely take a big effort from one of their best players.
OKLAHOMA SOONERS
RB Gavin Sawchuk
To this point in the season, the one concern that most folks have with Oklahoma is the running game. As weird as it might sound, the Sooners haven't been particularly good at running the football in 2023, and seem to still be figuring out the running back rotation. After both went for over 100 yards against Florida State in the Cheez-It Bowl last season, Gavin Sawchuk and Jovantae Barnes have virtually disappeared from the picture. As they get healthy and in game shape, will they emerge to elevate the Sooners' ground game?
LB Danny Stutsman
As of right now, Danny Stutsman is on pace to finish the 2023 season with somewhere in the ballpark of 140 tackles. Undoubtedly the best linebacker in the Big 12 through four games, and perhaps the best in the country, Stutsman's evolution into the vocal and physical leader of the Oklahoma defense has had a profound impact on the unit's performance. As of right now, Stutsman ranks fifth among all Power Five linebackers, averaging 10.8 tackles per game (43 total).
KEY STORYLINES
IOWA STATE CYCLONES
Can Iowa State beat Oklahoma without a running game? Last week against Oklahoma State, it didn't matter that the Cyclones only managed 74 yards rushing, bringing their average to 83.3 yards per game (123rd nationally). However, at this point in time, it appears that Oklahoma and Oklahoma State are two teams headed in totally different directions. How well will the Iowa State offense perform if it can't get the running game going against a Sooners' defense that ranks 26th nationally, allowing just 94.0 rushing yards per game?
OKLAHOMA SOONERS
Can Oklahoma's offense get some of its mojo back? There is no question whether the Sooners' defense is better in 2023, as OU ranks second nationally with just 8.5 points surrendered per game. However, the offense truly stumbled for the first time last week, managing just 20 points. While they still rank fourth nationally with 46.8 points per game, a lot of that has come against very bad defensive teams. Can they do it against a defense worth its salt? It's yet to be seen, but Week 5 is the perfect chance to prove what they can do.
PREDICTION: Oklahoma 31, Iowa State 10
Perhaps this spells the end of Oklahoma producing gaudy offensive numbers each and every week, but I do feel confident that the Sooners are heading in the right direction as a team. I have my concerns with the Sooners' running game, but Dillon Gabriel has been efficient and the defense has been stifling. That's a great combination to win football games if you are Brent Venables. On the other side of the coin, Iowa State is coming off a major victory over Oklahoma State, but I think they might be running into a buzzsaw against OU, especially with how much pressure the offensive line allowed last week. Give me Oklahoma to win and cover for the fifth time this season, but Iowa State's defense to keep the under (48.5) as one of the best bets of the weekend.