Big 12 News
Week 4 Big 12 Football Players of the Week Announced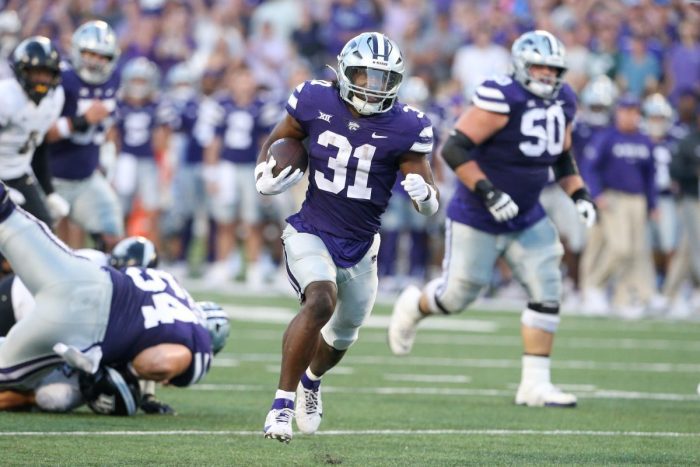 With Week 4 of the college football season officially in the books, the Big 12 Conference announced four players that would be taking home the fourth iteration of the Big 12 Football Weekly Awards for the 2023 season.
Kansas State running back DJ Giddens won the title of Offensive Player of the Week, while fellow running back Houston's Parker Jenkins took home Newcomer of the Week honors. Kansas' Cobee Bryant claimed Defensive Player of the Week honors, and Iowa State kicker Chase Contreraz was selected as the Special Teams Player of the Week.
Giddens took home the title of Offensive Player of the Week after leading the Wildcats to a 44-31 win over Gus Malzahn and the UCF Knights on Saturday after putting together one of the best running back performances in recent Big 12 history. Giddens became the first player in school history and the 22nd in Big 12 history to rush for 200 or more yards and four touchdowns in a game in K-State's 44-31 win over UCF, according to the official release.
Kansas' junior corner back Cobee Bryant was all over the field on Saturday, starting things off early with a massive hit on BYU receiver Parker Livingstone to force a scoop and score fumble. The Alabama native also recorded an interception against BYU becoming the became the first Jayhawk since Tyler Patmon in 2010 to record an interception, a fumble recovery, and a fumble recovery for a touchdown in the same game.
Houston running back Parker Jenkins became the first Cougar in program history to have three rushing touchdowns in his first start leading Houston to a 38-7 victory over Sam Houston. Sam Houston State's defense has been a solid group all season long, only surrendering three scores on the year in as many games. Jenkins' three rushing touchdowns matched the season total for Sam Houston State's defense and earned Jenkins Big 12 Newcomer of the Week honors.
Iowa State kicker Chase Contreraz had an impressive day against the Oklahoma State Cowboys going 2-for-2 on field goal attempts and 4-for-4 on extra points to help lead the Cyclones to a 34-27 win. Contreraz smoked a 51-yard field goal, which was his second from 50-plus yards this season, to become the sixth FBS kicker this season with multiple 50-yard field goals. Contreraz follows the impressive performance of one of the best kickers in the country, UCF's Colton Boomer, solidifying the Big 12's readiness to produce NFL-caliber kickers on a yearly basis.
Last Week's Winners:
Offense: Dillon Dabriel, OU, QB, Sr.
Defense: Tyler Batty, BYU, DE, Jr.
Newcomer: Nic Andersons, OU, WR, Fr.
Special Teams: Matthew Golden, UH, KR/WR, So.