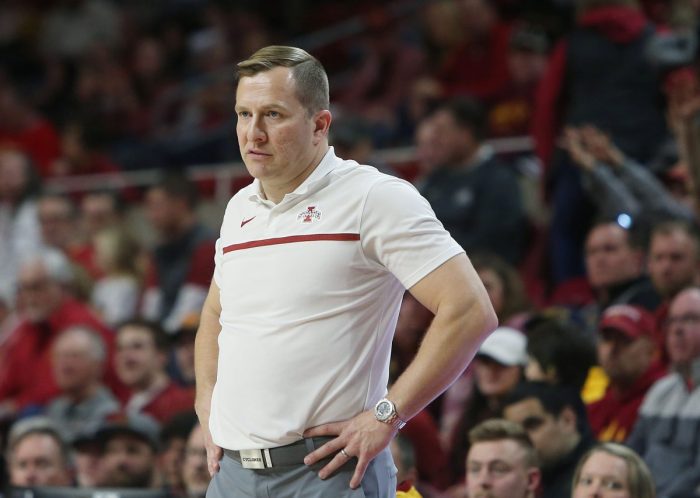 The 2023-24 Iowa State Cyclones men's basketball schedule is complete and here is an analysis of the entire schedule as basketball season nears.
Season Opener
The Cyclones will open the season at home at Hilton Coliseum against Green Bay on Nov. 6. Green Bay finished last in the Horizon League last season and won just three games.
Three Days in Florida
The Cyclones will represent the Big 12 in the ESPN Events Invitational in Kissimmee, Fla., which will put Cyclones fans in proximity to all sorts of touristy stuff from Nov. 23-26. The first game is set as the Cyclones will face VCU. After that they'll face either Boise State or Virginia Tech, depending on their results. The third game will be on Nov. 26 and the opponent will be determined. For reference, Oklahoma won this tournament a couple of years ago.
Best Non-Con Game
Honestly, you could say Boise State, which won 24 games last year. But since it's not certain the Cyclones will get the Broncos, the opener of that ESPN Invitational with VCU is enticing. VCU won the Atlantic 10 Conference regular-season crown a year ago and won 27 games. That got the Rams into the NCAA Tournament, where they lost in the first round to Saint Mary's.
Big EAST/Big 12 Battle
The Cyclones drew DePaul this year, and they'll face the Blue Demons on Dec. 1 in Chicago. The Blue Demons won just three Big East games last season on their way 10 wins. Only Georgetown was worse than DePaul last season.
Mid-Major Danger Game
The game against Grambling State on Nov. 19 is worth keeping an eye on. The Cyclones will host them right before the Thanksgiving holiday and it will be the last of a four-game stretch at Hilton to start the season. Grambling State was tied for first in the SWAC last year and won 24 games overall. The Tigers were also 9-6 on the road. Look at last year's non-conference and it's worth noting that Grambling State beat Colorado, though that game was at home.
Big 12 Opener
The Cyclones will head to Norman, Okla., to open the league slate with the Oklahoma Sooners, who are playing their last season in the Big 12.
Big 12 Home Opener
The Cyclones will host Houston in a super-intriguing game on Jan. 9 at Hilton Coliseum. The Cougars were ranked in the Top 10 in the preseason.
Brutal Big 12 Stretch
Someone at Iowa State lost a bet with the Big 12 schedule-maker. This five-game stretch from Jan. 20-Feb. 6 looks just, well, brutal — TCU, at Kansas State, Kansas, at Baylor, at Texas. Woof. The Cyclones will learn a lot about themselves after this stretch.
What Should Happen?
The Cyclones should once again be one of the best defensive teams in the conference, but one of their big issues the past two seasons has been consistent 3-point shooting. On paper, it looks like head coach T.J. Otzelberger and his staff have taken care of that, as they have imported players that have a history of hitting from behind the arc. That, combined with a boost in size in the paint and a highly-regarded recruiting class, should have the Cyclones in contention this season.
2023-24 Iowa State Men's Basketball Schedule
Nov. 6 vs. Green Bay, 7 p.m.
No. 9 vs. Lindenwood, 7 p.m.
Nov. 12 vs. Idaho State, noon
Nov. 19 vs. Grambling State, noon
Nov. 23 vs. VCU@, 4:30 p.m.
Nov. 24 vs. Boise State or Virginia Tech@, 4:30 or 7 p.m.
Nov. 26 vs. TBA@, TBA
Dec. 1 at DePaul#, 7:30 p.m.
Dec. 7 vs. Iowa, 7 p.m.
Dec. 10 vs. Prairie View A&M, noon
Dec. 17 vs. Florida A&M, 5 p.m.
Dec. 21 vs. Eastern Illinois, 7 p.m.
Dec. 31 vs. New Hampshire, noon
Jan. 6 at Oklahoma*, TBA
Jan. 9 vs. Houston*, 6 p.m.
Jan. 13 vs. Oklahoma State*, 5 p.m.
Jan. 16 at BYU*, 8 p.m.
Jan. 20 vs. TCU*, TBA
Jan. 24 at Kansas State*, 8 p.m.
Jan. 27 vs. Kansas*, 12:30 p.m.
Feb. 3 at Baylor*, 7 p.m.
Feb. 6 at Texas*, 7 p.m.
Feb. 10 vs. TCU*, 1 p.m.
Feb. 13 at Cincinnati*, TBA
Feb. 17 vs. Texas Tech*, 11 a.m.
Feb. 19 at Houston*, 6 p.m.
Feb. 24 vs. West Virginia*, 1 p.m.
Feb. 28 vs. Oklahoma*, 7 p.m.
March 2 at UCF*, 3 p.m.
March 6 vs. BYU*, 7 p.m.
March 9 at Kansas State*, 1:30 p.m.
Bold denotes home games; @-ESPN Events Invitational, Kissimmee, Fla.; #-Big East/Big 12 Battle; *-Big 12 games; Game times local to Iowa State (central); Home games played at Hilton Coliseum, Ames, Iowa. Big 12 Tournament, March 12-16, Kansas City, Mo.