Big 12 News
Legendary Texas Tech Basketball Coach Bob Knight Dies at 83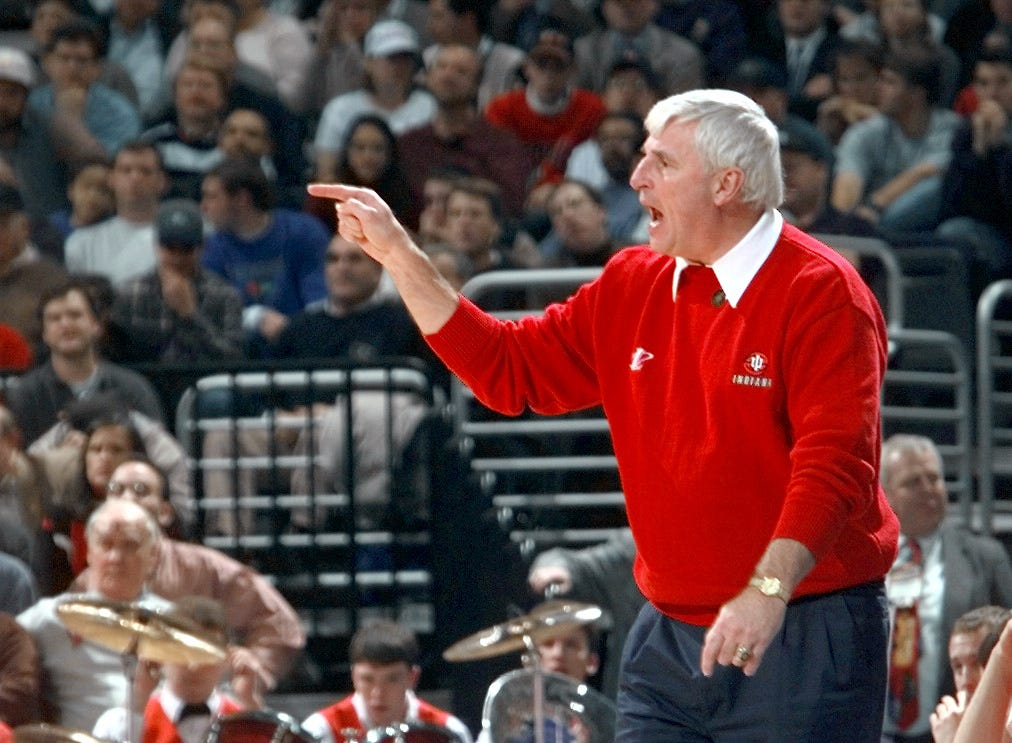 The college basketball world lost an icon on Wednesday as former Indiana and Texas Tech basketball coach Bob Knight died on Wednesday, November 1, at the age of 83.
Known for his on-court antics, meltdowns, and his propensity for throwing foldable chairs, Knight was truly the stuff of legend when it comes to college basketball, and his legacy in this sport, which included three national championships with the Hoosiers, won't soon be forgotten.
Knight's family announced his passing on Wednesday night and said that he was hospitalized with an illness back in April and had been dealing with poor health for several years.
"It is with heavy hearts that we share that Coach Bob Knight passed away at his home in Bloomington surrounded by his family," the statement said. "We are grateful for all the thoughts and prayers, and appreciate the continued respect for our privacy as Coach requested a private family gathering, which is being honored."
Knight's approach to coaching will likely never be seen on the court again given the changes in public perception over the past several years, but there's no denying that his hard-nosed attitude and angry demeanor got the most out of his players while he was on the bench. At Indiana, Knight won a school record 661 games and took the Hoosiers to the NCAA Tournament 24 times in his 29-year tenure in Bloomington. In 1976, Knight led IU to a perfect 32-0 record on the way to his first NCAA title, something that hasn't been done in the 47 years since.
Mike Woodson, the current head coach at Indiana and a member of that 1976 team, says that Knight's impact on his life is something he "could never repay."
"I am so blessed that he saw something in me as a basketball player," Woodson said in a statement. "He influenced my life in ways I could never repay. As he did with all of his players, he always challenged me to get the most out of myself as a player and more importantly, as a person. His record as a basketball coach speaks for itself. He will be remembered as one of the greatest ever."
Knight was hired as the head coach at Texas Tech in 2001 after being fired at Indiana for a "pattern of unacceptable behavior," and in his first six years in Lubbock, led the Red Raiders to five 20-win seasons.
Knight resigned from Texas Tech in the middle of the 2008-09 season and never returned to the bench again.
"Coach Knight … will forever be remembered as one of the top coaches in not only Texas Tech history but all of college basketball," Texas Tech said in a statement. "He truly changed the game with not only his motion offense but his insistence that his teams be defined by their defense.
"His impact was felt off the court, too, as he was a profound supporter of student-athletes receiving a quality education, which was evident by his teams annually producing a near-perfect graduation rate. Coach Knight's impact on our basketball program will forever be cherished as one of the greatest tenures in our history."
With 902 career wins, Knight ranks 6th all-time on the Division I wins list.