featured
Three Thoughts on Oklahoma's 59-20 Win Over West Virginia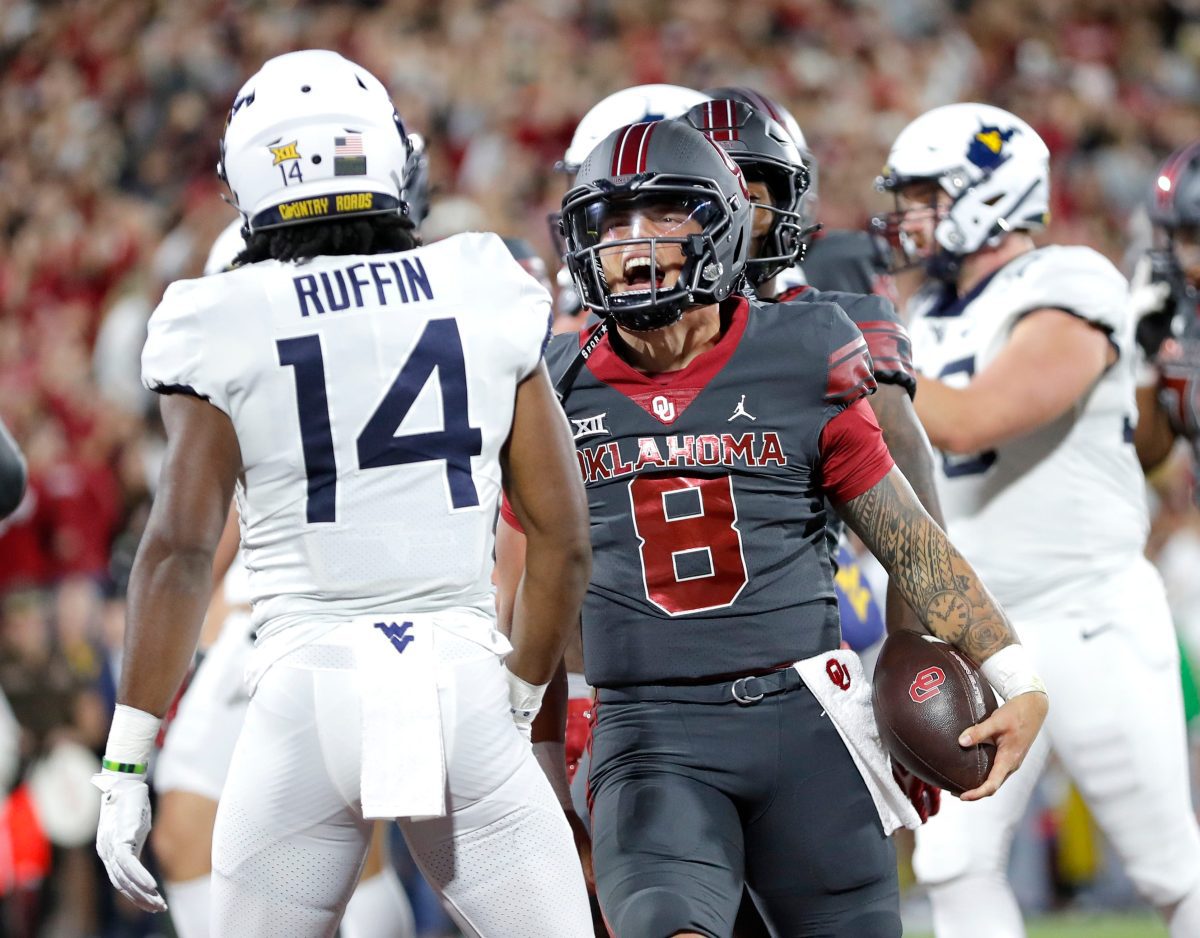 After a two-game skid that ended any hopes of a College Football Playoff appearance, Oklahoma picked up a much-needed 59-20 win over West Virginia in the final night on Owen Field in Big 12 history.
The 17th-ranked Sooners (8-2, 5-2) will now set their sights on Provo, Utah, where they'll play their final Big 12 road game of the year against BYU.
Meanwhile, West Virginia (6-4, 4-3) will head back to Morgantown to take on Cincinnati, who has yet to pick up a win in Big 12 play.
Here are three thoughts on the game and what it means for both teams.
Dillon Gabriel Leads Offensive Explosion for OU
Over the last several weeks, Oklahoma fans have started to lose their cool with the offensive playcalling from Jeff Lebby, but after Saturday night's dismantling of the West Virginia defense, the doubters appear to be silenced, at least for the moment. With 644 yards and 59 points on the night, the Sooners' offense appeared to be back to the form that OU fans have grown familiar with over the last several seasons. At the center of it all, was quarterback Dillon Gabriel, who has had some highs and lows during his time in Norman, but tonight may have been his best moment yet. Gabriel completed 23 of his 36 attempts for 423 yards and five passing touchdowns, adding 11 carries for 50 yards and three touchdowns on the ground. With eight total touchdowns on the night, Gabriel now holds the Oklahoma school record for touchdowns in a single game, surpassing Baker Mayfield's seven-touchdown performance against Texas Tech in 2016.
Oklahoma Defense Rises to the Challenge
After starting the season on fire and looking like one of the best defensive units in the country ahead of the bye week, Oklahoma's defense went through a rough spell and simply couldn't get off the field against UCF, Kansas, or Oklahoma State. However, against a tough, hard-nosed West Virginia offense, the Sooners returned to form and found ways to get the ball back to their offense. West Virginia was 4-16 on third down, 2-4 on fourth down, and averaged just 4.3 yards per play on the night. Mountaineers' quarterback Garrett Greene was 10-27 for 154 yards passing on the evening with two touchdowns and one interception. Another big reason for the Sooners' success on Saturday was the return of their tackles for loss, collecting eight against WVU after having just six total over the last two weeks. The team effort that Oklahoma showed tonight was the best that they've looked since walking out of the Cotton Bowl in October, and it's not even close.
Buckle Up for a Wild Big 12 Race
Oklahoma's win over West Virginia moves them to 5-2 on the year in Big 12 play, and drops West Virginia to 4-3 on the year, eliminating the Mountaineers from the Big 12 race. Additionally, the Sooners got some help on Saturday from other outcomes around the league on Saturday, with Kansas dropping a game to Texas Tech and Oklahoma State getting obliterated by UCF in Orlando. With those two losses, OU needs just one loss from either Texas or Oklahoma State to land them in the Big 12 Championship, granted their able to win out themselves. Iowa State is also looking good if they can win this week, with their win over Oklahoma State earlier this season giving them the edge over the Pokes in the tiebreaker. This race is seriously going to be a photo finish from the looks of it, and is the most exciting race to follow in the country right now.