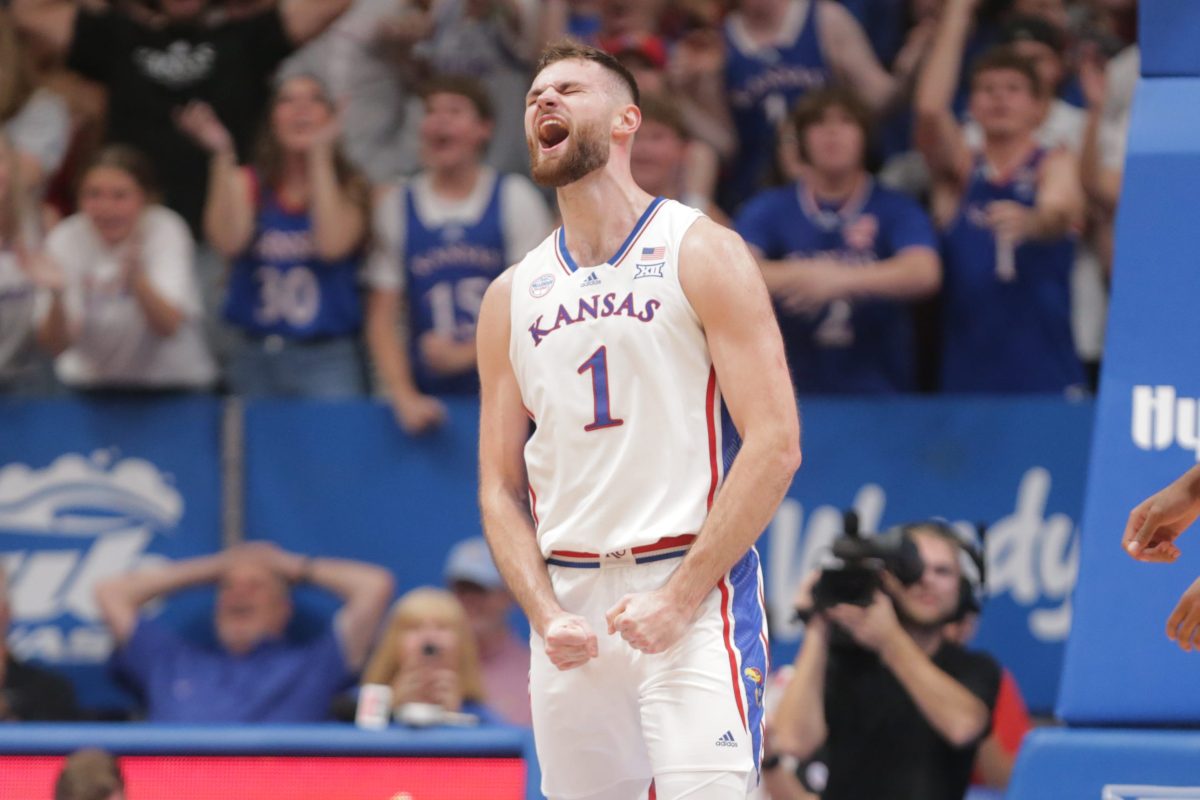 The Kansas Jayhawks defeated the Kentucky Wildcats, 89-84, in the State Farm Champions Classic in Chicago, Ill., on Tuesday.
The No. 1 Jayhawks (3-0) got an incredible game from center Hunter Dickinson, who had 27 points and 21 rebounds. DaJuan Harris Jr. had 23 points and seven assists, along with five 3-pointers. KJ Adams Jr. dropped in 16 points. Kevin McCullar Jr. had 12 points, 10 rebounds and 10 assists.  
The No. 17 Wildcats (2-0) got 24 points and eight rebounds out of guard Antonio Reeves. Rob Dillingham had 18 points, including four 3-pointers. Adou Theiro had 16 points and 13 rebounds. Reed Sheppard added 13 points.
Here are three thoughts on the game.
The Dickinson Difference
Dickinson was perhaps the top get in the transfer portal and Kansas got him. With that, the Jayhawks got the big man they were missing last season.
You saw it in full on Tuesday, though it should be made clear that Dickinson had the matchup in his favor as Kentucky had three seven-footers out of the game. But, still he had the first 20/20 double-double for Kansas since Nick Collison did it in 2003.
The difference was clear late when the game tightened up and Kansas exploited Dickinson fully in the paint. It's not that the Jayhawks didn't do that all night. But the sign of a mature team is knowing your strengths and playing to them in clutch situations.
Feeding Dickinson brought high-percentage shots and, potentially free throws. That was the right move and Harris made sure that happened.
Kansas played like vets because the Jayhawks are. Kentucky's young team took too many 3-pointers late, and missed. When they couldn't hit them and Kansas rebounded, the Jayhawks slipped away with the game.
I'd love to see another game between these two in late March or early April, especially if Kentucky grows up like I think they will.
McCullar's Triple-Double
McCullar transferred to Kansas from Texas Tech two seasons ago because he hoped to develop into a better scorer and, thus, improve his chances in the NBA. He's been through the NBA Draft process at least twice and has come back to college each time.
Is he a better scorer than he was a year ago? Jury's out. But McCullar has always been what I like to call a "five-column player." That's a player that can consistently hit the five big columns in the box score — points, rebounds, assists, steals and blocked shots.
So, on Tuesday night, along with the 12 points, 10 rebounds and 10 assists, he also had a steal and a blocked shot.
McCullar has always been a fundamentally sound, complementary player with a high-level defensive motor. My best Big 12 comparison to him is former TCU guard/forward Kenrich Williams, who was a consistent "five-column player" for the Horned Frogs.
Williams wasn't drafted. But he's in his sixth year in the NBA.
McCullar is going to find a home in the NBA. I didn't need to see a triple-double from him on Tuesday to be convinced of that. I've been convinced of that for a while. It's the scouts that need to see him score more, apparently.
He probably won't do that with Dickinson around. But judge his overall game and it screams future 10-year NBA vet.
Speed (Could) Kill
Kansas coach Bill Self summed it up at halftime when Kansas was down seven points:
"They're (Kentucky) faster than us," he said to ESPN.
On paper, with Dickinson, McCullar, Harris, Adams and a collection of incredible freshmen and transfers, the Jayhawks look like a national championship contender. But in the first half Kentucky gave teams a bit of a template on how you can combat Kansas.
But you're gonna need speed. And a lot of it.
Kentucky sped Kansas up in the first half. You can do it a couple of different ways. You can shoot lights out from the 3-point line, which Kentucky did. But you can also run the floor with immediate transition. With Kentucky's young players, the Wildcats can do that.
Kansas has three great defenders in McCullar, Harris and Adams. But that doesn't do you much good if you can't keep up with what you're defending. And you can't scout team Kentucky's speed.
Kansas had to make adjustments in the second half and that included cutting off transition lanes sooner. Once the Jayhawks were able to do that, Kentucky had to slow down and it disrupted their offensive flow.
It didn't hurt that Kansas shot better in the second half. It's harder to fast break off the make than the miss.
But Tuesday's game was a signal to teams that like to play fast (looking at you, Kansas State) that Kansas could be got — if you can play with speed for 40 minutes.
iframe src="https://app.e2ma.net/app2/audience/signup/1986400/1964875/" width="510″ height="500″ frameborder="0″>
You can find Matthew Postins on Twitter @PostinsPostcard.