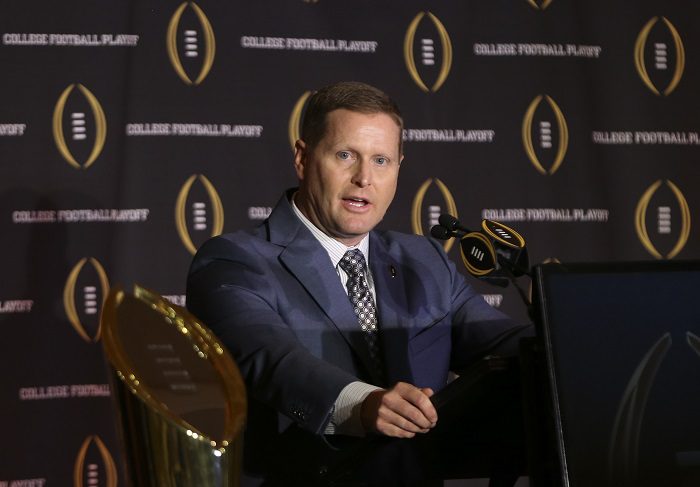 The fifth College Football Playoff rankings of the 2017 season were released and here's what they looked like:
1. Clemson (11-1)
2. Auburn (10-2)
3. Oklahoma (11-1)
4. Wisconsin (12-0)
5. Alabama (11-1)
6. Georgia (11-1)
7. Miami (10-1)
8. Ohio State (10-2)
9. Penn State (10-2)
10. USC (10-2)
11. TCU (9-2)
19. Oklahoma State (8-3)
Congrats, OU
The Sooners dig out of the #4 spot, it's a Christmas Miracle! I still think OU's resume is worthy of a top 2 spot, but I suppose the difference between two and three is really just debating semantics. That being said, this continues my belief that the Big 12 needs this conference championship game. Maybe not specifically for Oklahoma this year, but certainly if any other team in the Big 12, outside of Texas, wants to have a legitimate chance of being a contender for the College Football Playoff, the conference needs it.
Also, I think keeping the Sooners under ranked and undervalued is the kind of motivation Baker Mayfield thrives off of. And he gets his team to have the chip on their shoulder that he carries around as well. I'm trying to find the positives here and that's definitely one of them.
TCU disrespect
Why is TCU below Penn State and USC? What is Penn State's best win? Over now unranked Michigan? They have zero wins over teams currently in the Top 25. They are getting rewarded for close losses to Ohio State and Michigan State on the road. That's a joke. Meantime, USC, I have less of a problem with, as their early-season win over Stanford looks better and then they beat Arizona, who was ranked at the time. But it's certainly not hard to argue that TCU's resume is certainly better than both of these teams.
This is part of the reason I have a hard time believing the committee is taking TCU seriously as a College Football Playoff contender. Kirk Herbstreit said Tuesday night we shouldn't forget about TCU. Unfortunately, I think the committee forgot about the Horned Frogs weeks ago.
Oklahoma State doesn't get "eye test" treatment, huh?
I'm not saying Oklahoma State's resume stacks up with the best of them. They've basically beaten the teams they were supposed to and lost to those teams better than them. But how about OSU's 59-21 thrashing of Pitt, who just beat Miami? Where does that factor in. And anyone using the "eye test" that apparently is only reserved for Big Ten and SEC teams, would realize the Pokes would beat a lot of the teams ranked in front of them in the rankings. UCF? Notre Dame? Washington? Come on! Once again, a sign that it's different standards for different teams.
Fresno, who? Mississippi State?
It's so weird to me that the committee, which is supposed to do a better job than the AP Poll in ranking teams, threw Fresno State in the Top 25. Why? Because they're beating BYU, Hawaii, Wyoming and Boise State? By the way, none of those wins were by more than 10 points. Yet that's ranking worthy? There wouldn't happen to be an Alabama element to this huh? Giving Alabama an extra Top 25 win, maybe? Justifying putting them in the College Football Playoff if either Oklahoma or Wisconsin falters? Also, does anyone really think that this Fresno team, which also lost by nearly 30 points to Washington, and fell to 5-7 UNLV, would be any better than a middle of the pack team in any Power 5 conference?
Don't forget Mississippi State, who just lost the Egg Bowl to Ole Miss, stayed in the Top 25. Nick Fitzgerald got injured, but Ole Miss was on its back up quarterback too. Once again, maybe to throw Alabama a bone for another Top 25 win? Possibly? Remember, all the games are over outside of the conference championships. So you're not going to see Mississippi State fall out of the rankings. This is a huge boost for the Crimson Tide come next week.
No favoritism to see here
In his discussion with Kirby Hocutt, host Rece Davis said, "No reasonable person thinks you have an agenda other than getting the four best teams in." Yea, says the guy who is employed by ESPN, which is paying billions of dollars to carry the College Football Playoff. A company that is losing subscribers and revenue at an alarming rate. Yep, no agenda here.
In fact, I'd say, no reasonable person is stupid enough to believe that this is a pure system that is only about finding the best four teams in college football. You'd have to be ignoring the facts of recent years to believe that. 2014: The Big 12 didn't get in because there was no conference championship game. 2016: Ohio State passes the eye test, even though they did not even reach their conference championship game and lost their head-to-head match up with conference champion Penn State.
Oh, should we even add the fact that the athletic directors for Clemson and Ohio State are on the committee? Plus Frank Beamer, whose son coaches at Georgia. Yep, this is as pure as system as is out there.
What's the Big 12's status?
I firmly believe it's Oklahoma or bust for the Big 12 championship. No chance that TCU would get in over one-loss Alabama and/or Big Ten conference champion Ohio State. I'm not saying that's right, just or fair. But I guarantee it. No chance. Now if TCU had the Longhorn logo on the side of the helmet, things might be different. But the Horned Frogs? With an enrollment just north of 10,000? No shot.
I'm not pointing this out to tick off Frogs fans, I think they'd have a legitimate argument if they win this weekend. And if their resume was being debated against Michigan State or Northwestern or South Carolina, I'd give them more of a chance. But Alabama and Ohio State? NO way. Not with what we've seen from the committee this year.
But once again, before OU fans scream from the hilltop that this is a waste of a Big 12 championship game, here's the reality: if there were no conference championship game, Oklahoma would likely be looking at the #4 spot in the College Football Playoff. A Wisconsin win over Ohio State would bump OU down. So basically, the best a one-loss Big 12 champion could ever do, even with a non-conference road win over Ohio State, and being a blue blood program, is #4. Is that a risk you're willing to take? It's not for me. I'll take this Big 12 conference title game each and every year. The Big 12 needs it.