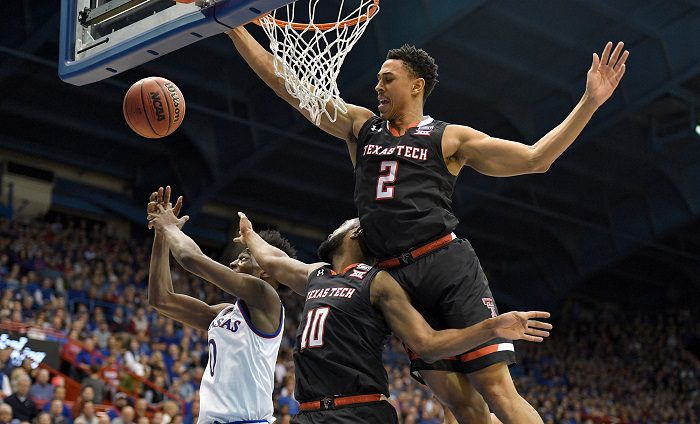 With eighteen games on the Big 12 men's basketball slate we'll break down each set of games upon completion. Today it's a review of the first set of games in the Big 12 Conference, played on Jan. 1-3 (rankings in parenthesis in standings are AP).
| | | |
| --- | --- | --- |
| BIG 12 STANDINGS | Conf. | All |
| Texas Tech (18) | 2-0 | 13-1 |
| West Virginia (6) | 2-0 | 13-1 |
| Oklahoma (7) | 2-0 | 12-1 |
| TCU (16) | 1-1 | 13-1 |
| Kansas (10) | 1-1 | 11-3 |
| Kansas State | 1-1 | 11-3 |
| Texas | 1-1 | 10-4 |
| Baylor | 0-2 | 10-4 |
| Iowa State | 0-2 | 9-4 |
| Oklahoma State | 0-2 | 10-4 |
Results
Monday, Jan. 1
West Virginia 77, Kansas State 69
Texas 74, Iowa State 70 (OT)
Tuesday, Jan. 2
TCU 81, Baylor 78 (OT)
Texas Tech 85, Kansas 73
Wednesday, Jan. 3
Oklahoma 109, Oklahoma State 89
NEXT GAMES (all times CST unless noted)
Saturday, Jan. 6
Texas at Baylor, 1 p.m. (ESPNU)
Kansas State at Texas Tech, 3 p.m. (FSW Plus)
Iowa State at Oklahoma State, 3 p.m. (ESPNU)
Oklahoma at West Virginia, 7:15 p.m. (EST) (ESPN2)
Kansas at TCU, 8:15 p.m. (ESPN2)
Superlatives
20-point games: 28 — Jo Lual-Acuil (Baylor), Brady Manek (Oklahoma); 27 — Devonte' Graham (Kansas), Trae Young (OU); 25 — Dylan Osetkowski (Texas); 24 — Donovan Jackson (Iowa State); 22 — Teddy Allen (West Virginia); 21 — Cameron Lard (ISU); 20 — Xavier Sneed (Kansas State).
10-rebound games: 16 — Cameron Lard (ISU), Mo Bamba (Texas); 11 — Jo Lual-Acuil (BU); 10 — Dean Wade (K-State), Jeffrey Carroll (Oklahoma State).
5-assist games: 10 — Trae Young (OU), Jevon Carter (WV); 9 — Matt Coleman (Texas), Nick Weiler-Babb (ISU); 7 — Daxter Miles Jr. (WV); 6 — Devonte' Graham (Kansas), Kamau Stokes (K-State), Desmond Bane (TCU).
4-block games: 4 — Mo Bamba (Texas).
4-steal games: None
Double-doubles: Jo Lual-Acuil (BU), 28 points, 11 rebounds; Mo Bamba (Texas), 10 points, 16 rebounds; Cameron Lard (ISU), 21 points, 16 rebounds; Dean Wade (K-State), 17 points, 10 rebounds; Trae Young (OU), 27 points, 10 assists.
The Starting Five
Jo Lual-Acuil, Baylor: The big man bounced back from a foot injury to score 28 points and grab 11 rebounds in a losing effort to TCU.
Dylan Osetkowski, Texas: A career-high 25 points came with seven 3-pointers, including the shot that put Texas up for good.
Lamont West, West Virginia: His 19 points and 5 rebounds helped pick up the slack when it was needed most.
Keenan Evans, Texas Tech: He had 15 points, 3 assists and 6 rebounds as he led the Red Raiders' monster win over Kansas in Lawrence.
Trae Young, Oklahoma: I think we're just going to have to carve out a permanent spot for now after Young's near triple-double — 27 points, 10 assists and 9 rebounds.
The Sixth Man
Teddy Allen, West Virginia: He's becoming instant offense off the bench for the Mountaineers, as he scored 22 points in just 19 minutes.
Just a quick note before we start: The road team has won eight of the first 10 Big 12 Conference games.
The Games
Texas Tech 85, Kansas 73: To say that any of us expected Texas Tech to win on the road in Lawrence, Kansas, is an understatement. The Red Raiders had never won there before. Ever. But it was the way Tech won that was surprising. The Red Raiders never trailed in the game. Every time the Jayhawks made it a two-possession game Tech had an answer. The Red Raiders took advantage of Kansas' sub-par shooting night, forced 15 turnovers and turned those miscues into 26 points. The Red Raiders' lineup balance was astounding. Seven players played 20 or more minutes and two others played at least 12 minutes. Kansas worked with a short bench. All of that worked against Kansas down the stretch. Senior Keenan Evans led the Red Raiders with 15 points, while freshman Zhaire Smith continues to be a standout of head coach Chris Beard's freshman class. Smith had 11 points off the bench.
This alley-oop out of bounds pass-and-dunk to #TTU Zhaire Smith just one of many reasons #WreckEm beat #KU for first time in Lawrence last night. Our @Heartland_CS #Big12MBB review coming tomorrow. #GunsUp @TexasTech pic.twitter.com/inuhamIPtn

— Matthew Postins (@PostinsPostcard) January 3, 2018

Kansas guard Devonte Graham scored 27 points for the Jayhawks, but he doesn't have a ton of help right night, nor does Kansas have much depth as they wait to hear if two players they're waiting on will be eligible this season.
West Virginia 77, Kansas State 69: The Mountaineers drew the short straw, starting the season with two straight road games and turned that into a positive, as the win over the Wildcats gave them a 2-0 start to the season. Mountaineers guard Jevon Carter struggled again with scoring, this time nabbing just 3 points. But he played through that sub-par scoring game to give WVU 10 assists, 8 rebounds and 3 steals. Plus, the emergence of Teddy Allen continues.
Plenty to like about what #HailWV has in freshman Teddy Allen, who is quickly turning into a key bench weapon #Big12MBB @Heartland_CS pic.twitter.com/CkXabxXJzn

— Matthew Postins (@PostinsPostcard) January 2, 2018

Allen ended up with 22 points, pitching in at times when the Mountaineers were struggling to score. Lamont West added 19 points. The key here for WVU is that they've won two games with Carter and Miles not playing their best, and without last year's second-leading scorer, Esa Ahmad, who should be back soon. That should scare the rest of the Big 12. The Wildcats' Big 3 were down to two, as guard Kamau Stokes had a down game (6 points). Xavier Sneed exploded for 20 points, including six 3-pointers, while Dean Wade had 17 points and Barry Brown had 14 points. K-State shot 35.7 percent from the floor, which didn't help.
Texas 74, Iowa State 70 (OT): Well thank goodness for Dylan Osetkowski, who hit seven 3-pointers for Texas on his way to a career-high 25 points. None were bigger than this one.
#HookEm hoops fans probably still loving Osetkowski's 3 to give #Longhorns lead for good vs. #ISU. Big win for #UT and Osetkowski playing big for #Horns #Big12MBB @Heartland_CS pic.twitter.com/9ep7UPHsUZ

— Matthew Postins (@PostinsPostcard) January 3, 2018

That 3-pointer gave Texas the lead for good in a game that neither the Longhorns or Cyclones wanted to lose, given that the loser would be 0-2 in league action. This one went to overtime to be decided in part because of the continued emergence of Iowa State's Cameron Lard, the redshirt freshman who had a huge game for the Cyclones — 21 points and 16 rebounds. Donovan Jackson had a bounce-back night after a sluggish Big 12 opener, pouring in 24 points. But the Cyclones had no consistent third option and Texas capitalized. Mo Bamba scored 10 points and grabbed 16 rebounds, but the contributions of Eric Davis Jr. (15 points, 5 rebounds) and Matt Coleman (12 points, 9 assists) were key in allowing Texas to remain in the game. Andrew Jones returned from injury as well for Texas and while he only scored 8 points, he did that in 11 minutes and showed that it should take him little time to return to his pre-injury form. Texas didn't force a lot of turnovers, but their switches from the 2-3 zone, the 1-2-1-1 full-court zone and man defense kept ISU on edge all night. The Cyclones shot 36.8 percent from the floor and only 25.9 percent from the 3-point line.
TCU 81, Baylor 78 (OT): The Horned Frogs need to talk about losing big leads. After losing a 13-point lead to Oklahoma in the opener, the Frogs lost a 12-point lead early in the second half to Baylor, but managed to bounce back and win this one in overtime. Vladimir Brodziansky helped out with a 3-pointer in OT, part of his team-leading 18 points. Then TCU protected the lead by expertly breaking Baylor's zone.
This is how you break a zone and protect an OT lead as #FearTheFrog avoided an 0-2 start In #Big12MBB action. I'm working on our @Heartland_CS Game 2 wrap up for tomorrow so read more there #GoFrogs pic.twitter.com/H4XUNbkMjD

— Matthew Postins (@PostinsPostcard) January 3, 2018

The Horned Frogs showed off their balance with five players in double figures, including guard Jaylen Fisher, who had a bounce-back 15 points and 4 assists after a tepid game against OU. The Bears don't have that kind of balance right now. After Jo Lual Acuil (28 points, 11 rebounds) and Terry Maston (20 points and 9 rebounds off the bench), the Bears were unable to find a third option. Guard Manu Lecomte was 1-of-11 from the floor. The Bears had no 3-point shooting game either, which makes it difficult to stretch defenses.
Oklahoma 109, Oklahoma State 89: The Sooners exacted some revenge on the Cowboys after being swept in their Bedlam series last year, and did so with some serious dunking.
Dunks like this by #BoomerSooner F Jamuni McNease has the #Sooners up 8 at half on #OKState #Bedlam #Big12MBB @Heartland_CS pic.twitter.com/TS91KSNQw5

— Matthew Postins (@PostinsPostcard) January 4, 2018

Yep, the Sooners had this one wrapped up about 30 minutes into the game and it was certainly a team effort. Yes, Trae Young got his (27 points and 10 assists), but the rest of the Sooners made good on his distribution. Brady Manek shook off a sub-par game against TCU with a team-leading 28 points. Christian James added 12 points. Kameron McGusty poured in 15 off the bench. The Sooners' clip for the game as a team is one their head coach, Lon Kruger, will take every game — 54.7 percent from the floor, 55.6 percent from the 3-point line and 70.6 percent from the free throw line. Oklahoma State didn't have Lindy Waters III for the game and saw two of their starters foul out in the second half — Tavarius Shine and Mitchell Solomon. Shine scored 16 points, while fellow starter Jeffrey Carroll scored 15. But the real star was Thomas Dziagwa, who took some of the minutes normally given to Waters and scored 19 points, including five 3-pointers. He hadn't scored in double-digits since 11 points against Austin Peay on Nov. 29.
Leftovers: TCU's win over Baylor represented its first win over the Bears since joining the Big 12 and the Horned Frogs' first win over the Bears since 2002. … All four of Baylor's losses this season have come to Top 25 teams. … Iowa State's loss to Texas represented its 10th loss at Hilton Coliseum in the last eight seasons (47-10 during that span). Overall the Cyclones are 93-13 at home in all games the past eight seasons. … Texas' win in Ames was its first in seven games, with the last being Jan. 13, 2010. At the time Texas was the nation's No. 1 team. … West Virginia head coach Bob Huggins is seventh among active coaches on the all-time wins list for college basketball coaches with 831 wins. … The Mountaineers expect to have forward Esa Ahmad back on the floor Jan. 13 against Texas Tech after he missed the first half of the season due to academic issues. Ahmad was WVU's second-leading scorer and third-leading rebounder last season. … WVU's current 13-game winning streak is its longest since the 1988-89 season. … K-State has started the same five players in every game this season (14 games). … Kansas' loss to Texas Tech was its 12th home loss under head coach Bill Self and snapped an 11-game winning streak in Big 12 home openers. … Texas Tech is now 7-4 against AP Top 25 teams under head coach Chris Beard. … Oklahoma's Trae Young passed Sooners legends Wayman Tisdale and Stacey King with his 12th straight 20-point game. … OU cracked 100 points for the fifth time this season and for the first time against OSU since 1990.
Injuries: Oklahoma State was without Lindy Waters III for Wednesday's game as he was out due to concussion protocol.
Looking ahead to Game 3 of conference play: The big game on the schedule is Oklahoma at West Virginia. Can WVU's Jevon Carter slow OU's Trae Young down? Everyone is dying to see. Can TCU hand Kansas a second straight loss? Can Iowa State, Baylor and/or Oklahoma State avoid a third straight Big 12 loss? We'll find out on Saturday.